Costume Accessory Guide: Face Paint and Makeup Kits
09/27/17
For most individuals, Halloween is such a great holiday because they get to enjoy dressing up in an outfit they wouldn't otherwise wear in public for an entire day or night. This sometimes requires dressing in costume from head to toe, including full makeup. For example, if you are going as Beetlejuice for Halloween, you are going to need the white and black face paint and the crazy wig in order to complete the outfit.
Windy City Novelties' face paints and makeup kits allow individuals to add the perfect finish to costumes, no matter what your costume may be. The kits also include directions on how to properly apply the face paint or makeup that goes with your particular costume. Here is an overview of the face paint and makeup kits:
Individual Face Paints
If your costume only requires one color of face paint, there is no need to purchase a face paint kit that contains many colors. You can purchase individual face paints in any color. If you are planning on going as one of the Smurfs this Halloween, you will need to paint your entire face blue with blue face paint. Or, if you and your significant other are going as Bert and Ernie, one of you will need to paint your face orange, and the other one will need to paint their face yellow. These singular face paints are also great for sports costumes!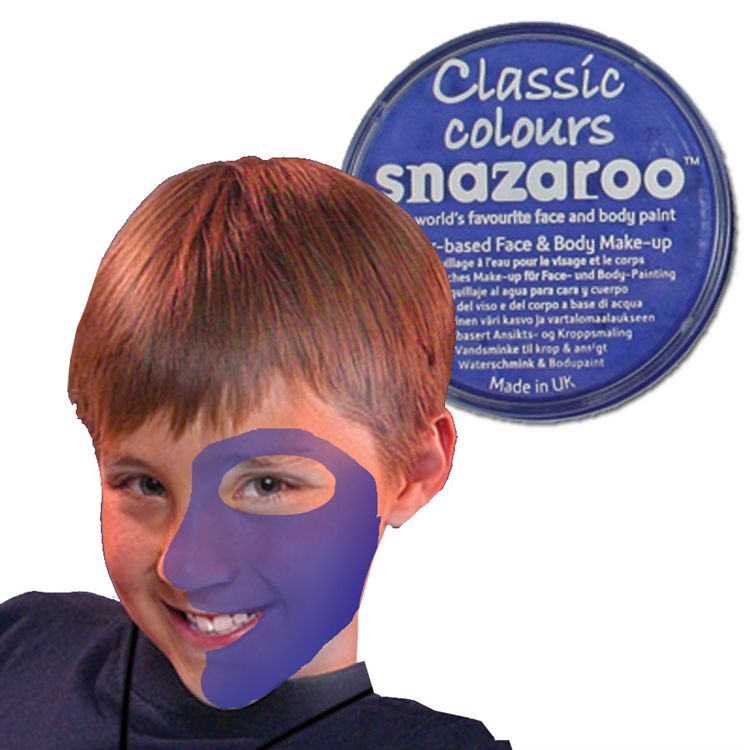 There are also glitter face paints you can add to your costume! Glitter face paint makes a perfect addition to any fairy or princess costume.
If your child will be trick-or-treating in the dark, or you are planning on attending a Halloween party in a dimly lit bar, you can paint your face with glow paint that will glow in the dark. The glow paints go on as regular face paint and dries in a smooth matte finish--as typical face paint does--then, when the lights come off, the paint will glow in the dark! The glow paints are also great for Halloween parties lit with black lights.
Face Paint Kits
Some costumes may require more elaborate face paint. In this case, you should use a face paint kit which includes all of the face paint colors needed. If you plan on being an Avatar this Halloween, you will need the Avatar face paint kit in order to get the makeup just right.
Or, if you're wearing a more classic Halloween costume this year, such as a wicked witch or Dracula, you are going to want a face paint kit that includes all the green, black and white colors, or the red, white and black colors.
If your costume consists of an old man or woman, you can really get into character by using an old age makeup kit! The kit includes skin-tone face paints and directions on how to apply them in order to transform your face into an old man or woman's face.
If your costume requires many, many colors of face paint, you can purchase a general face paint kit that includes an assortment of colors. Choose a rainbow pallet face paint kit, or an assorted face paint crayon kit for easy application.
Makeup Kits
Usually women do not want to wear their everyday makeup with their Halloween costume, unless, of course, it fits with the costume. If you plan on going as a fairy, witch or vampire, you may want to add some cool makeup to your costume! Makeup kits will instruct you on how to apply the eye makeup and include all necessary makeup tools, such as fake eyelashes, jewels, eye shadow and glitter.
At Windy City Novelties, it's our hope that this article inspires you to create a fun and unique party for your loved ones. For more helpful tips on organizing your event, email our dedicated party planning experts at [email protected]. You may also subscribe to our emails for weekly party planning ideas, featured products and more at https://www.windycitynovelties.com/customer/account/create/