Create a Spooky Scene Outside Your Home with Halloween Decorations
09/27/17
Make this year the year you finally win first prize in the annual neighborhood Halloween house decorating contest with gloriously gruesome decorations, props, and scene setters from Windy City Novelties. Whether you want to create a traditional graveyard landscape, a dark and dreadful dungeon, or the scene of a bloody zombie attack, all you need to do is bring your good ideas and imagination, and let Windy City do the rest!
Ghoulish Graveyard
Let your garage door serve as the backdrop for the Haunted Grave Scene Setter Kit. The haunted grave scene setter kit contains two large plastic panels, 32 ½ by 65 inches, that line up to provide a picture of a spooky old tree, its bare branches stretched out to cover a Gothic graveyard, complete with an iron fence, tombstones, jack-o-lanterns, and a black cat. A large yellow moon shines through the branches, highlighting a wise old owl. The kit features thirty additional cutouts, including a bevy of bats.
If your garage door is the roll-up kind, position your panels on the door when it is closed, use a utility knife to slice right through the plastic, then tape down the ends made by the cut. The scene will look like one piece when the door is down, but will open without disturbing your creation. The Graveyard Backdrop would also look great on the garage door or other flat outdoor wall. The plastic graveyard backdrop roll is 4 feet high by 30 feet long and can easily be cut to fit your space. The backdrop features a scene of row upon row of creepy, old tombstones, with a hint of what just might be greenish ghosts rising from the dirt.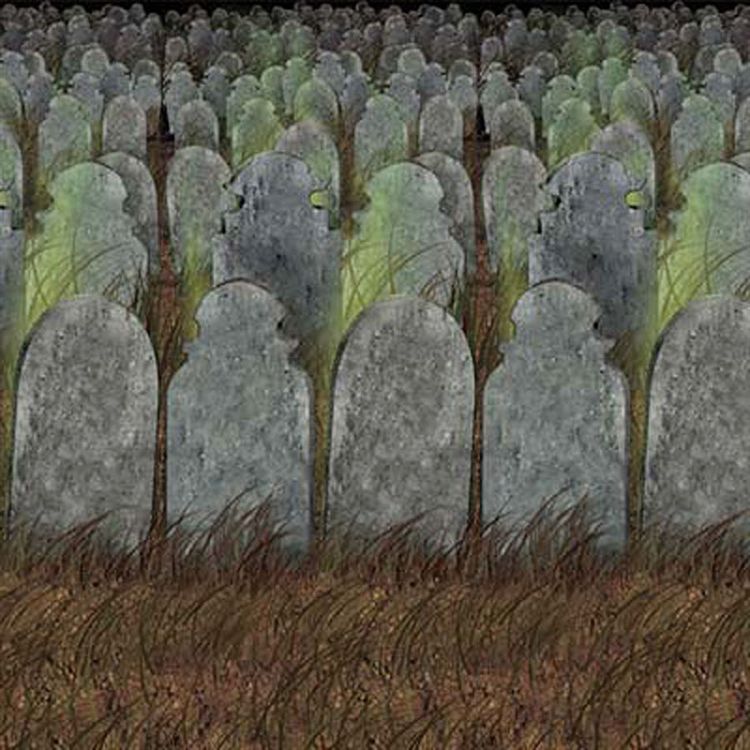 Tuck a strand of Peeper String Lights into your bushes for an eerie effect. The 14' strand has three pairs of spooky eyes in different styles, colors, and sizes. Trick-or-treaters won't be able to tell just what the creatures are that are watching them so intently. The electric peeper string lights are priced and packed by the set.
The Ethereal Ghost Door Cover will be perfect for greeting people when they arrive at your Halloween party or come looking for treats. The plastic ethereal ghost door cover is 30" wide by 60" high. It features a scene of a dark, purplish sky, with three ghostly, hollow-eyed sirens hovering above a graveyard filled with bats. The ghoulish door cover is sold individually. Extend the spooky entryway by adding Ethereal Ghost Props to the scene. The ethereal ghost props include 6 more of the hollow-eyed women, in a variety of poses, ranging in size from 35 to 37 inches. Let these ghostly girls hover around the door and on the porch.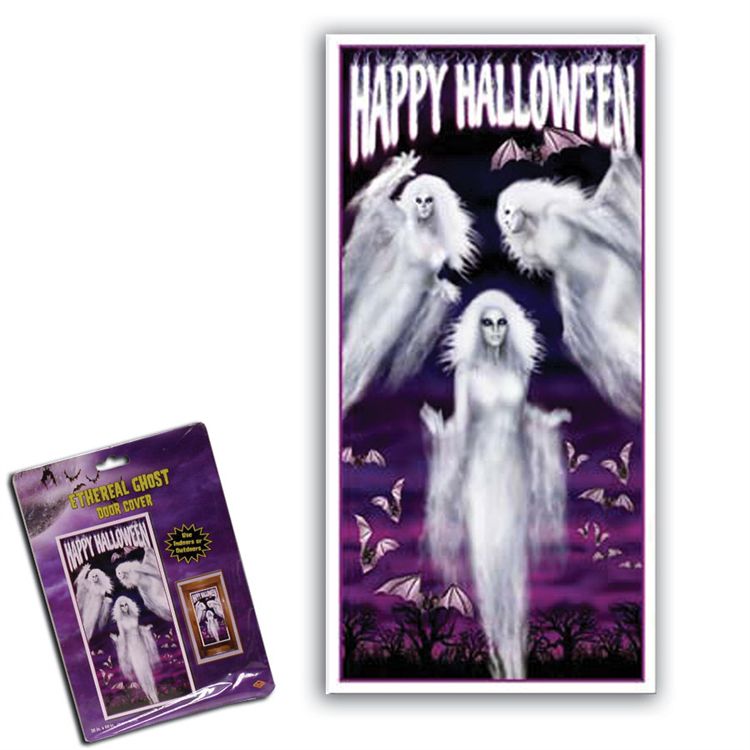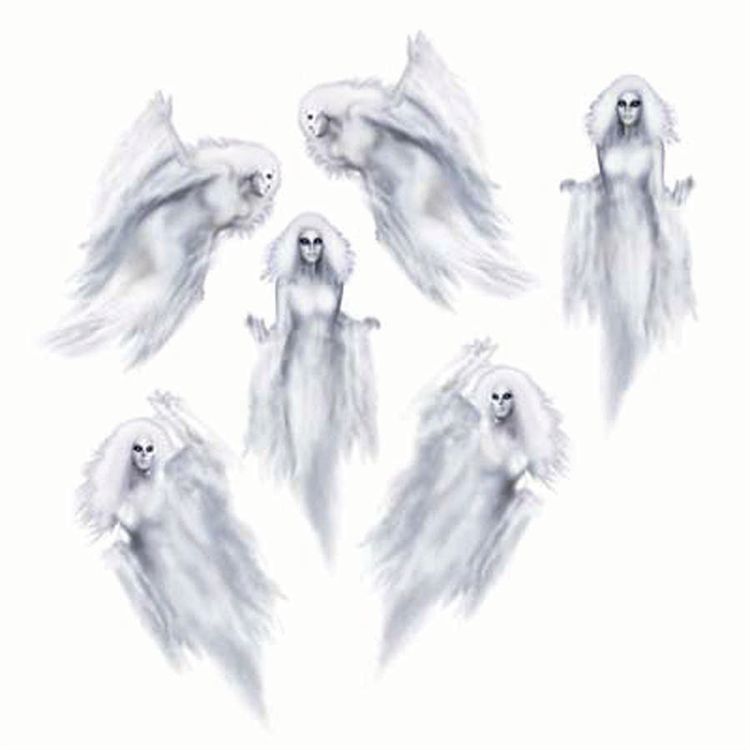 Of course you will want to have some tombstones in your graveyard and there are plenty of websites with do-it-yourself instructions for making them out of Styrofoam. Making your own allows you to put whatever names and/or sayings you want on the tombstones before standing them in your front yard. Your local hobby or craft shop should have all the supplies your need for a tombstone project. 
Drape burlap or a white cloth from your porch or use it to fashion ghosts to dangle with (nearly) invisible fishing line to tree branches. There are a number of theories about why ghosts—at least those in movies—drag chains around. One popular belief is that the notion originated with Marley, a ghost that appears in Charles Dickens' "A Christmas Carol," whose soul is chained by the evil he did in life—each sin adding another link. The Rusty Chain will make a great addition to your spooky graveyard. Leave it laying on top of a grave to suggest a ghost has escaped its bonds. The jumbo chain is 6 feet long and is sold by the piece.
Graveyards look great with a fog machine, but if that's not possible, give your grounds a creepy glow with Green Glow Sticks. Activate a couple of the 6-inch green glow sticks and put them behind each of your tombstones. The package of 25 green glow sticks should be enough to keep your graveyard looking scary for a couple of weeks.
Dreary Dungeon
If you're going for dark and dreary, a dungeon scene might be what you're looking for. Medieval times were not all about King Arthur and the romance of Camelot, and it's a sure bet even the good king had a few miserable souls chained up in the lower chambers. With the Stone Wall Scene Setter you can turn the exterior of your house into the interior of a castle! The plastic stone wall scene setter roll is 4 feet high and 30 feet long and looks just like the rough gray stones of castle walls. The stone wall backdrop is sold by the roll. The Dungeon Props will add interest to your scene with an arched door leading to a narrow, winding staircase, three arched windows, and several torches. The nine piece plastic dungeon props are sold as a set.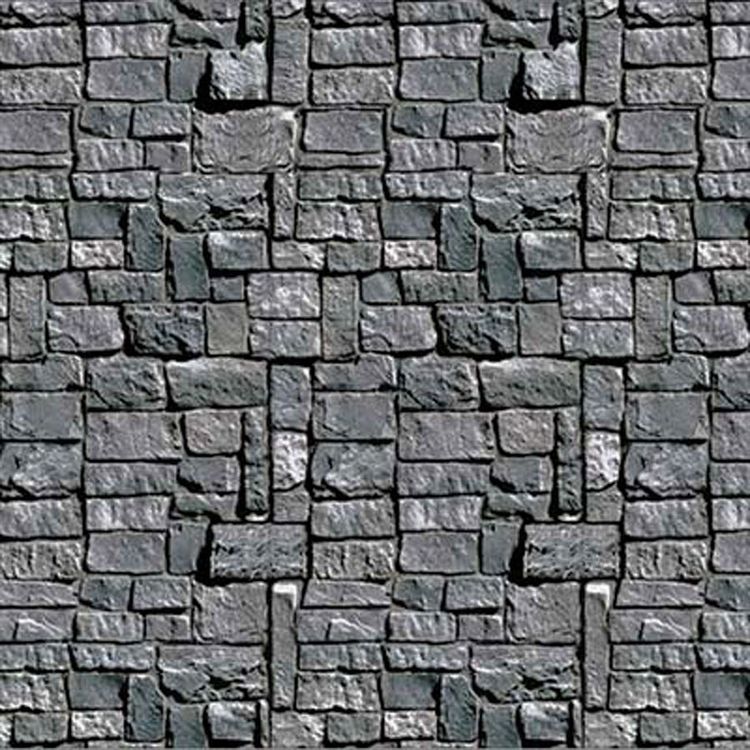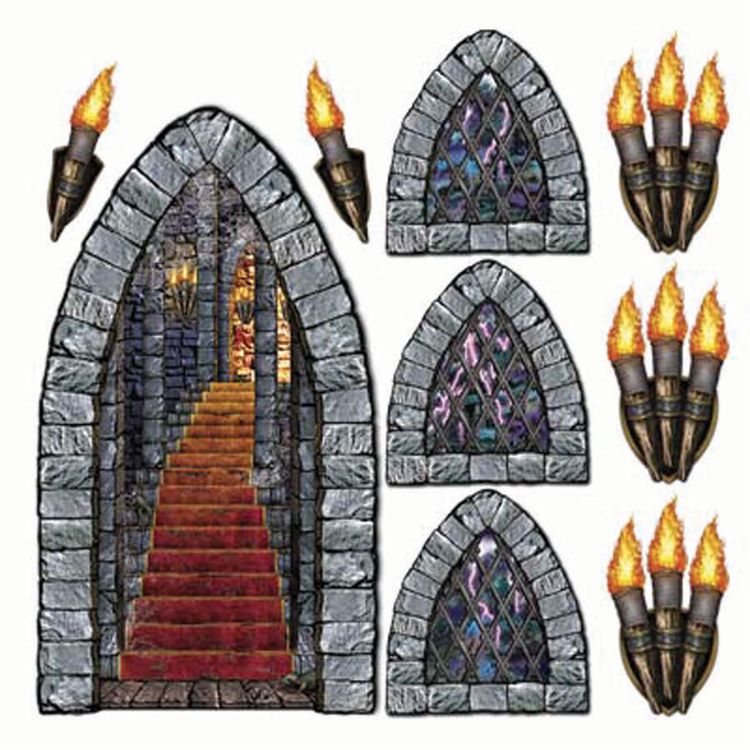 There are plenty of additional props to add to your stone walls, including the Dungeon Dweller Props. The dungeon dweller props include three sheets that look like medieval prison cells, with metal bars set in stone frames—two window sized at 42" by 32" and one door sized at 62" by 32." All that can be seen through the bars are pairs of desperate eyes. The dweller props are sold as a set.
Every dungeon needs a torturer, and the Executioner and Skeleton Props will fill the bill. The plastic props include a burly, shirtless executioner, hood over his head and hatchet in hand. The executioner is 62 inches tall. There are also two skeletons in iron maidens, a set of keys on a ring, a ball and chain, and a torture device. The executioner and skeleton props will attach easily to the stone scene setter, but you could also give them some dimension by attaching the executioner to a stack of black garbage bags filled with leaves or other packing materials. The skeleton props could be attached to either side of a long, flat box and hung from a tree.
Unfurl the Stone Path Runner on your front walk so trick-or-treaters feel like they are headed into a haunted castle. The indoor/outdoor fabric runner is 24" wide and 10' long and is styled to look like uneven paving stones. If you have a covered porch or other area safe from the elements, hang the Bloody Weapons Garland. These bloody weapons look like just the sort of thing an executioner might use, including a butcher knife, hacksaw, cleaver, and other tools. The weapons garland is approximately 8 feet long, and is sold by the piece.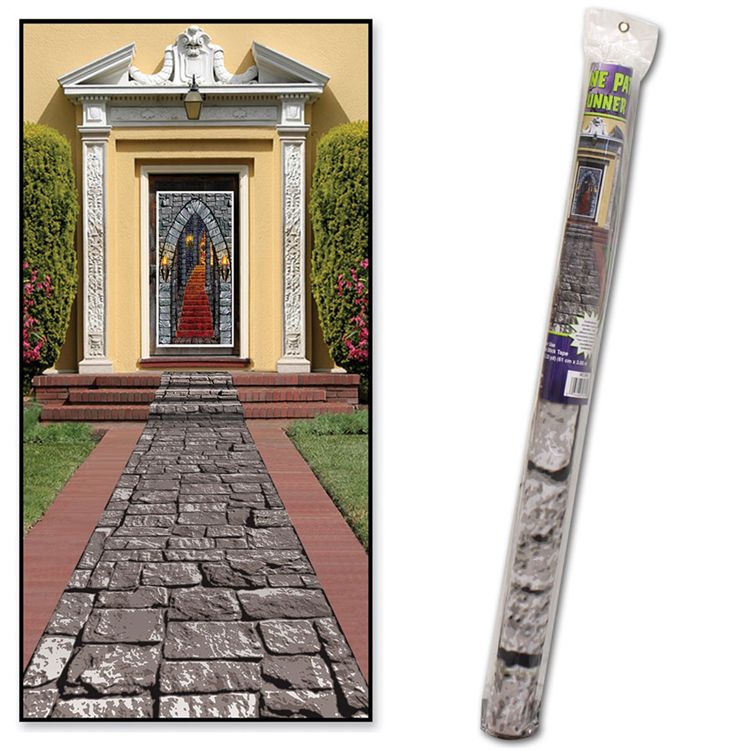 A dungeon seems like just the sort of place evil insects would like to inhabit. Dangle the Giant Spider Hanging Decoration from the edge of the roof or a tree branch. The 12-foot spider has a honeycomb tissue body and eight long, tinsel-like legs.
The Black Hanging Candelabras will look amazing hanging from your trees and picked out with a spotlight. The three-dimensional black glitter and foil candelabras measure 23 inches across and the long, dangling tails make them over 72 inches long. The candelabras are sold in sets of two. If you don't trust the weather with your paper decorations, go to a local resale store and pick up a few inexpensive hanging light fixtures. Bring them home, spray paint them black, and hang around your yard—from trees, roof edges, or porch.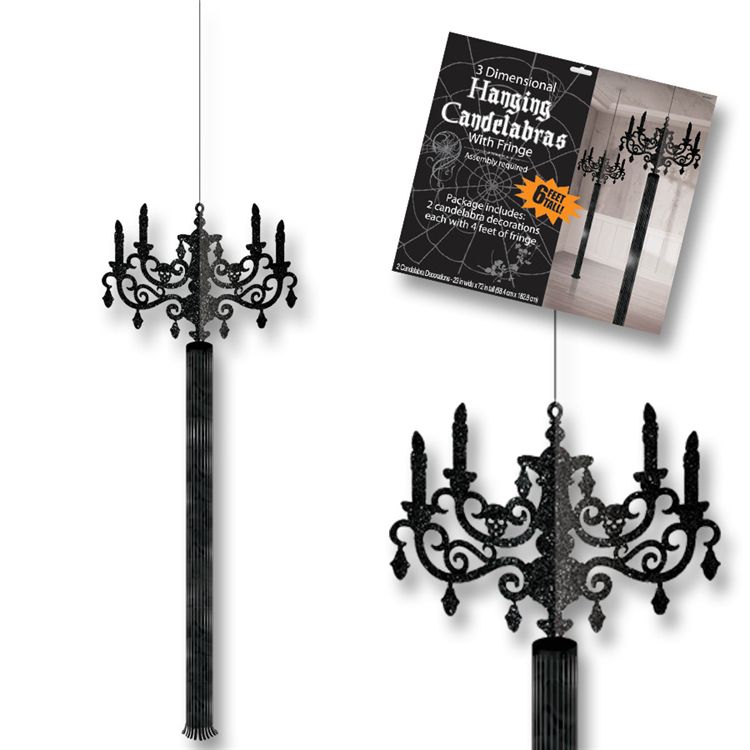 Zombie Apocalypse
Those stinking, rotten zombies! Their mothers apparently never taught them it's not nice to bite, and they make such a mess when they attack. You'll have zombies crawling out the windows with the Zombie Attack Instant View. The plastic zombie attack instant view looks like a double wood-framed window, with a horde of zombies pushing to climb though. Put these zombie instant views across your own front windows, or on any flat surface. Each of the zombie windows measures 38 inches by 62 inches. They are sold in sets of two.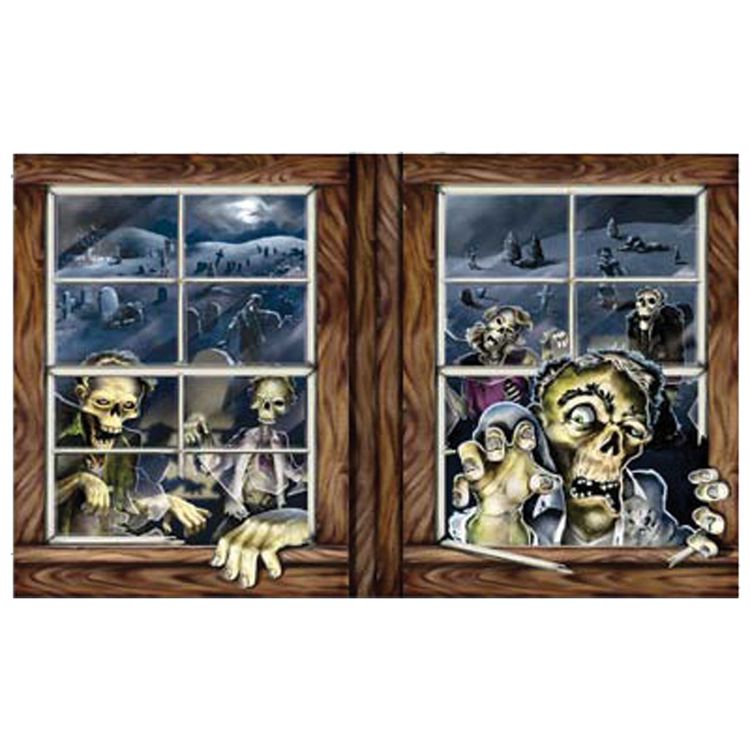 The Bloody Footprints Floor Runner will add to the grim scene you are creating in your front yard. The 24" by 10' runner is made of white poly material and is stained with red footprints and blood splatters. The runner comes with adhesive strips that adhere to non-porous surfaces. It is sold by the piece. Where there are bloody footprints there are bound to be matching handprints. The Bloody Handprint Window Clings are made of thin plastic that sticks to windows and other surfaces without any type of adhesive. The bloody handprint clings range in size from 1 1/4" to 7" and includes two palm prints and assorted blood splatters. The clings come on a single sheet of 22 pieces.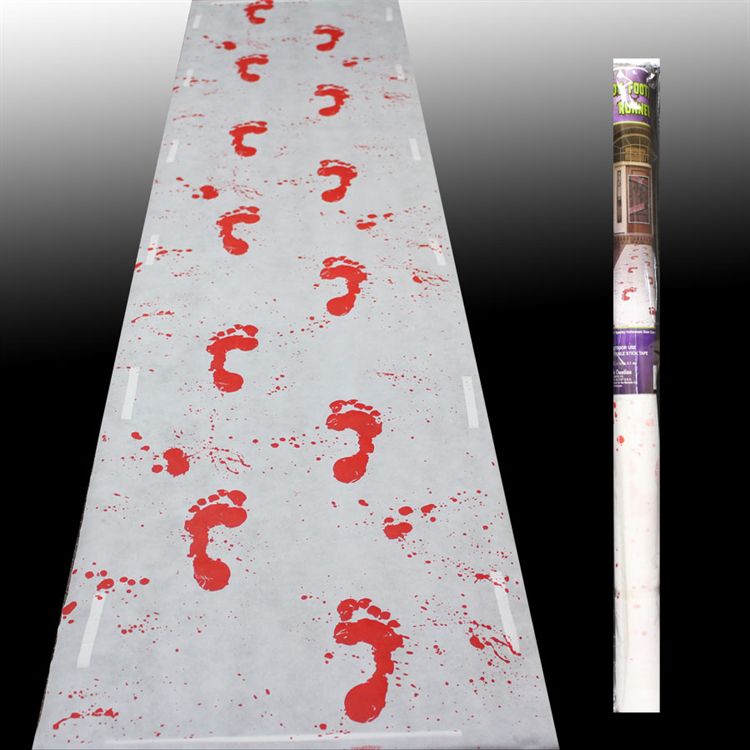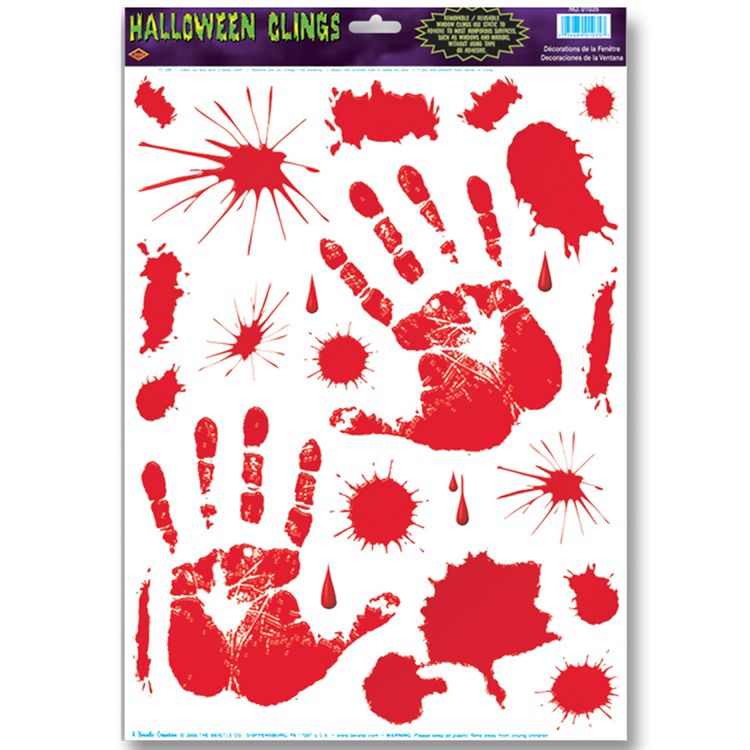 Use the Halloween Caution Tape to warn gawkers not to get too close! The package of caution tape contains 3 rolls of plastic tape in different designs. The 30-foot "Caution: Zombie Zone" would be just right for your bloodbath scene. The zombie zone tape is white with the words and dripping blood in red. Also included is a "Haunted: Keep Out!" tape in black with white wording, and a traditional yellow caution tape with "Enter If You Dare" in black lettering. The Halloween caution tape is sold as a set.
If you truly want to turn stomachs, hang the Bloody Eye Sack from a branch above your headless zombie. This gross little goody is 5" by 9" and looks like a transparent bag of eyeballs marinating in blood.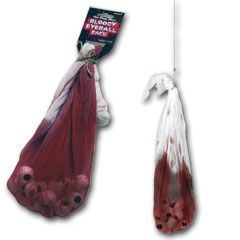 It's never too early to start planning your spooky Halloween tableau and with Windy City's amazing scene setters, decorations, and props, and your own great ideas, you've got first prize in the bag. 
At Windy City Novelties, it's our hope that this article inspires you to create a fun and unique party for your loved ones. For more helpful tips on organizing your event, email our dedicated party planning experts at [email protected]. You may also subscribe to our emails for weekly party planning ideas, featured products and more at https://www.windycitynovelties.com/customer/account/create/