Decorating Tips for a NASCAR Party
09/27/17
The NASCAR season will begin soon, providing the perfect opportunity for a NASCAR themed party. If your little one has a birthday coming up, or is just a huge fan of NASCAR and cars, throw them a special NASCAR birthday party! Decorate your party space with NASCAR and racing decorations, serve cute and themed birthday treats and have some fun! Here are a few tips on how to set up for a NASCAR themed birthday party.
Embellish your party space with car racing theme decorations.
The color scheme for your party decorations should be black and white checkered—like racing flags—and red, yellow and blue, as those are NASCAR colors. Start with decorating the entranceway of your party area. Place bundles of red and yellow balloons on the floor of both sides of the doorway, or entranceway to your party area, to create a scene similar to a starting line on the race track. Use a race track floor runner as a sort of "red carpet" to your party area. If your party space is small, cut the floor runner to create a racetrack that wraps around your entire party area. The kids will love walking on this fake roadway!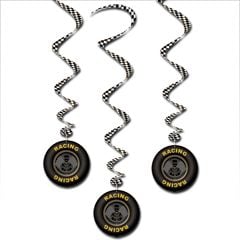 image via gregreydesigns.com
You can also hang black and white checkered flags in or around your entranceway, or you can use them as party decorations in your entertainment area. If your party needs more decoration, hang pennant banners or streamer paper across the ceiling of your party area.
Use black and white checkered decorations for your dining tables.
Set up a table to place your cake and other birthday snacks on—or use the table for birthday presents. Use a yellow solid table cover to place over the table. Layer that with a black and white checkered table runner. Use racing flag table centerpieces to add decorations to your snack/present table, as well as a bit more color! Hang a black and white checkered pennant banner above the snack table and print out the letters to spell "Happy Birthday" in brightly colored construction paper (red, yellow, and blue).
For your dining table(s), use a red solid table cover and the same black and white checkered table runner as the snack table. If you'd like to switch it up a bit, use a solid black table runner that slightly resembles a racing track. Use mini construction cones, more racing flags, and even little Hot Wheels cars as table decorations. The kids can even take a Hot Wheel home with them as a party favor!
image via cobaltevents.com
Serve cake and other fun snacks on black and white checkered paper plates, and quench their thirst with some fruit punch served in matching paper cups. If you want to get really creative, make snacks that relate to NASCAR or cars. For example, you could serve mini chocolate donuts and call them tires. Or back skinny rectangular brownies and stick red, yellow and green gummy Life Savers on them to make stop lights.