Dinosaur Party Ideas
09/27/17
If your little one loves dinosaurs, or is infatuated with the Jurassic Park films, give them a birthday party they will never forget by throwing a dinosaur themed birthday party! Invite their friends and family members over for a night of dino-fun with the help of dinosaur and jungle themed decorations, snacks, and fun toys and activities to entertain the kids. Use these dinosaur party ideas to assist you in putting together an event that everyone will dig.
Use jungle or safari theme decorations to create the setting for your dinosaur party.
To begin your party planning process, first send out dinosaur invitationsto your child's friends and family members. Be sure to cover all of the details of your event, including the activities you have planned for the children so that their parents are prepared. Once you have sent out your invitations and have received RSVP's, the next step is to decorate! Wow your party guests by making them feel like they are in a Jurassic Park movie by enhancing your party space with safari and jungle decorations. Start by adding a jungle scene setter to an open wall in your party area. The jungle scene setter may also function as a backdrop for cute photos of the children! In addition to the scene setter, you can create 3-D jungle decorations by twisting brown paper bags into branches or twine and attaching leaves made from green construction paper. Place these decorations over the doorway, or hang from your ceiling. 

image via limelanelove.com
Serve the kids a few dino-themed snacks they will surely enjoy.
Coordinate your table decorations with the rest of your dinosaur party décor by placing a green table cover over the dining table or snack table. To make it look a little more Jurassic, trim the edges of the table cover to make it zigzagged. Use some of your homemade jungle decorations as a table centerpiece, and rest little dinosaur figurines all along the table.
Whip up some dinosaur themed snacks, such as green punch and sugar cookies with dinosaur feet imprints. Serve your treats on green paper plates with matching dinosaur napkins.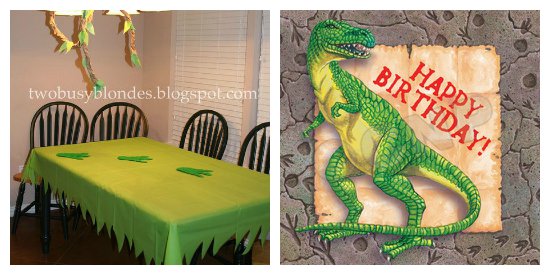 image via twobusyblondes.blogspot.com
Plan fun activities for the kids and send them home with goodies.
In addition to eating snakcs and opening up gifts, the children will need activities to keep them occupied. Have them become paleontologists for an afternoon by burying toy dinosaur bones in the sandbox and having the children dig them up. If you do not own a sandbox, you can easily fill a kiddie pool with sand. Turn this activity into a game by awarding the first child to locate and put together all of the dinosaur bone pieces.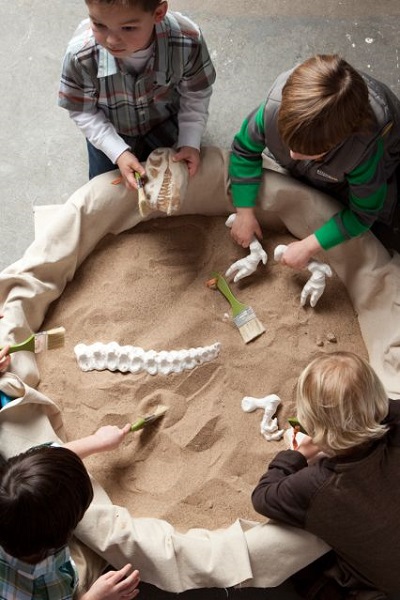 image via karaspartyideas.com
As each guest arrives, hand them a safari pith helmet they can wear while digging for dinosaurs. When it's time for the kids to leave, thank them for attending your celebration by sending them home with a goody bag. Fill the goody bags with foam dinosaur masks, stickers, candy, and more!
At Windy City Novelties, it's our hope that this article inspires you to create a fun and unique party for your loved ones. For more helpful tips on organizing your event, email our dedicated party planning experts at [email protected]. You may also subscribe to our emails for weekly party planning ideas, featured products and more at https://www.windycitynovelties.com/customer/account/create/