Easter Egg Hunt Ideas and How to Plan an Easter Egg Hunt
09/27/17
Hop on over to Windy City Novelties and get stocked up on all of our egg-cellent Easter decorations and fun Easter extras so that you can host the ultimate Easter egg hunt this year!  We have everything you need to get ready for this springtime holiday.  This year you will have as much fun getting ready for the Easter holiday as you will when you celebrate.  Fill your shopping cart with all of our fabulous pastel colored Easter surprises for your baskets, Easter egg decorating kits, and springtime lawn decorations.  Shake off those winter blues because spring has sprung and it's time to celebrate.  Windy City Novelties can help you get ready for any fancy and fun Easter activity.  Stock up on colorful plastic eggs that you can fill with tiny toys and treats or Easter Bunny costumes for the whole family.  Whether you are planning for a more traditional Easter egg hunt or are going to host a fun Easter Egg Roll, like they have done annually on the White House lawn for more than 100 years, then you have come to the right place.  If you need to get dozens or hundreds of eggs ready for the holiday, we can definitely handle your order. 
You will find everything you need here to fill your Easter baskets and delight children on this special springtime day.  If you are planning to entertain the whole neighborhood, your church congregation, or just your own family, Windy City Novelties can help you get stocked up, decorated, and ready for the fun to start.  Welcome the start of spring and warmer weather with a special outdoor hunt, but keep an indoor contingency plan in case it decides to rain.  You should have special prizes ready for the winners of your special Easter egg hunt and games.  Most important if you are planning to use real eggs—Keep a map!  Be sure to write down all the spots you decide to hide the eggs so that none of them get left behind to rot.  No one likes the smell of a rotten hardboiled egg!  Easter egg hunts are great family fun.  Get all the kids and parents to participate.  Dress them in their Sunday best and turn them loose in the yard or a local park to search for all those pretty pastel colored eggs.  Easter is here!  Let's celebrate!
After you determine how many participants you are expecting for your event, you can decide whether you want to use plastic eggs or real hardboiled ones.  No matter the number of eggs you will need, Windy City Novelties can support your order.  If you have chosen to go the plastic route, you can choose from our Colorful Plastic Eggs, which will provide you with the perfect vessel for jelly beans, chocolate kisses, or perhaps some of our Spring Color Friendship Bracelets or Easter Bunny LED Jelly Rings.  This special Easter product comes with a dozen colorful plastic eggs that each measure 2 1/4 inches.  Our Marble Plastic Easter Eggs are a little bit fancier.  They come in an assortment of colors, including blue, green, purple, and others in packs of 12. They will be perfect for your Easter egg hunt and feature a cool marble effect on the plastic.  You can decorate either of these reusable plastic egg options with stickers, googly eyes, or even coat the outsides of the plastic shell with some simple glue and glitter to make them shine.  Just keep the edges clean so you can put the egg back together again when the glue dries without messing up your cool glitter effect.  If you want to skip the plastic and go straight for the real thing, Windy City Novelties has a couple of great egg dying kits you can choose from.  Our Easter Egg Coloring Kit will provide you with everything you need to create pretty pastel colored eggs for the holiday.  Each Easter Egg Coloring Kit comes with five different color tablets to dye eggs, a wax crayon to write a special message, 30 Easter peel and stick decals for easy decorating, a paint brush and egg dye to brush on paint, and a speckling sponge to sponge paint. The Easter Egg Coloring Kit also comes with a decorating pallet, six egg stands for drying, an egg dipper and two brushes.  It has everything!  We also have a great Easter Egg Tie Dye Kit that has everything you need to create a cool and colorful tie dye effect on this year's Easter eggs.  It comes with five bright liquid color packets, six color droppers, 12 coloring bags, a work station coloring palette, six egg stands and a built in drying tray.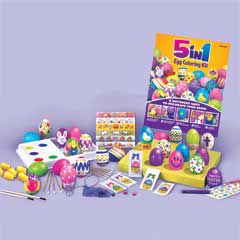 Make it a family activity when you dye your eggs and then surprise them on Easter morning by hiding them all around your house or yard.  Organize a larger scale event that the whole community can participate in.   Set out some great prizes for the winner of your Easter activities and decorate this special space with our Easter Table Decorating Kit.  This great holiday decorating kit comes with 23 special pieces, including cutouts of springtime flowers and butterflies that you can strategically place around the table, along with some great stand-up pieces that range in size from 7 inches to 13 inches.  Secure them onto your table with tape if it happens to be windy so that you don't accidentally lose any of these great decorations.  Reward your Easter egg winners with Plush Pastel Ducks they can add to their Easter baskets.  These cute little ducks measure approximately 6 inches tall and come in packages of a dozen.  Kids are sure to love these adorable little ducks, which come in an assortment of yellow, pink and blue.  Have participation prizes ready for everyone!  Our Pastel Mini Bubbles are great fun for all ages.  Each of these packs comes with a dozen mini plastic containers in an assortment of pastel colors that are filled with a soap bubble solution.  They come with bubble wands attached to the inside of the lid.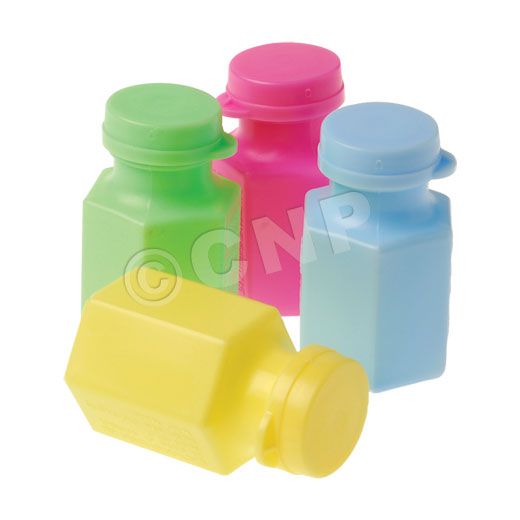 You could have extra fun when you host an Easter event by dressing for the part, or having someone around who is dressed up as the Easter Bunny.  Delight the kids by wearing any of our great Easter bunny costumes!  Invest in one of our Premium Rabbit Adult Costume and you will be the hit of any Easter activity.  This great mascot costume is one size fits most and comes with an oversized mascot head with mesh eye holes, a plush bodysuit with attached tail and zippered back, mitts, spats and feet.  Or you could go with a more dapper design.  Our Deluxe Easter Bunny Adult Costume and you can reuse it again and again for all the Easter holiday events to come.  This great mascot costume comes with an acrylic white plush jumpsuit, over-head full face mask with soft ears, an open-face hood with stand-up ears, white gloves, bowtie, show covers and themed vest.  Just remember to have it dry cleaned before the next holiday.   We also have bunny costume options for children, toddlers, and infants.  If you are not ready to invest in the full costume, you could always go with a pair of our Pink Bunny Ear Headbands.  Pass them out to all the adults because our Pink Bunny Ear Headbands are sold by the dozen.  We even have some cool LED Bunny Ears Headbands that will light up your festivities into the night.  These great headbands will impress the younger generations and are sold individually.  They come with three replaceable AG13 batteries included and installed. 
Decorate for your Easter egg hunt, whether you are planning for an indoor or outdoor event.  Windy City Novelties has everything you need to get ready for the big day.  We have great lawn decorations, like our Easter Bunny Lawn Decorations.  This kit comes with heavy cardboard cutouts of Easter bunnies and colorful Easter eggs.    Our Easter Egg Lawn Decorations come with five cutouts of brightly colored Easter eggs that are printed on one side.  Both of these lawn decoration options come with metal stakes that should be inserted 2 inches apart. 
Add some Pink Fabric Bunting to the outside of your house.  This product will be great for entryways, fences and railings.  Our Pink Fabric Bunting measures 70 inches in length by 30 inches wide and features two full drops with three strings to make the gather.  We have a Purple Carpet Runner you can put down and have all your Easter guests walk down and show off their Easter finery.  It measures 22 inches by 15 feet and you can use it indoors or outside.  It also comes with double stick tape.  If you are planning to host a special luncheon or brunch you'll love our White Chair Covers with Bows.  These elegant chair covers measure 32 inches by 19 inches.  They are made of 100% Olefin, which is a non-woven polyester which will easily drape over standard folding chairs. 
Windy City Novelties has a great variety of cutouts and hanging decorations that you can use to dress up any indoor Easter space.  We have a great selection Easter banners.  Choose from our Happy Easter Letter Banner, which spans 12 feet and has 11 1/2 inch letters that spell out "Happy Easter;" our Happy Easter Fringe Banner, which is 8 inches wide and 60 feet in length; or our Happy Easter Foil Banner, which measures 6 1/4 inches in length and has 6 1/4 inch colorful letters that spell out "Happy Easter."  
Our Cardboard Easter Egg Cutouts will look egg-cellent on your walls and especially in your windows!  This decorating kit will provide you with 10 festive cutouts that are printed with colorful designs in various colors on both sides.  Our Cardboard Easter Egg Cutouts range from 5 inches to 12 inches.  We also have Jumbo Easter Egg Cutouts, which have 30 pastel colored cutouts in shapes of Easter eggs, Easter bunnies, and chicks.  This great decorating kit is sold by the pack.  Decorate your front door this Easter with our Easter Bunny Door Decorator or our Happy Easter Door Cover.  The Happy Easter Door Cover features a fun illustrated Easter scene with a happy Easter Bunny carrying a basket of eggs.  It measures 60 inches by 30 inches and is designed to fit easily on standard size doors and you can secure it to your front door with tape or, preferably, sticky tack.  Round out your decorations with some great Easter Swirls, which contain 12 foil swirls that are 24 inches and 18 inches with colorful cutout images at the ends; Easter Egg Whirls,  which come with 5 40-inch decorations in an assortment of colors; and our Easter Egg Danglers, which are sold in pairs and have metallic coils that lead down to colorful egg cutouts at the end.  Our honeycombed Easter Egg Hanging Decorations are a perfect choice for your Easter holiday décor.  This decorating kit comes with 6 5-inch pastel eggs that you can open and unfurl to reveal a cool 3D honeycomb effect.  All of these hanging decorations are easy to set up and will look great in your event space's entryway or post them in windows. 
It is important to make the holidays special so gather up all of your friends, loved ones and even your neighbors for a great Easter egg hunt event.  Prepare for the big day by stocking up on all of our Easter egg decorating supplies and dye kits and make it fun for the whole family when you are ready to start decorating your eggs, whether they are plastic or real hardboiled treats.  We can help you find the perfect Easter holiday decorations for inside your home and outside on your lawn, or wherever you are planning to host your special event.  We can get you dressed up like the Easter bunny and ready to hop around, posing for pictures and entertaining the kids.  Windy City Novelties can help you put some extra spring into your springtime holiday with egg-cellent holiday decorations and special Easter egg-stras to brighten up this pastel-happy holiday.  You can create a truly unique and bright event to entertain all your guests and celebrate this Easter with help from Windy City Novelties.  So make sure you have all your eggs decorated and don't forget to mark down the places you hide all the eggs.  Let the hunt begin!
At Windy City Novelties, it's our hope that this article inspires you to create a fun and unique party for your loved ones. For more helpful tips on organizing your event, email our dedicated party planning experts at [email protected]. You may also subscribe to our emails for weekly party planning ideas, featured products and more at https://www.windycitynovelties.com/customer/account/create/