Follow These Steps to Throwing a Fabulous 4th of July Celebration
09/27/17
America's most celebrated summer holiday is coming up—it's time to bust out the red, white and blue for a celebration of American independence and pride! While most individuals have their Fourth of July plans locked down, and are anxiously awaiting the holiday weekend's arrival, others may be scrambling to find something to do. If this is the case for you, have no fear! You can easily put together a stylish and successful Independence Day party with these simple party ideas. 

Step 1: Make the guest list.
Your first step to planning a Fourth of July get-together is to settle on who to invite. Maybe you want it to be a family-only type of event, or maybe you want to include everyone from the neighbors to your coworkers. If it's not too late, send out stars and stripes themed invitations to all of your proposed guests. Otherwise, you can make some phone calls, send text messages or create a Facebook invite to let everyone know about your party.
Step 2: Determine the location.
Once you have an estimate of the number of guests planning to attend, you can choose your exact location for the party, such as indoors or in the backyard, or both. You should have already declared if your party will be held at your home or at a separate venue, such as a public park, so you could include that detail in your invitation.
Step 3: Begin decorating the party area with patriotic decorations.
Now it's time for the fun part of party planning: decorating! The color scheme for your party is going to be red, white and blue, of course, so be sure to collect a variety of decorations in these colors. If the party will be outdoors, or if you want to show your American pride to passers-by, hang patriotic bunting off of the railing or your front porch and back deck. You can also create the bunting look by using red, white and blue fans. Attach them to the tops and sides of your porch or canopy. If you do not have an overhang in your backyard, you can create an awning using a mixture of red, white and blue crepe paper streamers and white string lights. If you are planning on renting a tent your for 4th of July bash, you can create a curtain using the streamers. Hang them from the edge of the tent, alternating the colors, and bound every 10 – 15 pieces with ribbon. You can also do this for a doorway inside your home.

images via marthastewart.com and babble.com
For a little extra décor, hang giant patriotic bows from your outdoor lighting or along the fence surrounding your yard. The bows would also look nice hanging on the back of each chair at your dining table! Turn mini patriotic tin buckets into vases or flower pots by adding dirt or water, along with white or red flowers of your choice. Set them on each stair leading up to your deck or front porch. They would also make for great table centerpieces!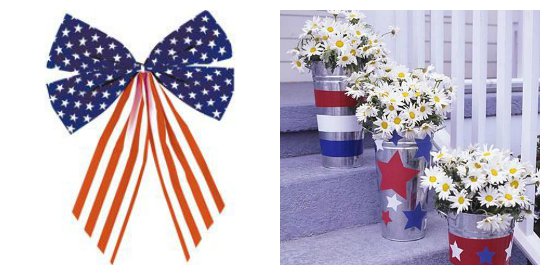 image via allyou.com
Step 4: Set up a dining table and decorate it with coordinating patriotic decorations.
Eating is going to be one of the main events at your 4th of July celebration, so make sure your dining table and/or snack table is well presented. Set up a buffet table by using a table cover with stars and stripes trim. Have the party catered, or grill your own hotdogs, burgers, ribs, shish-kabobs, corn on the cob, or other summer barbecue favorites! Add in side dishes, such as salads, macaroni and cheese, watermelon, etc. Serve some of your dishes in red, white and blue star-shaped serving trays. If your buffet table is placed against a wall, hang a few flag and star stringers behind it to add a little more flair.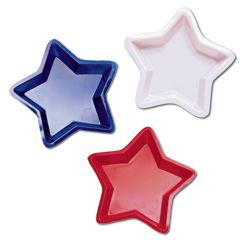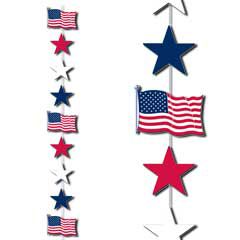 When decorating your dining table, start by using a stars and stripes table cover. Because the dining table won't be completly covered by food, unlike the buffet table, you'll be able to see the red and white stripes on the table cover and it will accent your party décor. Set the table using solid red paper plates on top of white chargers. Finish off each table setting with a solid blue napkin. Use the mini patriotic tin bucket vases we mentioned earlier as table centerpieces, or add fun, eye-catching patriotic centerpieces to coordinate with the rest of your tablescape.
Thank your guests for attending your party by placing a pair of American flag sunglasses or star bead necklaces on their place setting. They can wear these items during the rest of your party!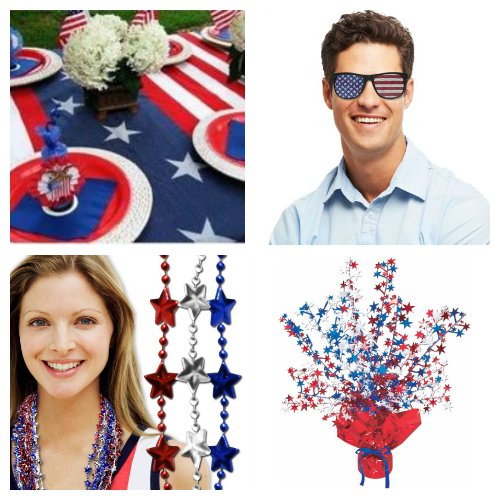 image via househunt.com
Step 5: Provide guests with glow-in-the-dark items to watch the fireworks with.
Whether you're putting on the firework show yourself, or walking to the nearest park, fireworks are another important activity at your Fourth of July party. Hand out a few glow-in-the-dark items your guest can use after the sun goes down. Glow necklaces are always a fun accessory to have at night, or give everyone a fun LED American flag headband! Kids especially will love these party favors. 
At Windy City Novelties, it's our hope that this article inspires you to create a fun and unique party for your loved ones. For more helpful tips on organizing your event, email our dedicated party planning experts at [email protected]. You may also subscribe to our emails for weekly party planning ideas, featured products and more at https://www.windycitynovelties.com/customer/account/create/