Eat, Drink and Be Merry with a Fabulous Mardi Gras Party
09/27/17
It's almost Mardi Gras season, which means it's time to start planning and preparing for the festivities! Mardi Gras celebrations will begin in New Orleans on Friday, February 6th. Even if you don't plan on participating in the parades and celebrations that New Orleans—or other celebrating cities—have to offer, you can hold your own Mardi Gras bash in the comfort of your home. Invite friends over for a Mardi Gras themed dinner party, or add a Mardi Gras theme to an upcoming birthday party or other special event. The actual day of Mardi Gras, which translates to "Fat Tuesday" in English, is on Tuesday, February 9th and serves as the final (and biggest) celebration during Mardi Gras, but you can celebrate at any time during that period!
Add some life to your cold and dreary winter and throw a Mardi Gras Party! Use the colors and traditions of Mardi Gras to create your party décor, and provide your guests with delicious and classic New Orleans cuisine. Use these party planning tips in order to put together a remarkable Mardi Gras celebration.
Incorporate traditional Mardi Gras items into your party décor.
There are many traditions to Mardi Gras that should be integrated into your party decorations. For instance, the colors of Mardi Gras have always been purple, green and gold, with meaning behind each color. The purple is for justice, the green for faith and the gold for power. Use this color scheme when decorating for your Mardi Gras party. First start with a backdrop that can also serve as a fun photo booth for you and your guests! Choose an open wall in your home, or large doorway, to hang metallic fringed door curtains. Purchase three-one in each color—or use a door curtain that combines all three colors in one. Simply use an adhesive (tape for sticky tack works fine) to attach the door curtains to the wall or top of the doorway.
image via orientaltrading.com
In addition to your backdrop, hang Mardi Gras colored decorations from the ceiling all around your entertainment areas. Any purple, green and gold fluffy decorations, twirly whirls or paper lanterns will instantly turn your home into Bourbon Street.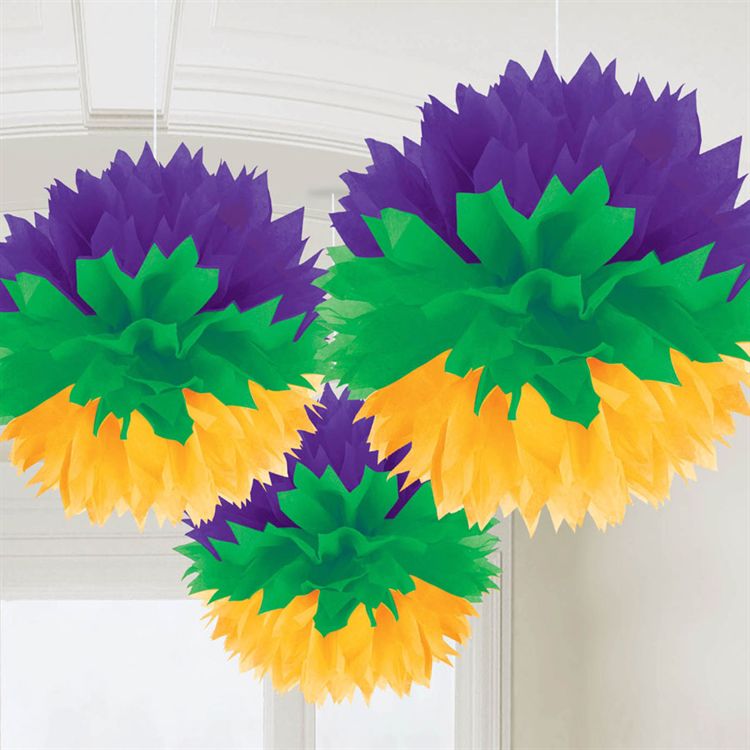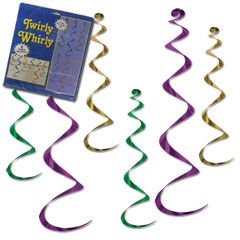 Beaded necklaces are another item associated with Mardi Gras. They are thrown from the floats to the bystanders during parades, and revelers wear them as accessories to their Mardi Gras party attire. In addition to providing your guests with beads to wear, you can use them as part of your decorations! Hang or string them around your stair banister, or craft your own beaded chandelier. In order to construct your own Mardi Gras bead chandelier, you'll need two or three wire circles-each varying in size, purple, green and gold Mardi Gras beads, and durable string or rope to attach the layers together, as well as to your ceiling. Cut the beaded necklaces in half, forming two separate strands of beads. Wrap the end of one strand around the metal circle and secure it by twisting it into the bead strand. Do this until one of the circles is covered, then move onto the rest of the tiers. You can create a layer for each color (purple, gold or green), or you can alternate colors with each bead strand. Attach the tiers together with the rope and then display the chandelier somewhere in your party space. It would look great hanging in the center of your entertainment area, or above the dining table.
image via mardigrasoutlet.com
Use Mardi Gras masks as part of your table centerpieces.
Masquerade masks are popular during Mardi Gras season, dating back to thousands of years ago when exclusive masquerade balls were held for Mardi Gras celebrations. Masquerade balls are still held during Mardi Gras today, but revelers tend to add masquerade masks to their party attire to honor the old tradition. Form beautiful table centerpieces using these masquerade masks, adding Mardi Gras beads, balloons and feathers. Place these items into large vases, as well as around the bottom of the vase. At the end of your party, have guests take some of these as party favors!
image via marshascreeksidecreations.blogspot.com
If you're having a party with enough guests that you need to make more than one dining table, alternate Mardi Gras colors for the table covers. Have one table with a green table cover, one with a golden yellow one, and one with a purple table cover. If you have just one dining table, or a snack table, use a table cover that incorporates all three colors! You can also use a gold table cover with a Mardi Gras table runner to add some flair to the table. If you are setting out a snack table, use some of the table decorations mentioned above. You can also sprinkle gold, green and purple confetti, as confetti is common at Mardi Gras parades.
Whip up some Mardi Gras favorites for your guests to snack on.
The initial purpose behind Mardi Gras was to celebrate—eat, drink and be merry—before the period of fasting, referred to as "lent" by several religions. Therefore, overfeeding your guests at your party is encouraged! Set out a large assortment of appetizers, entrees and sweets for your guests to enjoy all night long.
While there are several traditional dishes eaten in Mardi Gras, you can choose to serve any types of foods. But, if you want your Mardi Gras party to be as authentic as it can be, serve up the foods that Mardi Gras revelers will be devouring during the Mardi Gras celebrations in New Orleans. One of these delights is King Cake, a cinnamon bun type dessert topped with frosting and purple, green and yellow sprinkles. You can easily make these in no time when you buy already made cinnamon rolls from the grocery store, pop them in the oven, drizzle them with white frosting, and top them off with Mardi Gras sprinkles. Serve this dish as a sweet and tasty dessert.
Another popular item to eat at Mardi Gras is the Muffaletta Sandwich. This sandwich consists of Italian bread, sliced mortadella, sliced salami, sliced ham, provolone cheese, mozzarella cheese and topped off with olive salad. The olive salad is made of green olives, black olives, drained giardiniera, pepperoncini peppers, parsley, oregano, black pepper and olive oil. Serve these sandwiches in sandwich form, as pinwheels, as a pasta salad—however you prefer! It can be the main entrée, or a small appetizer or side dish.
images via plainchicken.com and celebrationsgeneration.com
Other New Orleans dishes you could serve are jambalaya, crab cakes, or anything with shrimp or crawfish.  Serve your fare on Mardi Gras themed paper plates and napkins for easy cleanup, and to match the color scheme.
Mardi Gras is also known for its drinking, so be sure your guests have a drink in their hands at all times! Any type of drink is sure to please, but there is one popular drink served at Mardi Gras celebrations: the Hurricane. A Hurricane is made up of white rum, dark rum, lime juice, orange juice, passion fruit juice, simple syrup, grenadine, and garnished with an orange and cherry. They have their own style of glass that they are served in, called Hurricane glasses, and can be served frozen or on ice.
image via halfhourmeals.com
At Windy City Novelties, it's our hope that this article inspires you to create a fun and unique party for your loved ones. For more helpful tips on organizing your event, email our dedicated party planning experts at [email protected]. You may also subscribe to our emails for weekly party planning ideas, featured products and more at https://www.windycitynovelties.com/customer/account/create/