Eat, Drink and Be Scary with a Halloween Cocktail Party
09/27/17
Gather all of your ghouls and goblins for a festive Halloween cocktail party! Tell your guests to leave the kiddos with the babysitter while you celebrate Halloween adult-style. Decorate your party space with a few Halloween decorations, craft up some spooky cocktails and enjoy a festive night with loved ones. Use these party tips to help put together a fang-tastic party!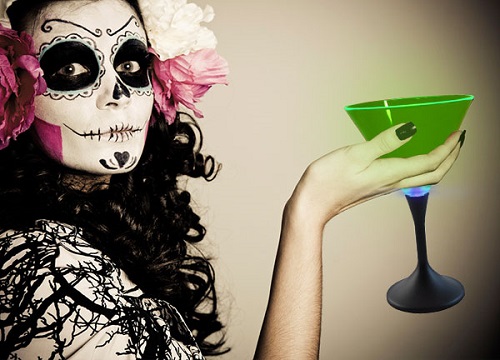 Create a spooky tablescape with Halloween decorations.
The main focus of your cocktail party will be, of course, the cocktails, as well as a few snacks, so you'll want to make sure your tablescape is near perfect! You'll also want to create a dark and spooky atmosphere, so make sure you are able to illuminate your party space with black lights and candles. Furthermore, sticking with a black color scheme for your party décor will aid in getting that dark and spooky environment. Use a black lace table cover to place over all dining and buffet tables or bars.  Prior to your party, stock up on empty wine bottles to use as candle holders. The red wine bottles (in the green bottles) work best to add that dark and spooky feeling, however you can use clear glass bottles, as well. Stick solid color candles, whether they are white, red or black, in the tops of the bottles and light them. Use them as table centerpieces or as decorations to place all over your party space.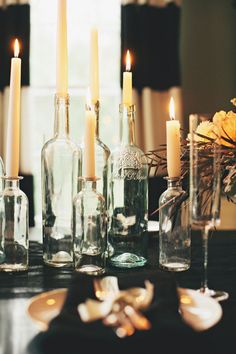 Image via stylemepretty.com
To add more flair to your party space, hang a few glittery candelabra decorations around the party space to add a touch of gothic. In addition, drape black gauze decorations around the party space and over a few of the dining tables. A large fake spider web in the corner of the party space will also add a touch of spooky to your Halloween cocktail party. Easily decorate the entranceway to the party by hanging black crepe paper streamers from the top of the doorway. Cut the pieces so that they all alter in size.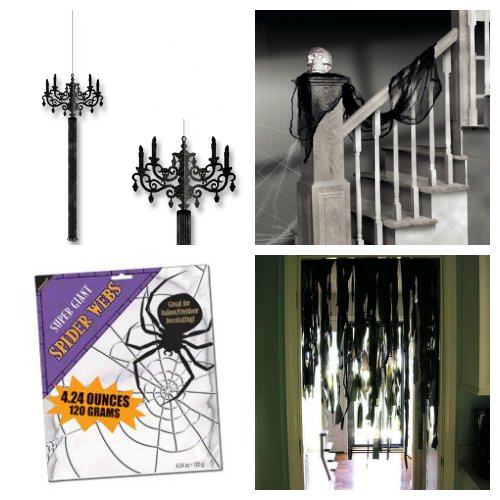 Image via flickr.com
Set up your bar area with fun light-up drinkware.
You'll need something fabulous to serve your cocktails in, in order to match your fabulous party! Serve an array of traditional cocktails in light-up drinkware. Serve martinis in glow martini glasses; serve wine in LED wine glasses; and serve beer and other beverages in LED 12oz. cups. Set up these drinking glasses on your bar for either guests to concoct their own cocktails, or have the drinks premade for guests to walk by and take. If you'd like to make a signature cocktail for the party, set out a black tombstone listing all of the party's drinks specialties! Add smoke for a special effect. Be sure to add a few of the decorations mentioned above to the bar area. Be sure to offer non-alcoholic beverages, as well.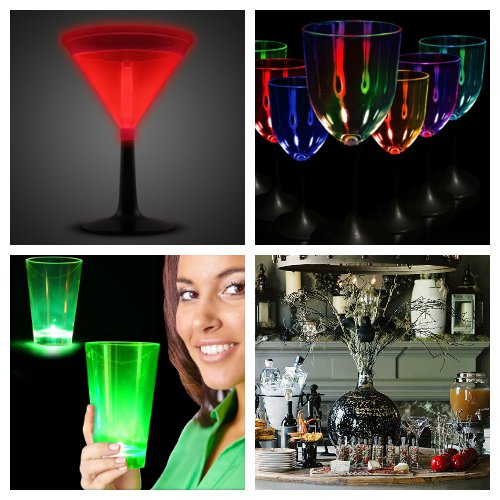 Image via popsugar.com