Festive Thanksgiving Paper Goods and Decoration Ideas
09/27/17
Use Thanksgiving paper goods and table decorations from Windy City Novelties when hosting your Thanksgiving get-together! Whether you are having a casual Thanksgiving dinner with friends, or a fancy dinner that requires your finest china, there is always room for festive decorations on the table. Windy City Novelties' selection of Thanksgiving themed paper goods—plates, napkins, cups and table covers—is available in a variety of Thanksgiving themes and prints. If you already have your dinnerware prepared, add a few Thanksgiving centerpieces, or other table decorations to your party décor. Here is your guide to the collection of Thanksgiving themed paper goods and table decorations!
Thanksgiving Harvest Paper Goods
Choose the Thanksgiving Harvest Paper Goods for a casual, heartwarming theme for this year's Thanksgiving get-together! These paper goods feature a red, gold and orange design, with the addition of a pleasing message: "Full plates; Full hearts; Everything in abundance." Cover your dining table with a Thanksgiving Harvest Table Cover, and use the matching plates, napkins and cups to serve your delicious Thanksgiving meal on.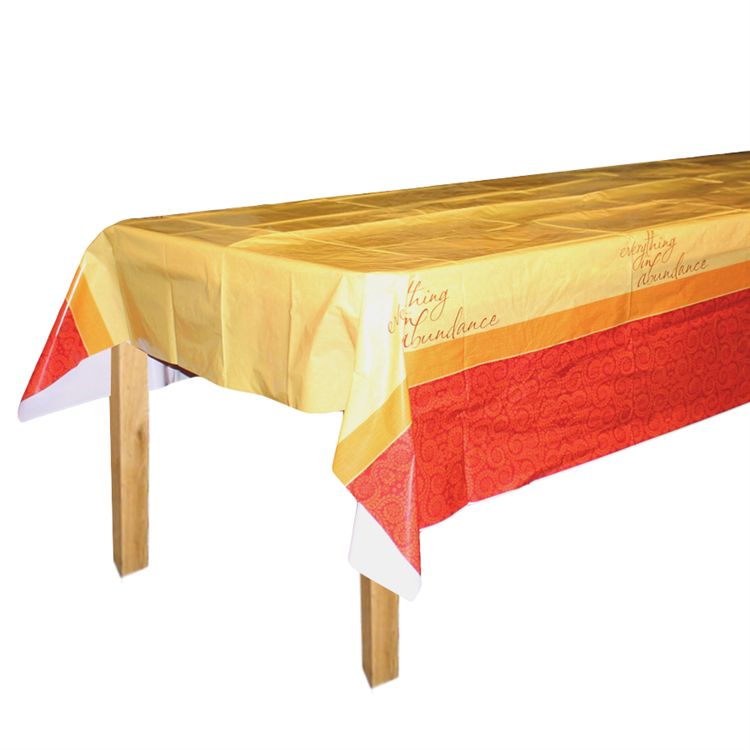 Autumn Turkey Paper Goods
Serve turkey and other fall favorites on Autumn Turkey paper goods! These paper plates and napkins feature a festive, fall print trim as well as a turkey in the middle. Use the matching napkins to serve appetizers on, and the matching cups to serve drinks.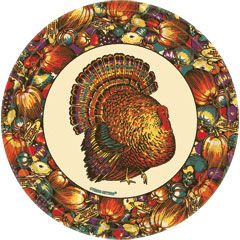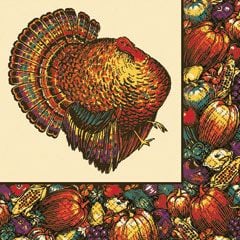 Thanksgiving Elegance Paper Goods
For an elegant twist on your Thanksgiving décor, cover a table with a Thanksgiving Elegance Table Cover to create an appetizer buffet area. Set out Fall Elegance napkins in which guests can eat their hors d'oeuvres off of.
Thanksgiving Table Decorations
Mix and match any of the paper goods themes for a colorful and festive Thanksgiving celebration. Don't forget to add in gold or orange plasticware for guests to eat with, which makes for an easy cleanup job for you!
Also, add a few table decorations to your appetizer or dining table to create a cheerful display. Use a turkey fan centerpiece as your dining table centerpiece, or simply place it on the side of a buffet table.
If you are looking for a smaller table centerpiece, or several table centerpieces, use one of the fall leaves table centerpieces. These centerpieces are elegant and contain beautiful fall colors that will match the rest of your Thanksgiving or fall decorations.
Make your own creative centerpiece by using pilgrim hats! Collect a handful of fall items, such as mini pumpkin, gourds, fall leaves, etc. and place them inside of a pilgrim hat for a lovely display. You can also add in red, orange or yellow tissue paper for added effect. Place LED votive candles around the centerpiece and down the table.
At Windy City Novelties, it's our hope that this article inspires you to create a fun and unique party for your loved ones. For more helpful tips on organizing your event, email our dedicated party planning experts at [email protected]. You may also subscribe to our emails for weekly party planning ideas, featured products and more at https://www.windycitynovelties.com/customer/account/create/