Forgo the Crowded Bars on St. Patrick's Day and Have Your Own St. Patrick's Day Party!
09/27/17
St. Patrick's Day is one of the most exciting holidays to celebrate in America, no matter what your heritage is. Typically revelers spend the day, or weekend before, attending festivals, parades or celebrating with friends at their favorite Irish pub. Instead of trying to enjoy the holiday at a crowded event, hold your own St. Patrick's Day celebration in your home! Or, invite friends over for some Irish fare before heading to the bars. Use these decorating ideas and delicious St. Patrick's Day recipes to help you plan the perfect St. Patrick's Day party!
St. Patrick's Day Decorations
St. Patrick's Day is more about wearing the party supplies rather than using them to decorate, but add some green to your home with the help of St. Patrick's Day decorations to zest up your party! Line your party space with shamrock tinsel garland. Simply drape it from the ceiling or walls to outline your party area or you can hang it in the entranceway to welcome guests. Stick some glittery shamrock cutouts on the walls and cupboards of your kitchen or party area to add some sparkle.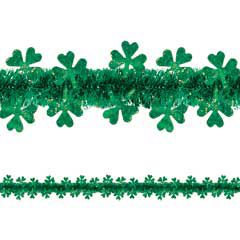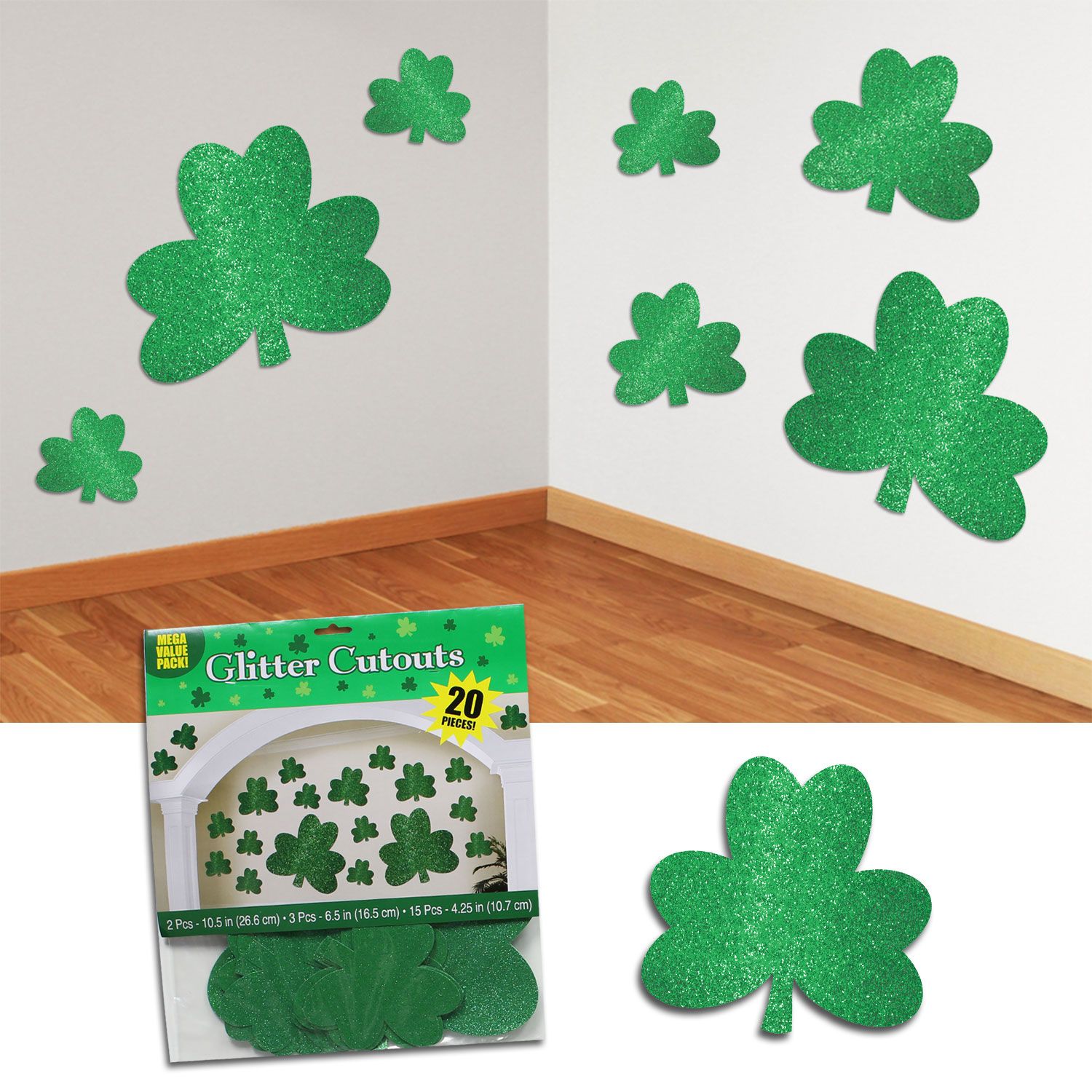 Create your own "Happy St. Patrick's Day!" banner by cutting out the appropriate letters in green construction paper and adding glitter, or other fun crafty accessories to them. String them together with rope or ribbon and hang it in the entranceway of your home to welcome guests. You can also hang some green twirly whirls from the ceiling around your party area if you think your party space needs more decorations.
St. Patrick's Day Tableware
You'll want to serve food at your St. Patrick's Day party (so people aren't drinking on an empty stomach!), or snack on some appetizers before you head to the bars, so set up a dining table or snack table where your guests can eat. Use a fun and festive St. Patrick's Day table cover to your dining or snack table. If you haven't hung garland or a "Happy St. Patrick's Day" banner anywhere else in your home, drape one off the front of the snack table. Use one that will stand out against the green table cover, such as a shamrock and pot of gold garland!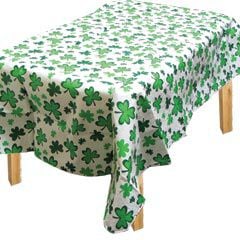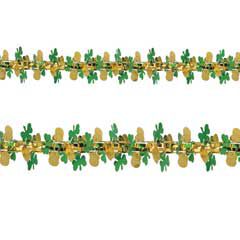 Use solid green paper plates and matching napkins to serve your delicious St. Patrick's Day food items. If you want to add more decorations to your food table, sprinkle fake gold coins all down the table, along with a few St. Patrick's Day centerpieces.
St. Patrick's Day Recipes
Once you have planned out the decorations for your St. Patrick's Day party, you can now focus on the fun part—the food and drinks! Beer is always a great beverage to drink on St. Patrick's Day, so order a keg of your favorite beer, or the popular Guinness, for guests to drink during the celebration. You can also offer a punch for those guests who don't really enjoy the taste of beer. To make the punch, purchase some green, lime flavored sherbet, toss in some Sprite or ginger ale, and add vodka or white rum.
If you want to get really crazy, offer your guests a couple Irish Car Bomb shots! In order to make these, you need a glass of Irish beer (Guinness), and a shot glass filled half way with Irish cream (Bailey's) and the other half Irish whiskey (Jameson). Drop the shot glass into the glass of beer and chug the drink. Some people prefer to sip the drink, but the Irish cream starts to curdle once left in the beer for too long.
Serve Rueben sandwiches, or Rueben sliders, at your St. Patrick's Day party. In order to create a Rueben sandwich, you'll need rye bread, corned beef, Swiss cheese, sauerkraut and Russian dressing. These sandwiches are typically served hot, so toast them on the stove in a skillet or in a toaster oven. Sometimes they are grilled, as well.
Set out a pot of cheese fondue with Guinness that guests can dip bread, potatoes and other vegetables into and eat as a fun and tasty party snack. To make the fondue, you'll need to mix 1lb of your favorite brand of shredded aged cheddar cheese with 2.5 tbsp all-purpose flour. In your fondue pot, or a regular pot, heat 2 tsp of olive oil and 1 tsp of finely minced garlic on a low setting. Cook until you can smell the garlic—usually takes 30 seconds to a minute. Switch the heat setting to medium-high and add 8 oz. of Guinness, 6 tbsp of thawed frozen apple juice from concentrate, 1 tsp of Worcestershire sauce, and 1 tsp of powdered mustard. Bring this mixture to a boil and then add the cheese and flour mixture, stirring continuously until the entire mixture is melted and smooth.
As a sweet dessert, offer some green mint chocolate chip cookies. Preheat your oven to 350 degrees Fahrenheit. While it's heating up, mix 1 bag of Betty Crocker sugar cookie mix with ½ cup butter, 1 egg, ¼ tsp mint extract and green food coloring (as many drops to get the color you'd like). Stir in 1 cup of semisweet chocolate chips and spoon onto a cookie sheet. Bake the cookies for 8 minutes then enjoy! 
Images via grandmotherskitchen.org, eatyourbooks.com, and givinguponperfect.com
At Windy City Novelties, it's our hope that this article inspires you to create a fun and unique party for your loved ones. For more helpful tips on organizing your event, email our dedicated party planning experts at [email protected]. You may also subscribe to our emails for weekly party planning ideas, featured products and more at https://www.windycitynovelties.com/customer/account/create/