Princess Birthday Party Ideas
09/27/17
Give your little princess the birthday celebration she deserves with a princess theme party! Choose to incorporate her favorite Disney princesses into the theme and decor, such as Elsa and Ana from Frozen, or Rapunzel from Tangled. Or, to make it easier on yourself, choose a general princess theme. Since she is your little princess, as well as the guest of honor, crown her with a tiara, give her a princess wand, and decorate your party space in princess party decorations, full of shades of pink with splashes of gold. Use these tips for putting together a royal bash for the princess in your life!
Invitations
First on your party list, decide all of the details of the party. Where will the party be? When will the party be? Who will be invited to the party? Once those details are figured out, you can send out your invites! Choose pink princess invitations that will match your party theme and décor, and send them out to all of her friends and family members, or anyone else you would like to invite.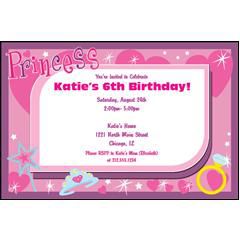 Party Decorations
Once you have received your RSVPs, you can begin planning out your decorations for the party area. Begin by decorating the entranceway. The girls will feel especially royal walking into the party on a pink floor runner. Hang a combination of pink, gold and white crepe paper streamers from the top of the doorway. Part them in the center and secure each bundle on either side of the doorway to create a curtain.
Next, decorate the actual party area. Hang white paper lanterns from the ceiling of the party space, first covering them in different colored tulle, and securing it with fake flowers or gold ribbon. In place of the paper lanterns—or in addition to the lanterns—you can attach one balloon to each chair around the dining table. Brush glue on the bottom of the balloon with a paint brush (after the balloons have been inflated with helium and tied to ribbon), and sprinkle multi-colored glitter on them. Have the girls take their balloon home with them as a party favor when they leave!
images via pinterest.com/cassandra5979 and createcraftlove.com
If you would like additional decorations around the party area, hang pink garland mixed with white string lights around the perimeter of the party area.
Table Décor
After the party area is decorated, set up your party tablescape. Start with a white or gold table cover to place over the dining table. Create little place settings for each guest using pink paper plates and adding a princess tiara and wand to each one. Add a gold princess crown sticker to each pink paper cup, as well as rolled up plasticware in a napkin. Fill small glass vases with a handful of pink and white flowers, and set them down the center of the table as centerpieces.
images via scpedesign.com and karaspartyideas.com
Then, set aside a separate table to place the snacks and/or birthday gifts on. You can use the same table cover as the one on the dining table, or switch it up by using a different color. Sprinkle princess-themed confetti over the table to add some sparkle. You can also use glitter.
Serve the princesses finger sandwiches in the form of peanut butter and jelly or deli meat and cheese. For a healthy side dish (that's also fitting and fun), create little magic wand fruit kabobs! Use a star cookie cutter to cut out star shapes in watermelon, adding red grapes, strawberries, and any other red or pink fruit you would like to add. Slide all of the fruit onto wood skewers, positioning the star-shaped watermelon at the top. Offer chips and other snacks, as well. Finish off lunch with a delicious birthday cake or cupcakes.
Activities
After lunch, let the girls play around with their princess tiaras and wands they've just received from their place setting. Then, have them partake in a game of "Kiss the Frog," similar to "Pin the Tail on the Donkey." Give prizes to all of the girls in the form of goody bags! 
At Windy City Novelties, it's our hope that this article inspires you to create a fun and unique party for your loved ones. For more helpful tips on organizing your event, email our dedicated party planning experts at [email protected]. You may also subscribe to our emails for weekly party planning ideas, featured products and more at https://www.windycitynovelties.com/customer/account/create/