Heat up Your Winter with a Luau Party!
09/27/17
Do the winter blues got you down? Can't find the time or the money to take that tropical vacation? Try throwing a luau party instead! It's no tropical getaway, but it can temporarily free your mind of the frigid winter weather. Invite friends and family members over for an unexpected night of luau fun when you host a tropical themed get-together. You can also add a luau theme to an upcoming celebration to change it up, such as a birthday party, bridal shower, graduation party and more! Transform your party space into an island oasis with the help of luau decorations, guzzle tasty Hawaiian treats and fruity cocktails and pretend that you are on a warm, tropical vacation with all your loved ones. Here are a few party tips to assist you in planning the best luau party to (temporarily) rid of the winter blues.
Create your own paradise with the help of luau decorations.
Sunshine, clear blue skies, sandy beaches, palm trees, coconuts, colorful flowers—these should all be incorporated into your luau party décor. Of course, you're not going to be able to dig your toes in the sand and take a dip in the ocean, but you can at least create the illusion of a tropical paradise by covering your walls with scene setters. Decide what type of tropical setting you like best, whether it be on an open beach, looking out onto the ocean from your tiki hut, or in the middle of a tropical forest with the ocean miles away. Choose a scene setter based on your idea of paradise and use it to cover one or more of the open walls in your party area. Set up a few lawn chairs or beach towels in front of the scene setters for guests to take a breather and soak in the scenery. The scene setters can also be used as a backdrop for a photo booth! Just be sure to set out some props for them to use in their photos.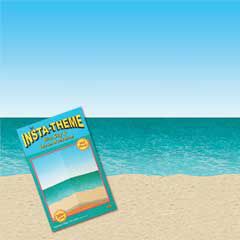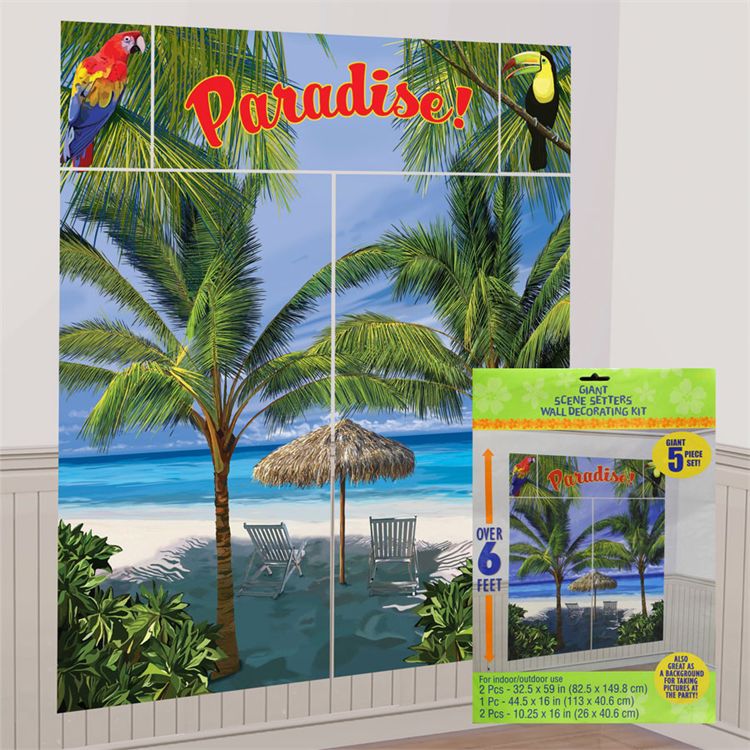 Use additional scene setters to cover your doors and windows so that no one will be able to see the snow outside. Place a tiki hut door cover over your front door, or the door to your party space. Guests will feel like they are visiting you at your tiki hut on a tropical island with this tiki hut door cover. 
Because you won't be able to light tiki torches inside of your home, you can hang cardboard cutout tiki torches on the walls surrounding your party space.
Build palm trees all throughout your home using balloons, construction paper, and paper streamers. Cut green construction paper into the form of palm tree leaves. You may draw lines on them with a black permanent marker if you prefer. Tape them together to make them look like the tops of palm trees. Next, blow up several brown balloons (small) and attach them under the green palm tree leaves. These brown balloons will act as the coconuts. Secure the leaves and coconut decorations to your ceiling. Hang several strands of brown paper streamers from the center of each palm tree. Be sure the strands of paper streamers are almost long enough to reach the ground.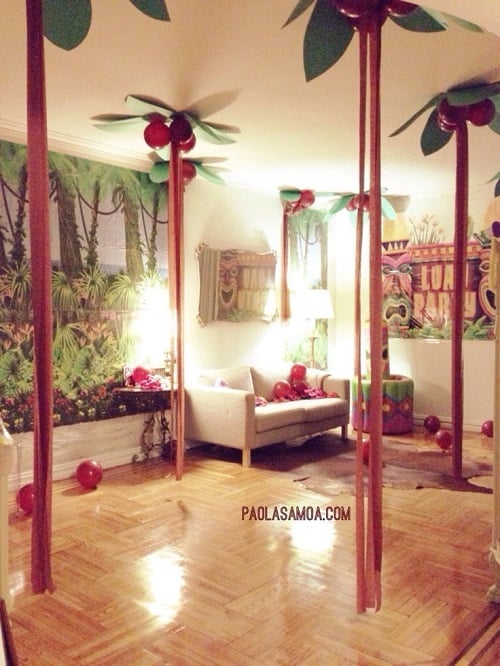 image via paolasamoa.com
Drape a flower lei garland around the party area to add a little color. You can drape it on the walls, over the entranceway, across the ceiling—wherever! You can also string a colorful paper lanterns light set over your party area to create an ambiance.
Serve your guests tropical drinks and Hawaiian fare by setting up a tiki bar and snack table.
Construct your own tiki bar using a table, or a small bar if you already have one. Attach a grass table skirt to the front of the tiki bar, along with a sign the reads "Tiki Bar." Create the top of the tiki bar using a clothing rack, or two sturdy poles and some rope. Secure the rope horizontally between the two poles over your table or bar. Take a large piece of cardboard and bend it in half. Attach another grass table skirt to the piece of cardboard, letting the grass hang off a few inches in the front, and secure the piece of cardboard over the clothing line or rope. Serve fruity cocktails, such as piña coladas, daiquiris, Mai Tais, mojitos and more in festive coconut cups.
You'll also want your guests to eat at your luau party. Whip up some Hawaiian finger foods, such as ham and swiss sandwich sliders on Hawaiian bread, bacon-wrapped pineapple, ribs, mango salsa, and more. You can find luau recipes on our Luau Pinterest page here: https://www.pinterest.com/wcnovelties/luau/  
Display your dishes on a separate table that guest can easily help themselves to. Use a solid, brightly colored tablecover to place over the snack table, hanging another grass table skirt from the front of the table. Set out luau themed paper plates and napkins for guests to eat off of.
Add a few decorations to the dining area, such as colorful hibiscus flower cutouts to hang on the wall behind the snack table. You can also sprinkle silk lei petals over the snack table and add a few candles. Create your own beachy candles by taking large wine glasses, filling them with sand and small seashells, then placing a small votive candle inside.
image via diycraftyprojects.com
Entertain guests with a limbo game and some great music.
Once your guests have filled up on food and drinks, you can invite them to a friendly limbo competition! Set up your limbo game in an open area in your home and turn on festive island music. Have your guests walk under the limbo stick, lowering it each round, until there is one person left standing. Award the last person standing with a fun prize.
You should also tell your guests to arrive in Hawaiian/beach attire! Be sure to have a few extra leis, hula skirts and coconut bras lying around for the party poopers that didn't dress up!