Make Your Own Mardi Gras Mask Ideas
09/27/17
Mardi Gras and masks go hand in hand, so when you're hosting a Mardi Gras party, get your guests into the right mood by having everyone make their own Mardi Gras masks when they arrive at your event!  Even if you aren't having an elaborate masquerade ball, complete with Mardi Gras costumes for everyone, you can still set up a craft table where your guests can get into the spirit of Carnival by creating beautiful masks for the celebration! 
Preparing your Mask-Making Station
Prep your Mardi Gras mask-making station by covering a long table with a Mardi Gras plastic table cover to protect it from drips and dribbles (choose one in a festive Mardi Gras pattern to match your party theme!).  Set your table up in the kitchen if possible to protect the carpet from spills, or place another plastic cover on the floor if you have to set up someplace with carpet due to space constraints.  Depending on the size of your guest list, you may want to have two tables set up so your guests won't be crowded, or else plan to have guests work on their masks in shifts.  Stock up on all the basic supplies your guests will need to create their works of art.  Aside from glue guns, craft glue, paint, paint brushes, glitter, feathers, sequins, confetti, jewels, beads, and ribbons to adorn their masks, you'll need to have plenty of paper towels, water, and sponges available to help clean up!  If you've got a crafty group coming to your Mardi Gras party, have them start with basic paper plates as the base for their masks.  They can cut out the shape using a simple pattern and, for a mask that ties behind their head, use a hole punch and ribbons, or for a handheld mask, glue wooden dowels to the side of their completed mask.  If you're afraid your friends might need a little help making their own Mardi Gras masks, you can provide a basic metallic half mask to start with and they can add their own embellishments.   While your friends' masks may not wind up looking like an elaborate Venetian feathered headband and mask that would put the Mardi Gras queen to shame, they will certainly have fun giving their masks a personal touch! 
Set a Mardi Gras Scene
Give your friends some inspiration for their own Mardi Gras masks by decorating for your party with festive feathered masks, Mardi Gras glitter cutouts, and other fun Mardi Gras decorations that will get them in the celebratory mood and transform your party space at the same time!  The traditional Mardi Gras colors of gold, green, and purple should play a key role in your color scheme and you'll need to stock up on plenty of party beads to accent those fabulous masks as well!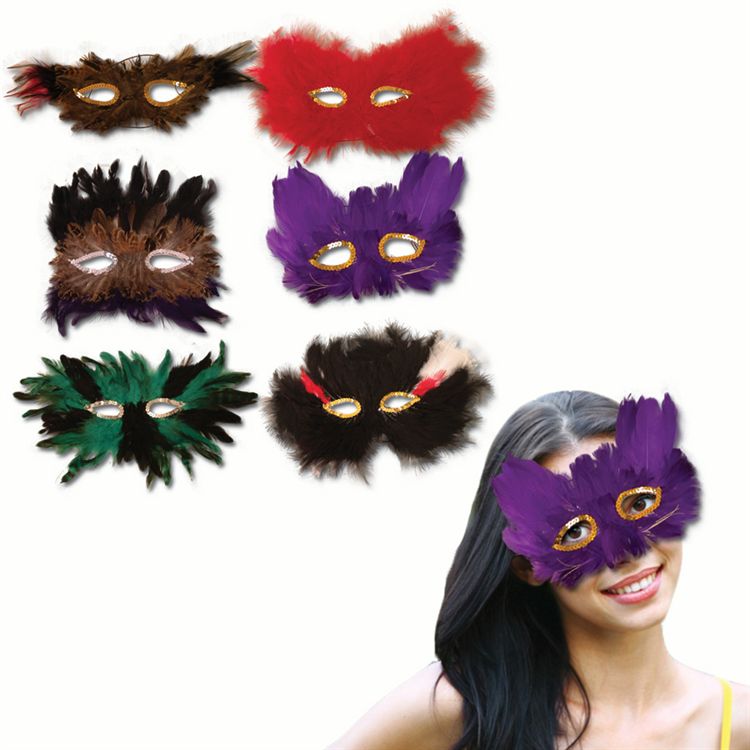 Bourbon Street Inspired Snacks
Serve your guests tasty New Orleans-inspired treats at your Mardi Gras party.  Stock the buffet table with everything from shrimp etouffee, jambalaya, gumbo, red beans and rice, and pan-fried oysters to bourbon street balls, pecan pie, bananas foster, beignets, and King cake.  Decorate your table with festive Mardi Gras paper goodsand add some bright beads to accent your serving platters and dishes for a colorful table setting.  Finish off your decor with candles in glass holders, dim the lights to add intrigue and ambiance to your event, and "Laissez les bon temps rouler"!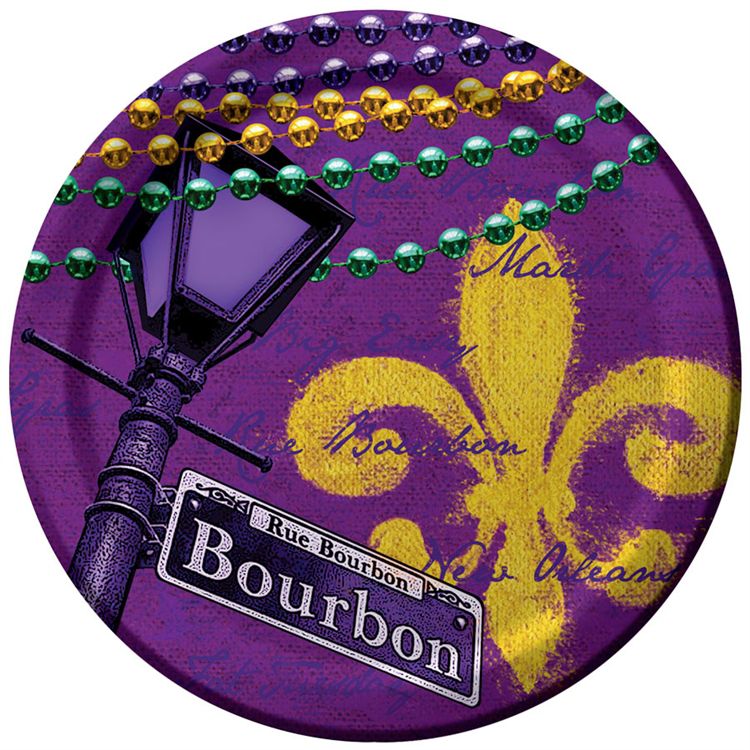 While you may not be able to celebrate Fat Tuesday on Bourbon Street, partaking in the festive Mardi Gras parades and parties that New Orleans is known for, having your friends over for your own Mardi Gras party where you all make your own Mardi Gras masks is a fun way to kick off a season of good times.  With the right supplies, a little creativity, and a group of willing friends, your evening is sure to be a success! 
At Windy City Novelties, it's our hope that this article inspires you to create a fun and unique party for your loved ones. For more helpful tips on organizing your event, email our dedicated party planning experts at [email protected]. You may also subscribe to our emails for weekly party planning ideas, featured products and more at https://www.windycitynovelties.com/customer/account/create/