Host Your Own Back 2 School Carnival!
09/27/17
Schools across the country will be back in action shortly, if not already. Show your kids a good time before heading back into a daily routine by giving them one last summer hoorah. And not just any hoorah, but a Back 2 School Carnival Party! Let the children enjoy the last few days of summer by setting up a mini carnival in your backyard or a nearby park. They'll eat delicious carnival foods while playing a few carnival games and winning prizes. Now, of course you cannot build giant carnival rides in your backyard, but kids will still have a good time with whatever you put together! Here are a few ideas on setting up your own Back 2 School Carnival! 
Set the scene with carnival decorations. 
You don't need to rent a big, fancy, red and white striped tent for your carnival party (but you can if you want to). Instead, make use of some of the items you already have laying around your home. If you own a pop-up canopy tent, set it up in your yard to cover the food area. Make it look just like a carnival tent by hanging alternating red and white streamer paper down all four sides of the canopy. Use rope at the bottom of the three back sides to attach the streamer paper to and keep them from blowing in the wind. Separate the streamers down the middle on the front side, draping them towards each side of the tent to create curtains--just like a circus tent. This will create an entranceway to your food area! Add pennant banners and other fun hanging decorations in the tent, such as yellow paper fans.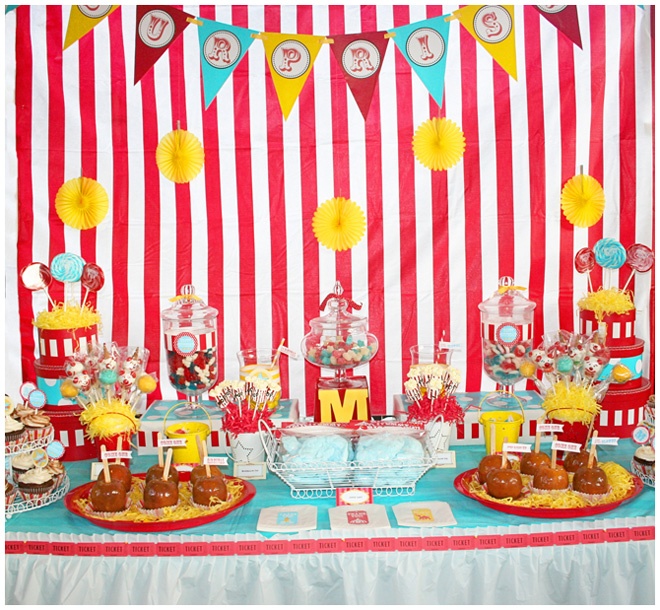 via pizzazzerie.com
If you don't own a canopy tent, you can simply section off an eating area by attaching a rope to two trees—or two poles—and dangling red and white sheets using clothespins. Any brightly colored sheets you already own would work just as well. If you're using colorful sheets, drape a red and white pennant banner across the sheets for an added carnival effect.
You can also use the sheet idea to section off areas of the carnival, such as different games or activities. Use sign cutouts, or make your own, to let the kids know what games can be played, where the food is, and other areas you choose to set up at your carnival. Use a colorful table skirt or garland to hang off the edges of booths. Be sure to set up a photo booth area with a fun backdrop and props for some great memories! 
Spoil the kids with carnival treats. 
As mentioned previously, section off an area for the kids and other guests to eat. Set up picnic benches or fold-up tables and chairs. Use colorful table covers that will add to your party decor--colors such as red, blue, yellow and green will work wonderfully with a carnival theme. Use balloons as table centerpieces--because what carnival doesn't have balloons?! If the tables are round, it would be cute to add a balloon, or several, to each chair around the table. That way, the kids can take the balloons attached to their chair home with them when they leave.   
Purchase or make various carnival foods to serve at your party. Corn dogs are always a big hit with children, and will fit perfectly with the theme (be sure to buy a few vegetarian ones just in case). You could also set up your own French fry bar, to go along with your corn dogs. Have one small crock pot of chili, another of warm cheese sauce, and set out onions and other toppings you think your guests may enjoy.
Set out a fruit salad and a veggie tray for a few healthy snack choices. Popcorn is always a good snack, so set out little bags of popcorn, ready for the kids to grab. As for treats, cotton candy is a must! Set out a few cotton candy wands or buckets. You can also make your own funnel cake and serve to your guests for dessert. 
Serve your party food on matching solid color paper goods. If most of your party decor is red and white, use yellow or blue paper plates to add a pop of color. 
Use games and activites at your various booths to keep guests entertained. 
Back 2 School Quiz-Off: Since this is a Back 2 School Carnival, you can set up a station where kids can participate in a quiz-off to get their brains warmed up and active. Have two kids start off standing at two separate booths. Ask them a general math, science or literature question. Whichever kid answers the question correctly first will get to remain in the competition while the other one will be disqualified (from the current round). Another child will get to come up to the booth to compete against the child that had just won the first round, and so on. The last kid standing after the quiz-off wins a prize!  
Race: A friendly race is an activity that a group of kids can participate in at once. Have them compete against each other in a potato sack race by giving them old pillow cases. They must jump in the pillow case from the starting line to the finish line. The first kid to cross the finish line wins.
You could also get them to work on their team building skills by having them participate in a three legged race, instead. Have the kids pair up and tie their inside legs together (with a bandana, scarf or other soft fabric). Watch them try to work together to be the first duo to cross the finish line!
Hands-Free Donut Eating Contest: Hang a rope from two poles and use string (dental floss would work) to hang the donuts from the rope. The kids must eat the entire donut with their hands tied behind their back. The kid to finish their donut first, wins.
Balloon Darts: Use a giant piece of corkboard and attach rows of balloons (water balloons filled with air work best), making each row a different balloon color. With heavy parent supervision, have the children stand at a distance and throw darts at the balloons. They must try to pop an entire row of balloons, but they have to be of the same color.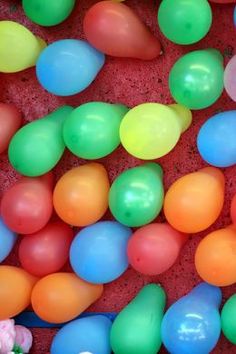 via janet21.hubpages.com
Face Paint: Create a face painting booth. If you have decent art skills, you can do all the face painting yourself! Otherwise, you can hire a professional or ask someone you know with some art skills to do it for you. You could also offer hair wraps, braids or temporary tattoos, instead!
Other fun games or activity booths you could set up are Bozo Buckets, Bean Bag Toss or a clown piñata. Be sure to have enough toys, stickers, bracelets, etc., on hand as prizes for the kids to win. Giving them items that would prepare them for school, such as pencils, erasers, rulers, and the like, would make the parents happy! 
Enjoy the party! 
Now that you have a few ideas on how to throw a Back 2 School Carnival, you can begin your party planning process! Start by choosing a date, reserving tents, booths, etc., and sending out your carnival invites. 
At Windy City Novelties, it's our hope that this article inspires you to create a fun and unique party for your loved ones. For more helpful tips on organizing your event, email our dedicated party planning experts at [email protected]. You may also subscribe to our emails for weekly party planning ideas, featured products and more at https://www.windycitynovelties.com/customer/account/create/