How to Decorate for a Roaring 20's New Year's Eve Party
09/27/17
Add a theme to your New Year's Eve celebration by making it a Roaring 20's New Year's Eve Party. The 1920's were a thrilling decade, complete with jazz, dancing, boozing and great fashion. Combine all of these components (and use 1920's themed party decorations from Windy City Novelties!) and you have yourself an exciting and unforgettable New Year's Eve.
Invite your guests with Gatsby-inspired invitations and let them know there is a Roaring 20's theme at your New Year's party, and that guests are highly encouraged to dress accordingly. Transform your party area into your very own speakeasy, with the help of gold and black décor. Serve cocktails and delectable appetizers, and dance to jazz music until it's time for the midnight countdown. Here are some tips for hosting a Roaring 20's New Year's Eve party.
Embellish your entertainment area with black and gold decorations.
First pick out an area of your home that will function as the party area. A basement is ideal for a speakeasy, but you can make any area of your home work. If possible, hang a draped black curtain, or two, in the doorway or entranceway of your party space. This will give your party that speakeasy feel, without completely blocking your guests out. Secure the drapes with white pearl beads.
When you think of The Great Gatsby décor, you think black and gold art deco, so use black and gold decorations to adorn your party area. Black and gold are also New Year's Eve colors, which makes a Roaring 20's theme perfect for a New Year's party. Create a backdrop in your party space that will become one of the focal points, and can also double as a photo booth. Combine several gold metallic fringed door curtains on a large, open wall to create a backdrop. You can also purchase additional curtains and layer them on top of one another to create several layers of fringe, similar to flapper dresses.
Be sure to place some photo booth accessories near the backdrop so guests can take funny photos at your party! To get these for cheap, you can cut out your own shapes with construction paper or cardboard, paint them, and glue them to long wooden sticks. Use items like red flapper lips, a Charlie Chaplin mustache, round eye glasses, flapper feathers, and so on.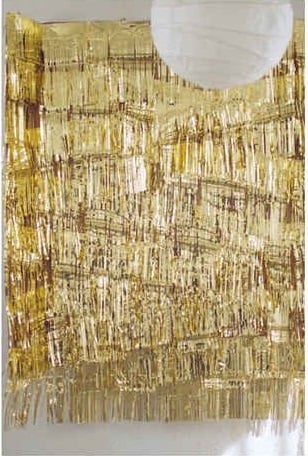 image via buzzfeed.com
For a classy look, drape white string lights around the party area—either across the ceiling or along the sides of the walls. You can also do this with white or black feather boas, or white pearl bead necklaces (just cut them and tie the ends together to make long strands).
For extra decorating, place large silhouette cutouts on or against the walls. Any in the shape of gangsters, flappers and jazz musicians will work perfectly for your Roaring 20's theme.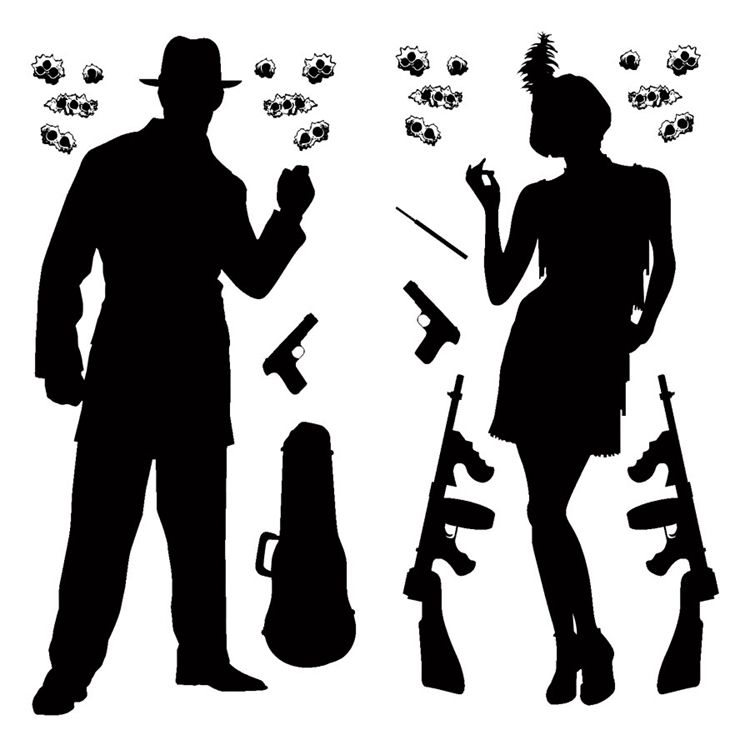 Coordinate your dining table décor with the rest of your decorations.
Decide whether you are serving a full dinner at your New Year's Party, or just setting out a cluster of appetizers for guests to walk by and grab when they're hungry. For a dining table, you may have to put several tables together, depending on how many people RSVP'd. Use gold table covers to cover the tables, and set out black paper napkins for easy cleanup, along with your choice of eatery (plates, glasses, and cutlery).
Purchase a few tall and skinny vases from a craft store (they can be glass or plastic), as well as large black and white feathers. Fill the vases with white pearl bead necklaces and top them off with the feathers as a jazzy alternative to flowers in water. Set them along the center of the table(s). In between the vases, take votive candle vases and wrap them in black lace. Set LED candles in them to assure the lace won't burn from the flame of real candles.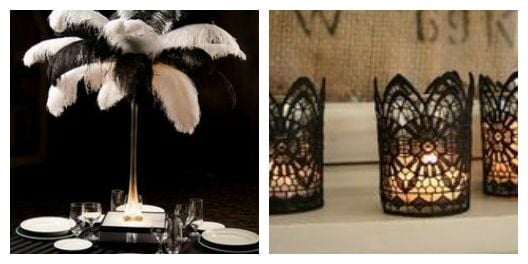 images via picasaweb.google.com and trucsetbricolages.com
If you only plan to serve appetizers at your New Year's Eve party, set out a buffet style table and use a gold metallic fringe table skirt to wrap around the base of the table. This table skirt will match the fringe of your backdrop in your party space. Still use the vases with feathers are table décor, but place them on the back corners of the table. You can also still use the lace candles, but place them sporadically across the buffet table, in between the food dishes. Set out black paper plates for guests to eat off of.
Provide your guests with Roaring 20's party favors for the midnight countdown.
Even though your guests will most likely get into the Roaring 20's theme and come dressed from head to toe in their own 1920's attire, you can pass out party favors anyway. They'll also need noisemakers to ring in the New Year with. To make it easier on you, you can purchase a Roaring 20's New Year's Eve Kit that includes all the party favors you need for a New Year's party included in one little package. The guys will get black and white velour fedoras to sport, while the ladies can wear black or white feather fascinators. Your guests will also receive party beads, along with blow horns to make some noise once the clock strikes midnight!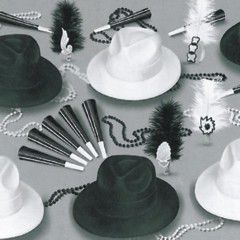 At Windy City Novelties, it's our hope that this article inspires you to create a fun and unique party for your loved ones. For more helpful tips on organizing your event, email our dedicated party planning experts at [email protected]. You may also subscribe to our emails for weekly party planning ideas, featured products and more at https://www.windycitynovelties.com/customer/account/create/