How to Make Your New Year's Eve Party the Easiest Party You've Hosted
09/27/17
New Year's Eve, with its (traditionally) classic and elegant style—and not to mention occurring exactly one week after Christmas—can be a difficult occasion to host for. You want your party décor to look nice, as New Year's typically involves getting all dressed up to reminisce with friends and loved ones about the past year, but looking forward for the year to come. There's so much pressure to have a great time on New Year's that it can sometimes make creating the perfect party environment a bit stressful. You want your guests to feel comfortable, yet you want them to feel like this party and this night is different and more special from most other parties within the past year. 
Well, stress no more. This year, when hosting your lovely New Year's Eve Party, you can take a load of pressure off the party planning process by using a New Year's Party Kit! Create a fun and festive party environment with decorations, party accessories and your charm. Here are some tips on how to make New Year's Eve the easiest event you've hosted!
Decorate your party space as you previously envisioned.
If you have an idea of what you want your New Year's party décor to look like, then proceed to decorate it that way. Stay within a general theme, whether it's gold accents, silver accents, black and white accents, etc. Your party will also be fabulous if you just keep and use your decorations from Christmas! Don't stress yourself out over the decorations. Just make the party space look decent and then focus on being able to spend quality time with the people you care about.
Provide your guests with fun party favors.
Party favors are the most important part of New Year's Eve parties. Your guests will need accessories and noisemakers in order to ring in the New Year the right way. Here is where the New Year's Party Kits come in. Instead of trying to collect a bunch of top hats, tiaras, noisemakers, etc. from several different party stores—that don't even coordinate with each other—consider get a New Year's Party Kit with all of the New Year's accessories included. This will make planning for a New Year's party ten times easier, and will make your guests have a blast at your celebration.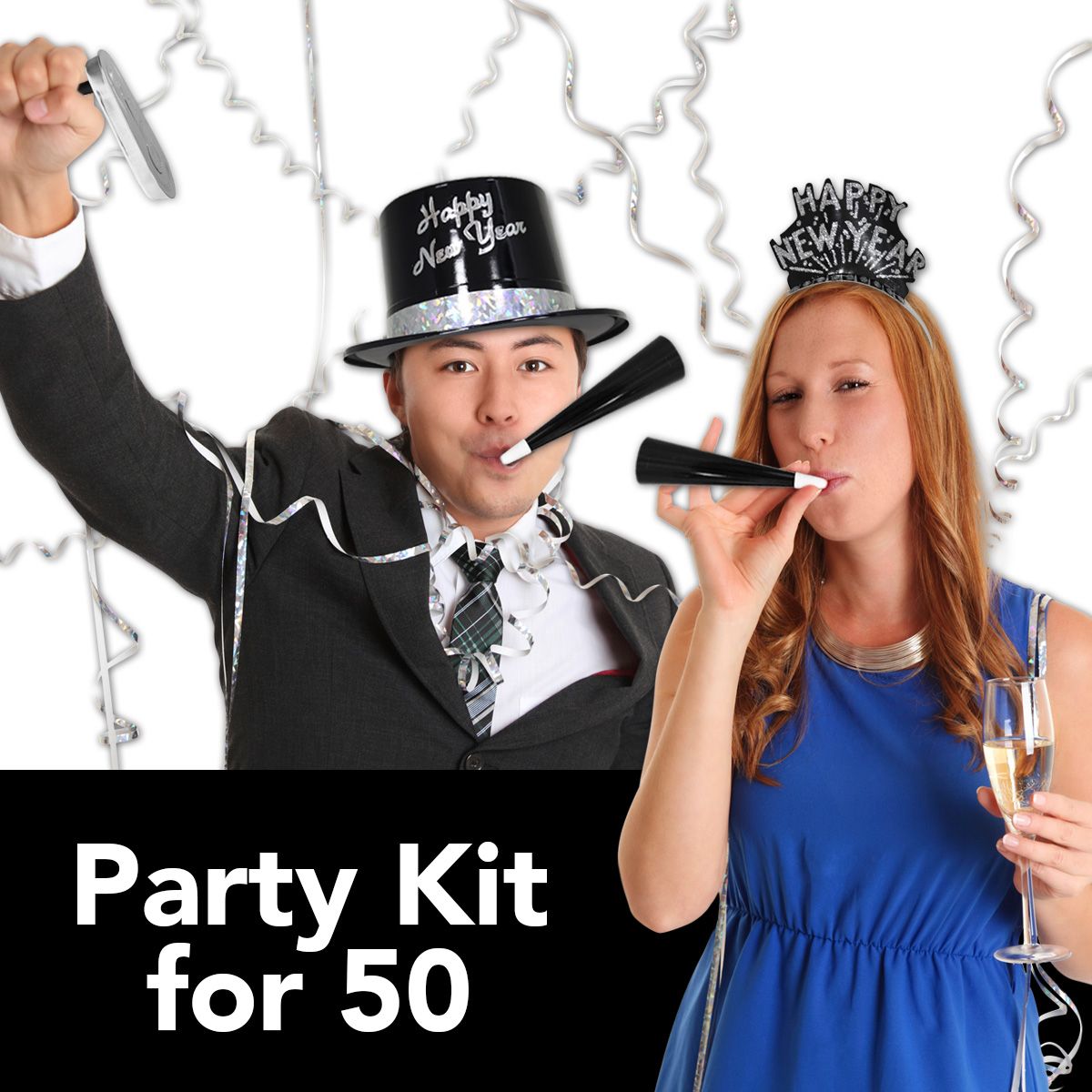 Find a New Year's Kit that will match your party décor. If you decided to go with silver accents, or are keeping your Christmas decorations, use a Silver Fantasy Happy New Year Party Kit. This kit consists of everything needed to host a New Year's Party, including black and silver top hats, tiaras, noisemakers, serpentine to throw around at midnight, and party horns. Literally ring in the New Year in the company of your friends and family with these fun party accessories.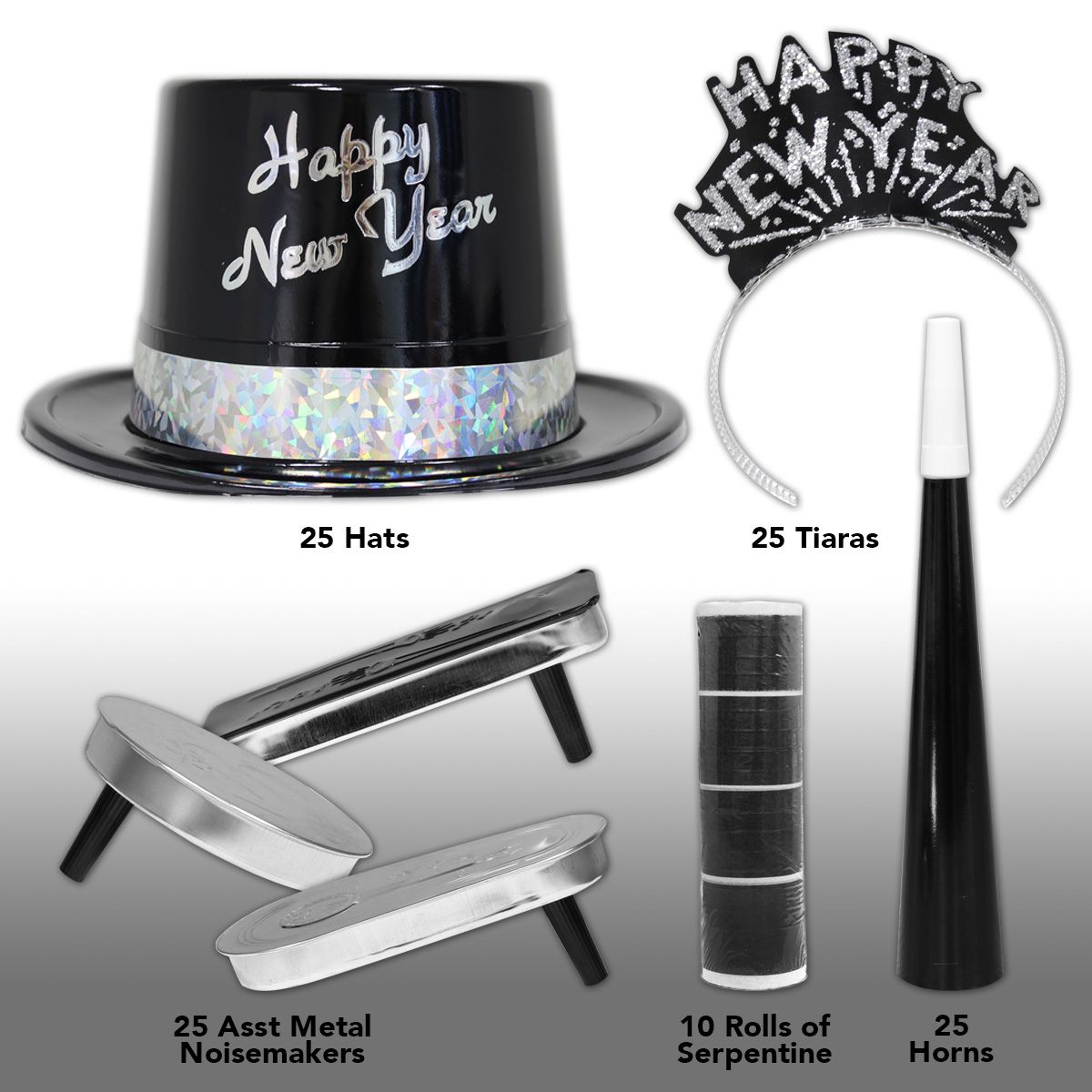 You can find a variety of party kits to suit your guest list, whether it's 10 people or 100 people. If your party décor is more gold, use a Golden Midnight New Year's Party Kit that comes complete with gold party accessories. If your party décor is colorful, or black and white and needs a pop of color, use a colorful metallic New Year's Party Kit. Even if you're switching things up this year and going for a theme—such as Roaring 20's, Western or Old Hollywood Glam—you'll be able to find a New Year's Party Kit that will coordinate perfectly with your party setting and will add that perfect touch to your event.  
At Windy City Novelties, it's our hope that this article inspires you to create a fun and unique party for your loved ones. For more helpful tips on organizing your event, email our dedicated party planning experts at [email protected]. You may also subscribe to our emails for weekly party planning ideas, featured products and more at https://www.windycitynovelties.com/customer/account/create/