How to Throw a Sweet 16 Glow in the Dark Party
09/27/17
Glow in the dark parties, also referred to as glow parties or black light parties, are very popular among the young crowd today. This glow crazed phase began when a certain type of music—electronic dance music, or EDM—rapidly increased in popularity over the last several years. The settings at such EDM concerts or music festivals are glow in the dark with bright neon colors, prompting individuals attending these events to dress in glow in the dark accessories to fit in with the atmosphere.
If your child is a fan of the EDM movement, and is about to turn 16, throw them a Sweet 16 Glow in the Dark Party they'll never forget! Transform your basement into an EDM concert with these helpful glow in the dark party ideas.
Use glow sticks as part of your party decorations.
When planning for your Sweet 16 Glow Party, choose an area of your home that doesn't have any windows, or that is able to get pretty dark. If you don't have one, use large pieces of black construction paper to place on the walls and over the windows. You'll want all of your glow decorations and accessories to really glow and a dark environment is the key. You will also want to place black lights around your party space. This will make items that do not have the capability to glow—such as white or neon colored objects—essentially glow in the dark.
Use glow or light-up decorations whenever possible. Hang glowing beach balls from your ceiling as party decorations. Glow beach balls are basically clear inflatable balls with a glow stick inside of them. Use an assortment of different colors to add some variety to your party décor.
You can also hang glow sticks onto a sturdy strand to use as a type of glow in the dark garland. Drape it along the party space, or drape it in the front of the gift table or accessory table. Crack the glow sticks right before the party begins so the glow sticks will light for the duration of the party. You can also drop them into the bottom of coolers to make the ice and water inside the coolers glow.
For your table setting, use glow sticks, necklaces and bracelets anywhere you can. Place glow necklaces around the paper plates and glow bracelets around the bottom of the cups. You can also use glow cups and glow silverware in your place settings. Use light-up centerpieces to add extra light. Put LED pebbles or LED ice cubes into vases with white roses—the white will capture the light from the black lights.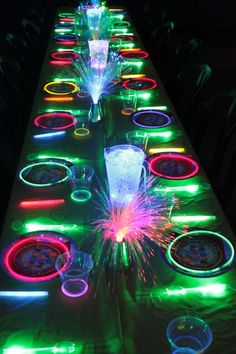 via blovelyevents.com
Glow in the dark paints can double as party decorations and party favors.
An advantage to putting construction paper over your windows and walls is that you get to paint them! Use glow in the dark paints to draw or splatter onto the walls. These glow in the dark paints will glow on their own, but they will also catch the UV light from the black lights that will make them shine even brighter. As a fun activity for your party, you could have the kids use this paint, or highlighters, to write messages or draw pictures for the birthday boy or girl on the paper-covered walls. They can also paint cool designs on their faces or arms with the glow in the dark paint.
Whenever you cannot use light-up or glow decorations, use neon decorations, especially near the black lights. This will add bright colors to your party setting.
via designdazzle.com
Hand out glow accessories to guests as they arrive.
Set up a table near the entranceway of the party where guests can grab glow in the dark accessories to wear. Anything from glow sticks, glow jewelry, glow glasses, LED accessories, LED foam sticks and neon hats or headwear will work. The kids will love wearing them throughout the party and while dancing. Be sure to create an EDM playlist to play throughout the party. You can also add strobe lights and other special effects to create a fun dance environment! That's just one idea for your glow in the dark party.