How to Throw a Valentine's Day Party for Your Classroom
09/27/17
Most individuals feel one of two ways about the Valentine's Day holiday—either they love it or they hate it. Kids, on the other hand, truly enjoy Valentine's Day. They love handing out Valentines to their peers and snacking on sweet treats all day. Although Valentine's Day falls on a Saturday this year, teachers can still give their students a special Valentine's Day celebration by decorating their classroom, providing snacks and having the kids participate in some fun activities! Here are some tips on how to throw a Valentine's Day party in your classroom this year.
Garnish your classroom with red and pink Valentine's Day decorations weeks before the actual holiday.
To get kids excited about the holiday, and to give them something to look forward to, decorate your classroom a few weeks before Valentine's Day. Stick heart cutouts onto the walls of your classroom. You can place them anywhere and everywhere—you can never have too many hearts when decorating for Valentine's Day! Stick them on the open walls above and below your chalkboard, above the cubby holes, on the outside of your desk, on the door, etc.
You can also use a Valentine's Day decorating kit to liven up your classroom for the holiday. Drape red, metallic, fringed garland around the doorway to your classroom, or let it hang off the edge of your desk. Hang the heart danglers from the ceiling all around your classroom, and stick the heart cutouts onto the walls, just as you would with the heart cutouts mentioned previously.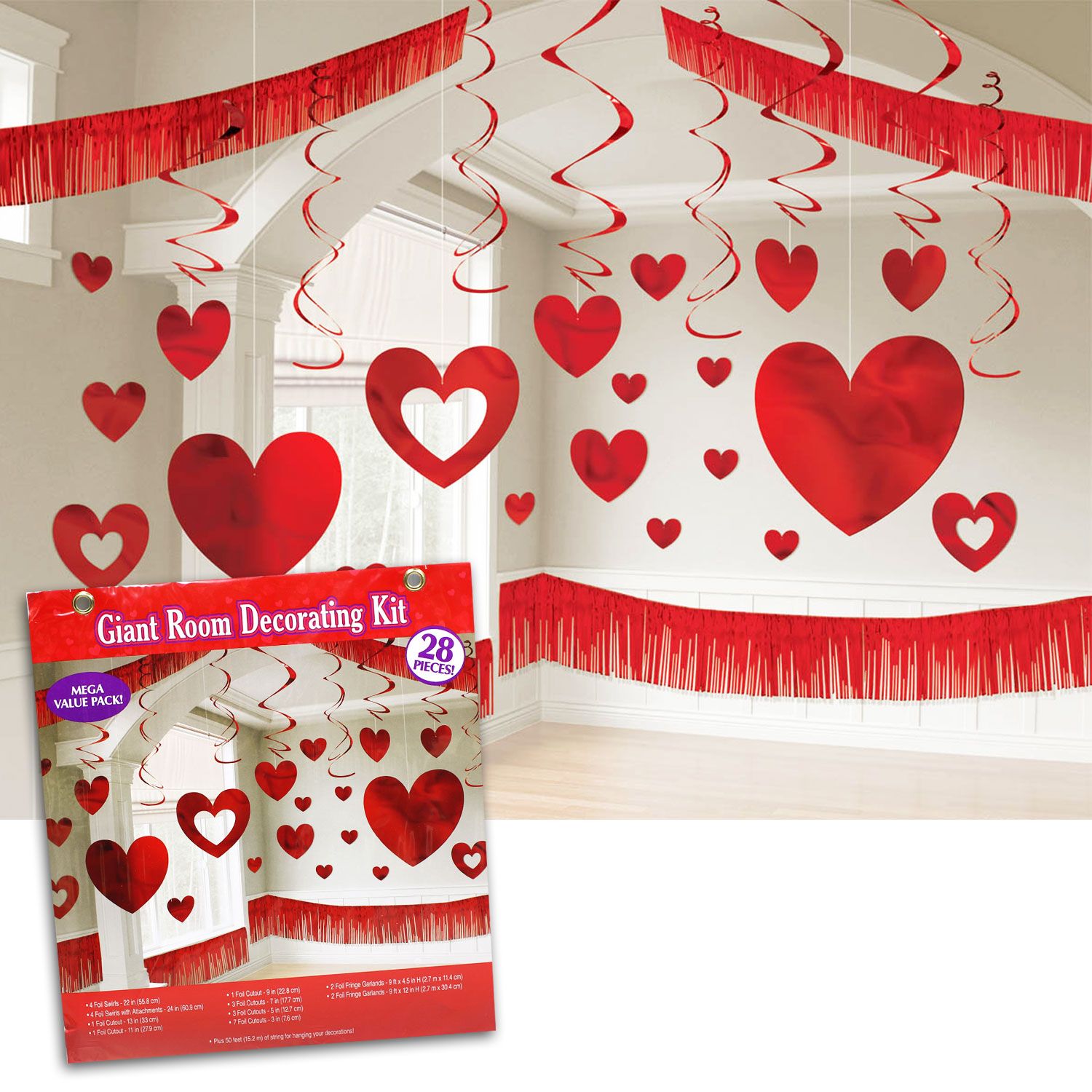 If you're looking for some variation, hang pink and purple Valentine's swirl decorations from the ceiling of your classroom. Instead of solid red hearts dangling from these decorations, they are multi-colored hearts, as well as "Be Mine" text.
For a fun craft and a sentimental Valentine's Day decoration, have the kids cut out a heart shape from a piece of pink, red, purple or white construction paper. Have them each write their name on it and decorate it as they please, then string several of them together by gluing them to a strand of red ribbon or yarn. Hang each strand in the doorway of your classroom for a cute classroom decoration!
image via glutenfreerican.wordpress.com
Satisfy their sweet tooth with tasty treats.
It's no secret that kids love sweets, so make them happy by serving them some adorable and delicious Valentine's Day snacks during your classroom party. Use a red metallic table cover to match the theme, as well as add some shine to the classroom décor. Toss in some table decorations, such as a heart shaped centerpiece, LED roses, or some white, red and pink balloons.
If you are putting this party together yourself, it might be easiest to order a pizza and then serve cupcakes, or pass out candy, as a dessert. Serve the snacks on adorable heart printed paper plates. Serve juice or water in matching paper cups. 
Keep your students entertained with fun Valentine's Day activities.
Busy your students with fun puzzles and games they can participate in—they'll have a good time while still using their brains! If you have a large class, create several different stations around the classroom and have them rotate after every 30 minutes or so. Award each station with a different prize to keep the students motivated. You can choose from candy, stickers, small toys, jewelry, and more! Here are several Valentine's Day activity ideas:
Valentine's Day Bingo: Make your own Bingo cards with Valentine's Day related words or images, such as a heart, "love," Cupid, and so on. Make cards of the words or images and pull them out of a box at random. The students with the chosen word or image will get to place a candy heart on that square. The first student(s) with five squares in a row wins!
Valentine's Day Word Scramble: Scramble up Valentine's Day words and have the students try to figure out what each word is. You can create your own, or find printables from the Internet. You can also have students find smaller words within the phrase "Valentine's Day."
Heads Up 7 Up: This game is always a classroom favorite, and works out nicely for Valentine's Day.
Valentine's Day Headband Craft: Purchase some extra Valentine's Day plates and have your students make a craft out of them. Simply fold the paper plate in half, cut out a heart in the middle section, making sure the heart will be attached to the outside ring. Cut out the extra space inside the middle section. Unfold the paper plate and prop up the heart portion, putting the ring around your head and you have yourself a Valentine's Day hat!
image via alphamom.com