How to Host an Easter Egg Decorating Party
09/27/17
As Easter draws near, don't let the thought of decorating all those eggs overwhelm you.  Instead, make that part of the holiday fun and host an Easter egg decorating party for your children and their friends!  A great way to get all the eggs decorated before the big neighborhood egg hunt or to pass a lazy afternoon, an Easter egg decorating party will be a hit with all the kids and can be as laid back or as festive as you want! 
Get Creative When Inviting Guests
Invite your child's friends to hop on over for some decorating fun by sending your own kids out with invitations enclosed in colorful plastic eggs. Include all the details, like time and place, so that the parents will know when to bring the kids over for the decorating festivities.  Be sure everyone knows that they'll be decorating Easter eggs at the party so that no one comes dressed in their Sunday best!  You wouldn't want anyone to ruin their favorite shirt by splashing dye on it.
Pre-party Preparation
You'll need to do some basic pre-party prep to get ready for your Easter egg decorating party.  Boil your eggs at least 24 hours ahead of time.  Plan on having six to twelve eggs per person so that everyone has plenty of pretty eggs to take home once the decorating fun is over.  For hard boiled eggs that are easy to peel, buy your eggs at least five days before boiling.  To hard boil your eggs, place them in a single layer in a saucepan, covered by an inch of cold water and bring to a boil.  Remove from heat, cover, and let sit for twelve to fifteen minutes.  Remove the eggs with a slotted spoon and place them in a bowl of ice water to cool.  Once cooled, store in the refrigerator until ready to decorate!  
Steps for Coloring your Easter Eggs
Once your eggs are ready to decorate, you'll need to get your decorating area ready.  If the weather is cooperating, have your party outside to save your floors from any decorating disasters!  Cover your table with several layers of newspaper to absorb any drips and dribbles, and then cover the newspaper with a festive Easter themed tablecloth.  If your party is outdoors, consider using some plastic table cover clips to keep things from getting tossed in the wind!  Have a paper plate at each place so the kids all have their own work area.  Stock up on plenty of Easter Egg Decorating Kits and mix together the dye colors according to manufacturer's instructions before the party starts.  You'll want to have multiple cups of each colors so the kids aren't fighting over favorite colors.  Fun, non-traditional options like Easter egg tie dye kits, marble kits, and glitter decorating kits will add some variety as well.  For the more creative types, you can also provide paint brushes and Easter stickers so the kids can create their own custom designs for the eggs!  Have egg cartons available to hold the freshly-decorated eggs as the kids complete their creations!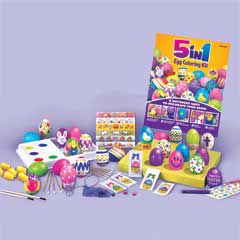 Other Easter Themed Activities 
To keep your Easter egg decorating party running smoothly, you may need to have the kids decorate in shifts, depending how many guests you have attending, so have some activities planned to keep the others busy.  Pin-the-basket-on-the-bunny, blowing mini-bubbles, coloring Easter pictures, or decorating Easter cookies are all great options.  
Send the kids home with their freshly-decorated Easter eggs nestled in basic egg cartons, or, for a fun party favor, give them each their own Easter basket lined with Easter grass to transport their treasures.  Whether you've been decorating Easter eggs with your church group or just keeping the kids busy over spring break, you can bet they are going to love taking these pretty treasures home on a spring afternoon! 
At Windy City Novelties, it's our hope that this article inspires you to create a fun and unique party for your loved ones. For more helpful tips on organizing your event, email our dedicated party planning experts at [email protected]. You may also subscribe to our emails for weekly party planning ideas, featured products and more at https://www.windycitynovelties.com/customer/account/create/