Invite Friends Over For A Backyard Bonfire Using These Party Tips
09/27/17
The summer and fall seasons are the perfect time to host a backyard bonfire. Once the sun goes down, and there is a slight chill in the air, what's better than warming up near a bonfire, eating s'mores and catching up with friends, relatives or neighbors? 
This summer or fall, invite your guests over for a backyard bonfire. Bundle up around the fire and enjoy the nice weather before it's gone too soon. Set up a cute, decorated area to sit by the fire, whip up some bonfire favorites, like s'mores, and make some memories with those you care about. Here is a little inspiration for your bonfire party! 
Clear a large space in your backyard for a bonfire pit.
If you already have a bonfire pit set up in your patio or backyard, then you are good to go! But if you don't, you can easily set one up. Purchase a portable bonfire pit from your nearest home goods or hardware store and choose a large, flat area of land in your backyard to place the pit. You may also want to purchase some wood when you get the bonfire pit, because you're going to need it.
Your next step is to form a seating area around the pit. To create a more rustic look and feel, purchase or rent barrels of hay and use them as benches for guests to sit on. Set them up in a circle around the fire, or use them to construct large hay couches that guests can really get comfortable on—just be sure to also get large cushions to place on top of the couches. You may also want to drape blankets over the barrels of hay to prevent guests from getting poked or scratched by hay.
If you prefer to skip the hay all together, comfy lawn chairs will work just fine as bonfire seating. Just remember to have blankets on standby for when your guests get cold.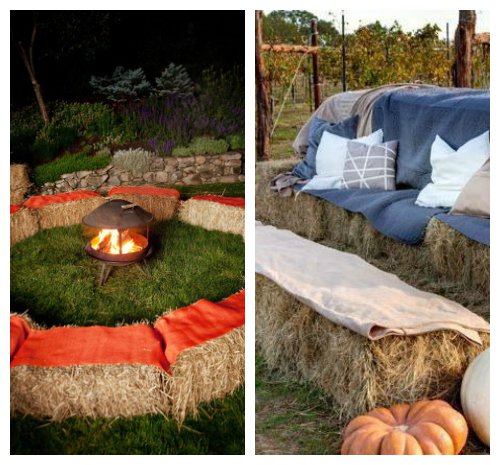 image via diyforlife.com
Set the mood with lighting fixtures.
While the fire will provide some lighting, you'll need more in order for your guests to see what they're doing—especially if you are serving food at your bonfire party. Also, adding a few extra light sources will make for stunning scenery and will add to your party décor. If you have landscaping near your fire pit, wrap white string lights around the trunks of the trees and hang a variety of glow sticks from bushes. The glow sticks will add some color to your bonfire setting and your guests will applaud you for your creativity.
You can also light the pathway to your bonfire pit using LED candles. In doing so, guests will know exactly where to go to reach the fire pit, and they'll be able to see where they are walking. By using LED candles, you can eliminate any fire safety hazards, and thus have a carefree evening.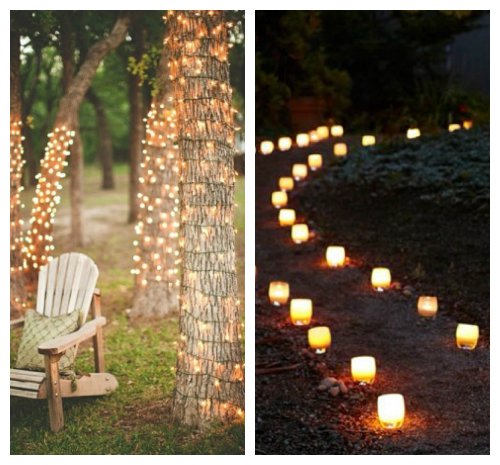 image via brightboldbeautiful.com
Keep guests satisfied with sweet treats and good eats.
Near your bonfire area, set up a couple tables for food and drinks. Use a red plastic table cover to place over the table and string white lights above or along the edge of the table. You may also want to place tiki torches, as well as LED candles around the food to provide some light. Try using tin baskets or buckets to place your plasticware, paper plates and napkins in to add to that rustic vibe. Use red gingham paper plates and napkins to coordinate with the red color scheme.
Before your party, cook up your favorite chili recipe in a crockpot and transfer it to one of your buffet tables once the party has started. You can also serve hot dogs for guests to cook over the fire. Set out an array of chili toppings, such as shredded cheese, sour cream, hot sauce, jalapenos, and crackers. You can also encourage guests to make chili dogs! 
For a sweet snack, and a bonfire must-have, also make a s'mores station. Graham crackers, chocolate bars, and marshmallows are the three main ingredients, but you can add in a few extras like peanut butter cups and Oreo's.
Turn a wheelbarrow into a cooler by tossing in ice and beverages. Serve bottles of your favorite beer, water bottles, cans of soda, etc. Be sure to have other drink options available, such as wine, cocktails and non-alcoholic options. For a fun twist, serve your wine or cocktails in LED wine glasses! The wine glasses will light up, and guests will surely be able to locate their glass in the dark. Since it will be cold, provide your guests with hot drinks, such as hot chocolate (add Bailey's or Kahlua to make it into a cocktail) and spiced hot apple cider.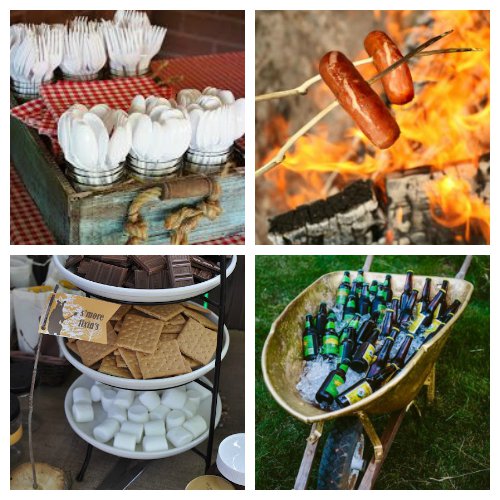 images via acreativemomma.blogspot.com, blogs.basspro.com, dconawhim.blogspot.com, homedit.com
At Windy City Novelties, it's our hope that this article inspires you to create a fun and unique party for your loved ones. For more helpful tips on organizing your event, email our dedicated party planning experts at [email protected]. You may also subscribe to our emails for weekly party planning ideas, featured products and more at https://www.windycitynovelties.com/customer/account/create/