Keep Your Child Safe This Halloween with Light Up Accessories
09/27/17
It's important to make sure your children are seen and safe while trick-or-treating this Halloween. Although most towns across the country have been moving up trick-or-treating hours to occur during the daylight, some trick-or-treating hours still take place after the sun goes down. Therefore, it's necessary for trick-or-treaters to wear items that motorists will be able to see in the dark.
You could get that light up version of the costume she's been begging for, but sometimes those are too expensive. Rather than slapping reflector gear onto your children—that "doesn't even go with my costume, Mom!"—you can add light up accessories that will actually fit well with their costumed getup, and will cost less than that overpriced light up costume. Find creative uses for traditional glow necklaces, swap out regular apparel accessories for light up accessories, or add a cool bright and flashing prop to your child's costume. Here are a few ideas on adding light up accessories to your child's costume to keep them safe this Halloween. 

Make creative uses out of traditional glow necklaces or glow sticks
Add a few pieces of glow jewelry to your child's Halloween costume. Your daughter can most likely substitute glow jewelryfor regular jewelry. If she's planning on being a witch this Halloween, or something similar, have her swap glow bracelets and glow earrings for traditional bracelets and earrings. Add red glow jewelry to her vampire costume. If your daughter wants to be a rocker or pop star, load up on the glow jewelry! It'll become an important part of her costume, and I'm sure she won't mind rocking it.
If your daughter wants to be a pretty princess, you can still allow her to wear her beautiful jewels, but add some glow to her tiara or dress. Detach glow necklaces and weave them into her tiara that she has been so impatiently waiting to wear. Or, attach two or three glow necklaces together to create a glowing belt to place over her beautiful princess gown. Others may not be able to see her amazing outfit in the dark, but they will be able to see her brightly glowing accessories!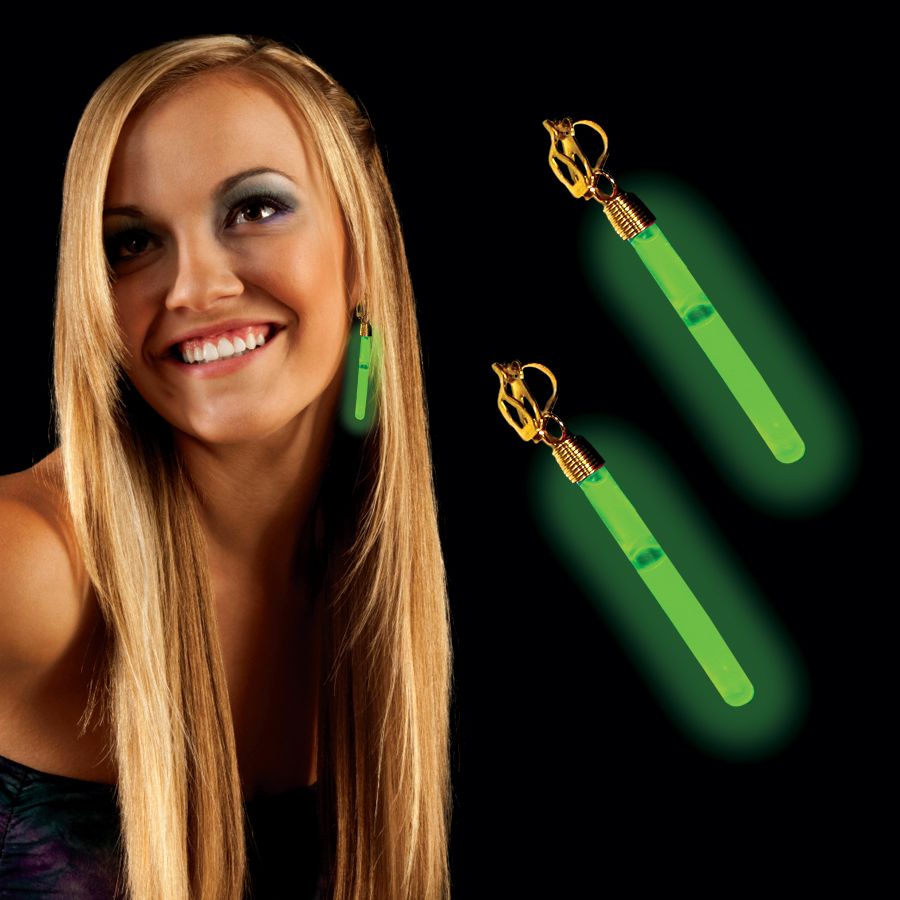 Swap out some of your child's apparel accessories for LED apparel items
Opt for LED apparel items, rather than ordinary apparel accessories. Your little one will almost certainly enjoy the light up version! If your little guy is going for a dapper costume look this Halloween, add a LED necktie or LED bowtie to his outfit. And if you want to ensure he'll be seen when out and about Halloween night, add a LED top hat or LED fedora. These LED apparel items will work for a wide range of costumes, including Roaring 20's costumes, magicians, circus ringleaders, Abraham Lincoln, and any other costume that may require a suit and/or fancy hat.
Your daughter can get in on the LED fun, too, with LED tutus! Add one to her fairy costume—or add it to any costume to make it more unique! It will also help others see her when she's out trick-or-treating. She, too, can add LED hats or headwear to her Halloween attire. Have her add a LED cowboy hat to her awesome cowgirl costume, or a LED bow headband to her adorable Minnie Mouse costume. And, as mentioned previously, you can add a light up crown to her princess outfit. Give her one that is already made with LEDs embedded right into the crown, or make your own with glow necklaces.
Have your children use light up props with their Halloween costumes
Usually costume props are not included with the costume when your purchase it. So, when trying to find props to add more detail to your child's costume, choose to go with light up props. Most schools don't allow the use of costume props, anyway, so the light up props are perfect for trick-or-treating after school. Add a LED pirate sword to his pirate costume that will not only wow all of his buddies, but it will also make him seen in the dark. Or give him a LED space gun to go with his alien or Star Wars costume. Your little girl can have fun with light up costume props when she uses a LED star wand for her fairy or princess costume! She can also use a light up wand to shine some light on her witch or Harry Potter costume.
Any glow in the dark or light up item, no matter what it is, will help children to be noticed when out trick-or-treating after dark. Of course, your trusty flashlight will do, but where is the fun in that?! Keep children seen and safe so everyone can have a Happy Halloween this year! 
At Windy City Novelties, it's our hope that this article inspires you to create a fun and unique party for your loved ones. For more helpful tips on organizing your event, email our dedicated party planning experts at [email protected]. You may also subscribe to our emails for weekly party planning ideas, featured products and more at https://www.windycitynovelties.com/customer/account/create/