Light Up Your Halloween with Halloween Glow Party Supplies!
09/27/17
The moon will only be a sliver past half full on Halloween 2014, so it's going to be up to the trick-or-treaters, party-throwers, and revelers to light up the night with great glow products from Windy City Novelties. You are bound to find plenty of uses for Windy City's glow sticks, decorations, bar ware, and costume accessories. Parents love sending their kids out on Halloween with glow sticks around their necks as an extra measure of safety, and the non-flammable glow sticks are perfect for lighting up your carved pumpkins on the front porch.
Premium Glow Sticks
The Premium Green Glow Sticks will become your go-to device for a safe, effective, non-flammable light source on Halloween. The light of glow sticks is based on a mix of chemicals that occurs when you break the ampoule inside and give the stick a shake. The chemicals pose no danger as they are completely contained in the plastic tube.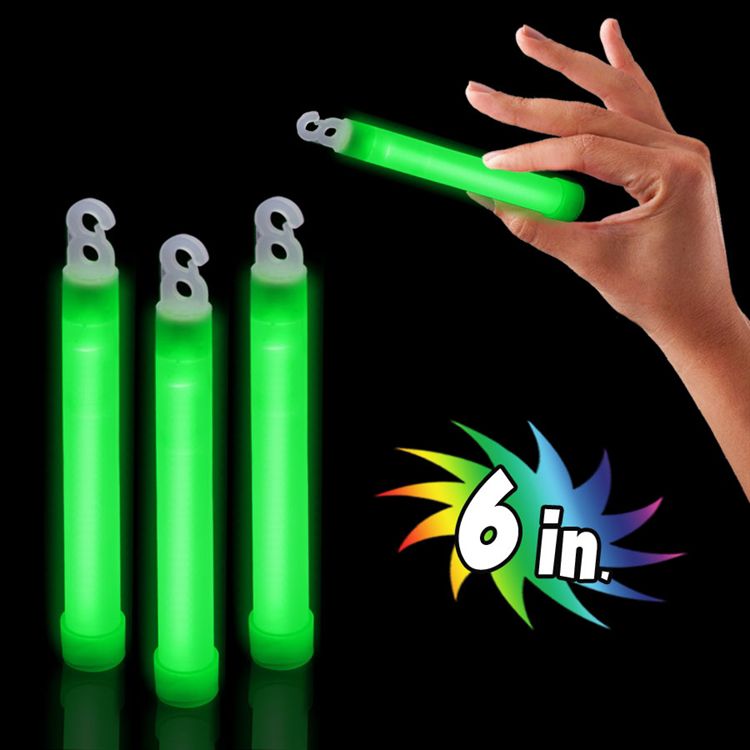 The premium glow sticks will still be giving off light long after your tired trick-or-treaters are tucked up in bed for the night. The premium 6-inch glow sticks are sold in packs of 25. They are also available in orange, blue, red, pink, purple, aqua, white, and yellow. The glow sticks can be strung on a string so you can hang it around your child's neck while he or she is going door-to-door on Halloween night. You can also put a glow stick in the bottom of your child's candy bucket or bag before sending them out trick-or-treating. The light of the glow stick is strong enough not to get hidden under a barrage of goodies.
Instead of messing with candles that often blow out in brisk autumn breezes, drop a fresh glow stick into your jack-o-lanterns each evening to light up their smiles or grimaces. Amuse you neighbors by using a different color each night of Halloween week. Make your outdoor decorations extra-special by creating a chandelier of glow sticks and hang it from your porch or a tree branch. Use wire to form three circles—large, medium, and small. Attach the circles together with fishing wire or string to create three tiers, then hang glow sticks from the circles with ornament hooks. Attach three strings at different points on the biggest circle, pull them together, tie in a knot, and hang. The glow stick chandelier would also be a great addition indoors at your Halloween party!
Halloween Glow Party Favors
You know kids are going to get an abundance of sugary treats on Halloween. Instead of contributing to the local dentists' retirement account, give away great glow items to trick-or-treaters. The Glow in the Dark Spider Rings are guaranteed to be a hit—just make sure you buy plenty because kids will be sending their friends to your house! The 2-inch glow-in-the-dark spider rings are a pale, slightly green color in daylight, but they give off a creepy glow when the lights go down. These spider rings would make a shriek-worthy addition to your Halloween buffet table as well. The very affordable glow-in-the-dark spider rings are priced by the dozen and sold in lots of three dozen.
Girls, guys, and ghouls are sure to love the Purple Supreme Glow Bracelets. The 8-inch bracelets are just like regular glow sticks, only much thinner and flexible at 6mm thick. The bracelets come with connectors. Creative kids will wear them alone or in bunches as bracelets and anklets, loop them together to make a necklace of circles, or attach clips and wear them as hippie earrings. The purple supreme glow bracelets are sold in tubes of 50. They are available in Halloween colors of orange and green, as well as blue, red, yellow, pink, and white. You can also purchase a variety pack.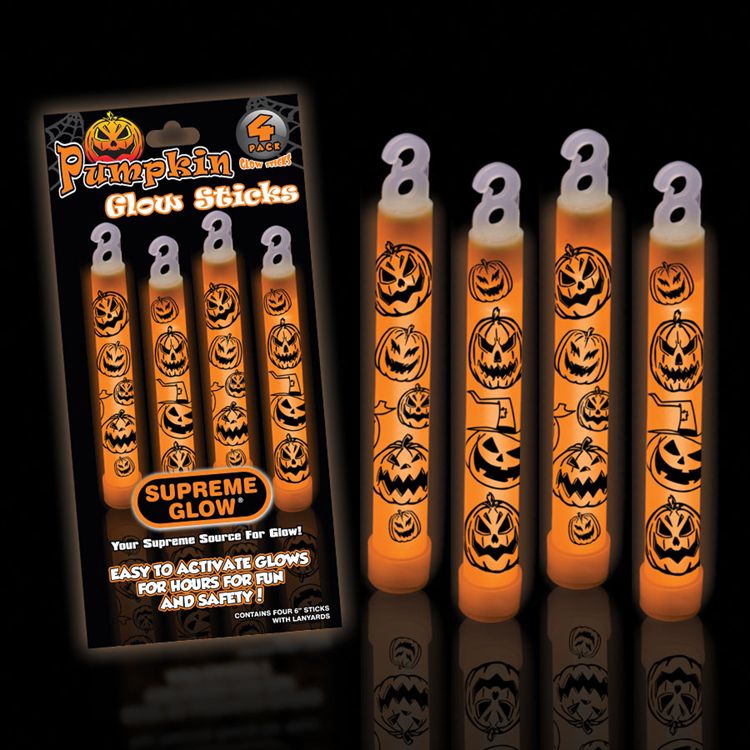 Windy City Novelties has three styles of glow sticks with Halloween designs that are perfect for giving to trick-or-treaters, including the White Ghost Glow Sticks, which are 6-inch white glow sticks decorated with slightly scary ghosts. The orange pumpkin and white ghost glow sticks are sold in packs of four. The Green Halloween Glow Sticks, also available in orange, are 6-inch glow sticks printed with the words "Happy Halloween." The Happy Halloween glow sticks come in increments of 25.
If you just have to get on the Halloween candy band wagon, the Ghost Glow Pops are a fun and unique treat that will give kids a sweet to eat and a glow bracelet to play with later! The ghost-shaped lollipops fit onto a glow bracelet for a total length of 10 ½ inches. The sour apple flavored pops come with connectors for the bracelet. The ghost glow pops are sold in counter display boxes of 24.
Glow Decorations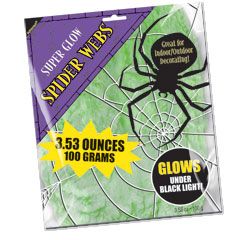 Before you can give away Halloween goodies, you have to lure those little beasties to your door with enticing yard decorations. Drape your bushes and porch overhang with Stretchable Green Glowing Spider Web. The pale green webbing looks creepy enough in the daylight, but it will give off an eerie glow when you put blacklight light bulbs in your outdoor fixtures. The 3.53 ounce bag of glowing spider web just keeps stretching—if you're not careful, you'll end up covering the whole yard! The stretchable green glowing spider web is sold by the bag.
Mr. Bones-A-Glow is just waiting to greet party guests and trick-or-treaters with a bony grin! Mr. Bones-A-Glow is a 5-foot tall plastic skeleton with a jointed neck, shoulders, elbows, thighs, and knees. The Mr. Bones skeleton absorbs sunlight during the day which allows him to give off a ghostly glow when night falls. Mr. Bones would look great hanging from a tree, perched on the porch, or positioned on your front door. He would even be a welcome guest at indoor parties—as long as he spent the day soaking up the rays. Mr. Bones-a-glow is priced per skeleton.
Have you ever seen mysterious orbs hovering in the background of your photographs? Some people believe those unexplained orbs are signs of paranormal activity—invisible spirits, ghosts, or even angels. Of course some people claim they are just dust spots on your lens, but that's no fun at all. In order to make sure your friends and neighbors find mysterious spots in their pictures, hang a bunch of 24" Glowing Beach Balls from your trees, porch, and outdoor light fixtures. The 24" inflatable beach balls are frosty white until you insert an activated 6-inch glow stick in the middle. Each inflatable beach ball is sold as a set with two 6-inch glow sticks in the color of your choice. Choose from white, blue, orange, yellow, red, pink, aqua, or purple.
If pulling the slimy guts out of pumpkins is not your favorite activity, create a jack-o-lantern topiary by putting a stack of glowing beach balls in a planter on your front steps. Hold them together with double-stick tape—you may have to brace the topiary in the back with a stick to keep it upright. Use black tape or a marker to draw faces on the beach ball pumpkins.
Glow Costume Accessories
Get yourself ready to celebrate Halloween with cool glow costume accessories. You will want to get in on the fun whether you are going to a party, out on the town, or just sitting with friends around a fire pit in the driveway handing out goodies to trick-or-treaters. When all you need is a little something—just to show you're in the Halloween spirit—a Yellow Cat Glow Mask is sure to get you noticed. The yellow cat glow mask is a half mask that sits on the nose, covering the eye and brow area. The yellow mask is decorated with printed on whiskers and brownish tiger-like stripes around the edges and over the nose. The mask comes with a yellow glow bracelet that attaches to the inside, making it glow. The mask will look great on its own, but would also be a purrfect addition to your sleek, black catsuit. The mask is sold by the piece.
What's the least you can do to not be considered a Halloween fuddy duddy? Stick a Happy Halloween Green Glow Shape on your shirt—or maybe your forehead! The three-dimensional round glow shape is imprinted with a picture of a smiling ghost holding a banner that says "Happy Halloween." The 3-inch shape has a small glow stick inside that you activate before attaching it to your pocket, purse, or wherever you please with the adhesive on the back. The Happy Halloween green glow shape is priced and sold by the piece.
Glow Drinkware
Once the porch lights go off signaling trick-or-treating hours are over, and everyone's kids are either home or accounted for, mix up a shaker of your favorite adult beverage and serve it up in glowing martini glasses. The Orange Glowing Martini Glass, also available in favorite Halloween colors of purple, red, and green, have a traditional "v" shaped cup that fits onto a black base. The clear plastic cup has a glow stick embedded in the side that you activate by pressing down on it to break the ampoule and shaking to distribute the glow. Although the martini glasses will only glow once, they can be hand washed and used again. The glowing martini glasses would be a fun addition to your Halloween parties, especially if you match your drinks to your glows. Wise bar owners who are planning Halloween bashes could certainly up their profits by offering a special drink served in the glowing martini glass. The martini glasses are sold by the piece and can be custom imprinted on the side for your event.
Let soda drinkers in on the fun with Orange Glow Straws. The 9-inch glow straws are plastic straws attached to thin glow sticks that will light up any beverage. The straws are sold in packages of 25, and are also available in blue, red, purple, pink, green, and yellow.
There really is no better time to glow than Halloween, whether you want to light up yourself, your house, or your yard. Make your glowing Halloween dreams come true with great decorations, costume accessories, and barware from Windy City Novelties!