Celebrate Mardi Gras with a Masquerade Ball
09/27/17
If Halloween is too far away to indulge your love of costumes and all things mysterious, throw a Mardi Gras Masquerade Ball to kick off Lent and celebrate Fat Tuesday!  Whether you want to go all out and rent a banquet hall for an elegant Mardi Gras celebration or are planning a smaller affair in your home, you can pull off a Mardi Gras masquerade ball with just a little pre-planning and the right Mardi Gras party supplies.
Inviting your Guests to the Masquerade
Invite your friends to join the Mardi Gras celebration with festive personalized Mardi Gras invitations. More personal than an email invitation, personalized invitations are available in a variety of festive designs and can set the tone for your celebration.  Be sure to let everyone know it's a masquerade ball and that costumes will be required for the event!  For a festive touch, include some Mardi Gras beads with your invitations to get your guests in the mood for the celebration! 
Preparing your Mardi Gras Masquerade Costume
Since you're the host of the celebration, you'll need to go all out for your own Mardi Gras costume.  Team up with your significant other to dress as the Mardi Gras King and Queen, complete with elaborate purple velvet capes and crowns, or go for something more fun and dress up as a court jester or Mardi Gras maiden.  Of course, since it's a masquerade ball, the most important part of your costume will be your Mardi Gras mask, so choose wisely!  If you'd like, you can always plan your costume around your mask, choosing your favorite feathered or sequined disguise and picking a gorgeous dress or elaborate suit to match!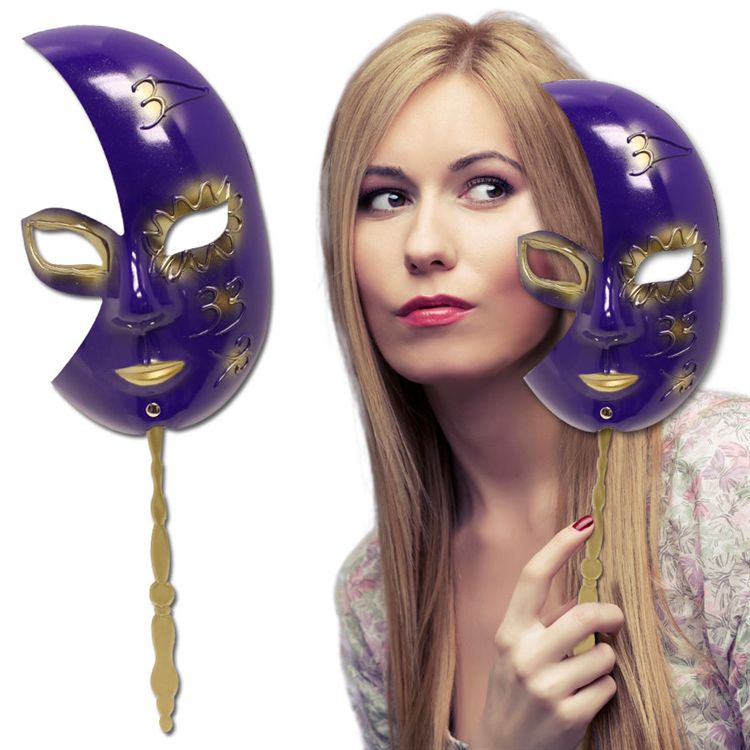 Decorating like you're on Bourbon Street
Even if you can't travel to New Orleans for Mardi Gras, you can still have an epic masquerade ball with the right Mardi Gras decorations!    Purple, gold, and green are the signature colors of Mardi Gras and should take center stage in your party decor.  Festive Mardi Gras swirls, gold paper lanterns, party lights, and satin bunting will help you transform your party space into one that will rival the best nightclubs and hot spots on Bourbon Street!  Dim the lights to increase the ambiance for your mysterious masquerade ball and use candles to illuminate the night.  With mismatched votive holders and tealights, you can cover every surface in your home and give the party a romantic and mysterious glow.  At the designated unveiling hour, when it's time for the guests to lower their masks and reveal their true identities, you can turn up the lights, but until then the candles will add to your atmosphere!  Be sure to have plenty of Mardi Gras beads to incorporate into the decor as well.  You can drape them over chair backs, on the stair banister, along the mantel, and on top of lamps to complete your Mardi Gras decor. 
New-Orleans Inspired Cuisine
Serve up some New Orleans-inspired cuisine at your masquerade ball.  Whether you want to serve a sit-down meal or think your guests will be content with finger foods they can snack on throughout the night, with the right foods no one will complain about the food!  Popular Mardi Gras favorites like shrimp remoulade cocktail, crab cakes, jambalaya, red beans and rice, and shrimp creole are surefire crowd pleasers that will bring a touch of New Orleans to the table and pecan pie and beignets will top of the sweets table in style.  For the piece de resistance, you'll want to have a Louisiana-style King Cake, which is traditionally a ring cake covered with purple and gold frosting and sugar with a small plastic baby, said to represent the baby Jesus, baked inside.  Whoever finds the trinket is crowned King or Queen of the celebration. 
Make it a Night to Remember
Your Mardi Gras masquerade ball is guaranteed to be a night to remembered with your friends, giving them a chance to leave their everyday identities behind and take on a new persona for the evening, which no one will be able to resist, and when you add in some delicious food, festive decor, and dancing fun, you can bet that your party will be the best of the year!
At Windy City Novelties, it's our hope that this article inspires you to create a fun and unique party for your loved ones. For more helpful tips on organizing your event, email our dedicated party planning experts at [email protected]. You may also subscribe to our emails for weekly party planning ideas, featured products and more at https://www.windycitynovelties.com/customer/account/create/