Nautical Party Ideas
09/27/17
The summer season is party season, and you can make any summer event even more exciting by adding a nautical theme to it! Sail away the evening with this classy, yet fun, party theme. Convert your back deck into the upper deck when you decorate your outdoor party space with nautical theme decorations. Whether you are adding a nautical theme to an existing occasion, or throwing a party just for fun, these nautical party ideas will help you prepare for the perfect summer celebration!
Begin your party planning process with nautical invitations.
After figuring out all of the details of your party—such as where the party will be, what the party is about, who the party will be celebrated for, etc.—you can plan your guest list. Invite your guests to set sail with you by sending out nautical themed invitations. You can tell them to dress up in their finest sailing attire, or remind them to bring their bathing suits for a dip in your pool. If you are in charge of hosting the nautical themed bridal shower or bachelorette party, be sure to use a clever saying in your invites, such as "Dropping her anchor and tying the knot!"
Decorate your party space with nautical themed decorations and colors.
When it's time for your party, transform your party area into your very own sailboat with the help of nautical decorations. Hang a nautical flag banner along the walls of your party space, or off the railings on your back deck. The banner decoration could also be hung over the dining area, along with beautiful white string lights for a more romantic and ambient look and feel. Add in a few life preserver cutouts to your nautical party décor by sticking them directly on the walls of your party space, or around your deck.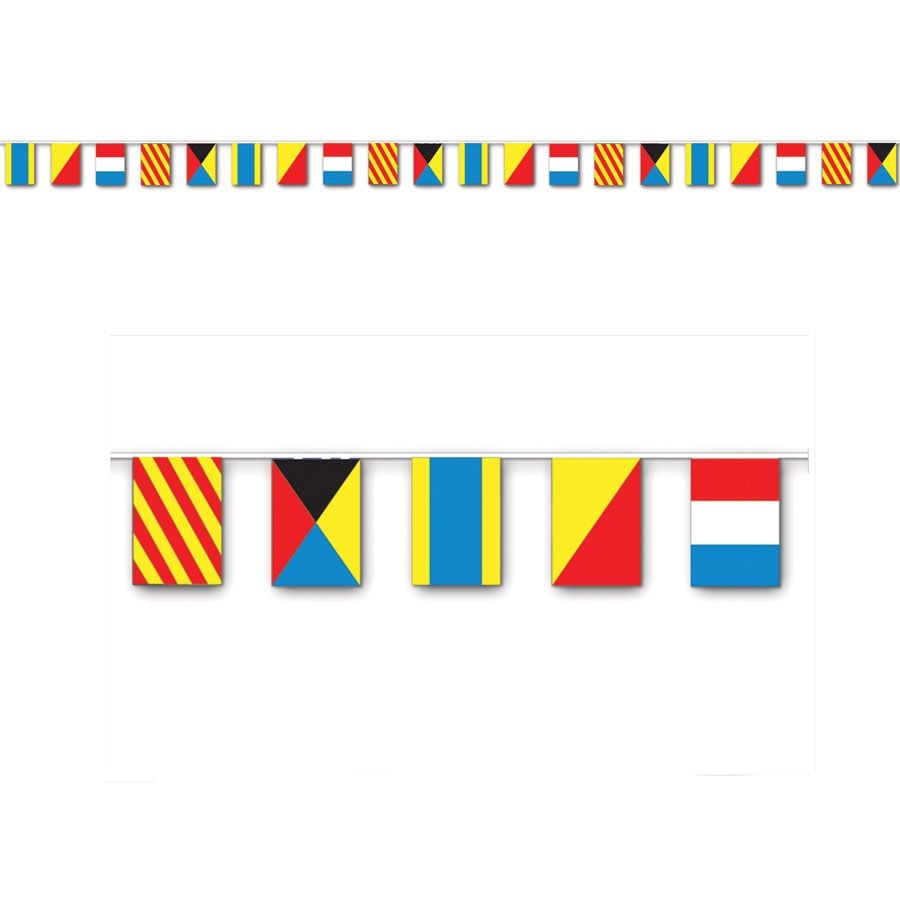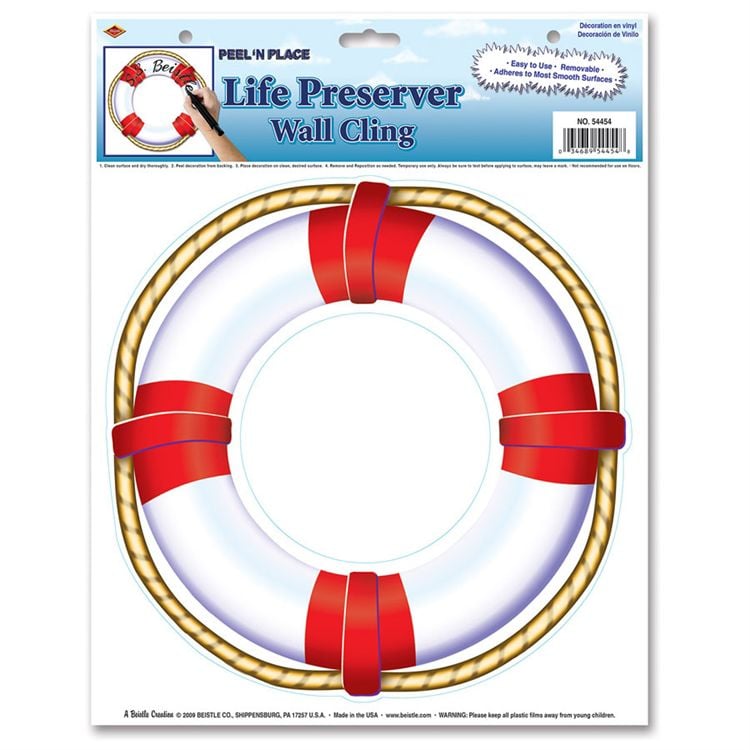 Hang a few white paper lanterns from the ceiling around the party area, or directly above the snack table and/or bar. If you would like to add more nautical flag decorations to your party décor, hang nautical flag whirls from the ceiling over the snack table. These nautical flag decorations will coordinate with your nautical flag banners that you have hanging around your party area.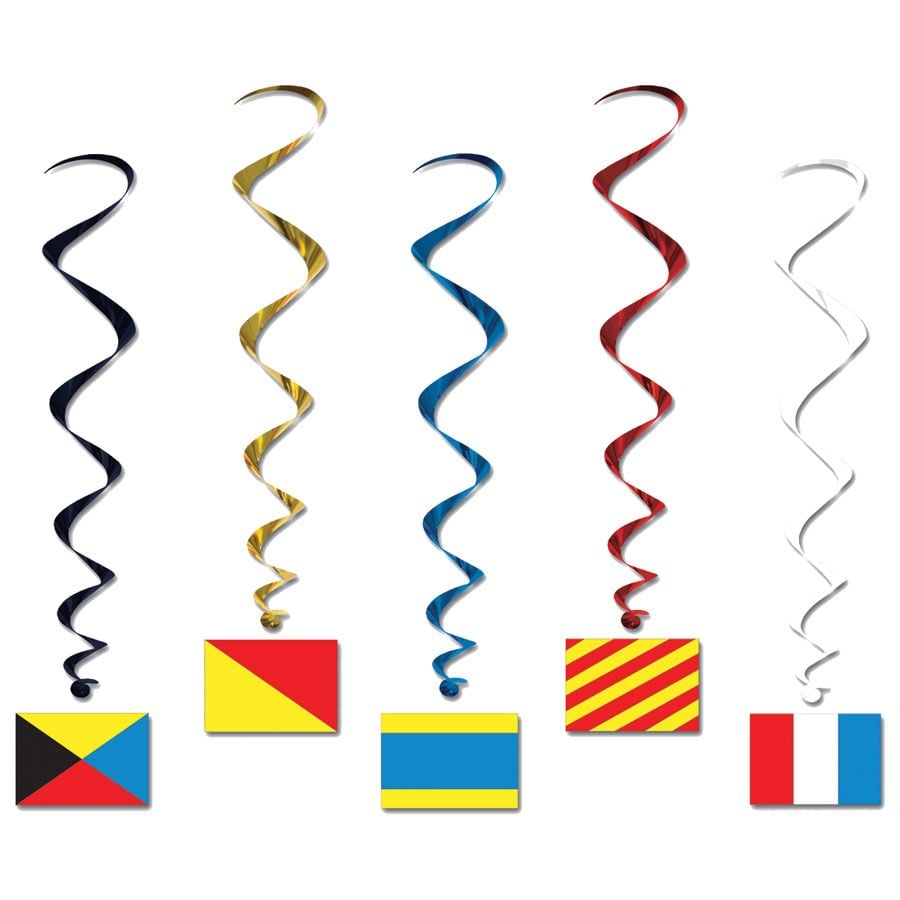 If you're serving lunch or dinner at your nautical theme party, you'll want to decorate your dining table, as well! Place a table cover over your dining table—a red, yellow or navy blue table cover will match with the color scheme of your party. Use a fishing net as a table runner, as well as a fun table decoration! Place seashells and LED candles down the center of the table for an additional ambient effect.
image via catchmyparty.com
Let your guests enjoy a variety of seafood.
During the cocktail portion of your nautical party, you can serve appetizers and other finger foods that your guests can enjoy while mingling. Set out nautical themed paper plates and napkins on the snack table, and allow guests to help themselves. Wrap a matching napkin around each silverware set and secure it with a twine or ribbon with a mint attached to look like a life preserver.
image via misspartymom.blogspot.com
A few appetizers you can serve that will mesh well with your nautical theme are oysters, deviled eggs with sailing flag toothpicks sticking out of them, a vegetable tray, shrimp cocktail and mini crab cakes. You can also serve finger sandwiches for those guests that don't care for seafood. Offer wine, champagne and other cocktails, either through a bartender or allow guests to pour their own drinks. Set out a cooler full of water bottles and other non-alcoholic beverage options.
For your main course, choose to serve crab legs, lobster or your favorite type of fish on the grill. Offer a non-seafood dish for those guests that dislike seafood, such as chicken or steak. Serve salad, mashed potatoes and asparagus as side dishes. A few fun dessert ideas are any type of cookie in the shape of seashells, served with a side of sorbet, and white chocolate covered strawberries. 
At Windy City Novelties, it's our hope that this article inspires you to create a fun and unique party for your loved ones. For more helpful tips on organizing your event, email our dedicated party planning experts at [email protected]. You may also subscribe to our emails for weekly party planning ideas, featured products and more at https://www.windycitynovelties.com/customer/account/create/