The autumn wind is blowing, the boys and girls are pouring over the costume selection in the stores, and the leaves are starting to change. That means only one thing—Halloween is just around the corner and it's time to get your house ready for the festivities! Whether that means going all out with ghouls, ghosts, and other ghastly decorations guaranteed to scared the kids senseless or you're just looking for some festive autumn-themed garlands and pumpkin decorations, Windy City Novelties' selection of Halloween Decorations is sure to please even the pickiest of decorators! But for those of you who just want something to grab and go so you can make your home look festive without wasting your time pouring through pages of decorations, here's a top 10 list of the latest and greatest Halloween decorations!
1.) Creep out the trick-or-treaters with an Animated Skeleton hanging from your doorway or window. Measuring 20 inches long, this sickly skeleton wears flowing robes and has hands that you can position for maximum scaring potential! Powered by 3 AA batteries, this skeleton's hands move and the eyes light up as unsuspecting trick-or-treaters pass by, scaring the tots and giving the mailman quite a start as well!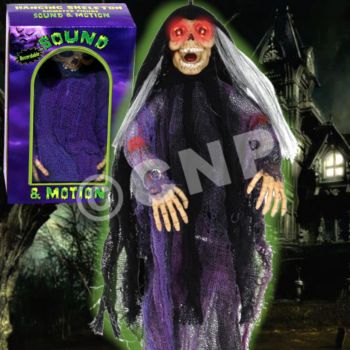 2.) Pair your Animated Skeleton with a Lawn Skeleton and your neighbors might start to wonder how many other skeletons you have hiding in your closet! This creepy dude comes with 29-inch legs, 15-inch arms, and a 4 ½-inch head that you can bury in your yard so it looks like he's trying to escape his grave! Buy a bunch and start your own undead apocalypse!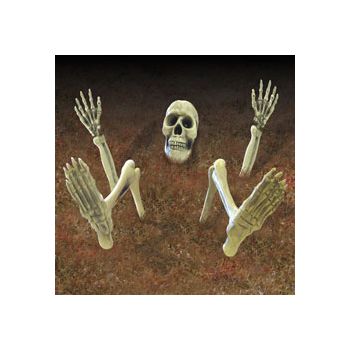 3.) Give your indoor decor a spooky vibe with our Halloween Chandelier Kit. This seventeen-piece all-black chandelier kit includes one 16-inch glitter chandelier, two 5-inch skull cutouts, two 4-inch bat cutouts, two 7-inch raven cutouts, two 5-inch spider cutouts, two 24-inch spider swirl decorations, two 24-inch raven swirl decorations, and two 24-inch skull swirl decorations. These Halloween-themed ceiling decorations are perfect for a Witches' Tea, Halloween party, or other spooky event!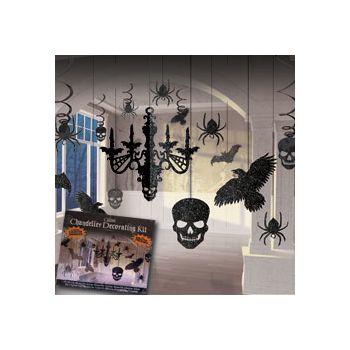 4.) Black leaf garland will turn any autumn decorations into something sinister and spooky. Measuring 9 feet long, this black leaf garland will look great wrapped around the stair railing, front porch, mailbox, or lamppost. Add some white twinkle lights for added illumination and watch your garland shine!
5.) Or complement your Black Leaf Garland with some Black Light Up Gauze Decoration. Adding a dramatic element to your Halloween decor, the 10 ½-foot long black gauze is accented with 35 purple mini lights. Use this to create a spooky glow for your haunted house or to give your front porch that extra element of Goth appeal when Halloween rolls around.
6.) A Haunted Grave Scene Setter is a great way to set the stage for your Halloween party! Cover any of your walls with this spooky scene setter, which features a graveyard scene complete with bats, a gnarled tree, and a full moon, and the mood at your event will instantly take a turn toward the haunted and harrowing.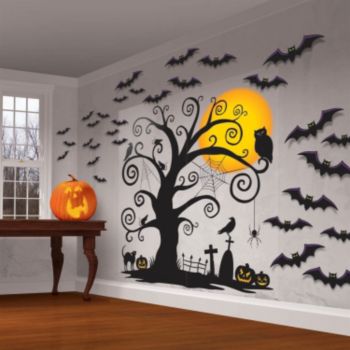 7.) For those of you who love a gory and gruesome Halloween, the Bloody Tattered Cloth is the perfect way to set the stage for your Halloween! This 6-foot tattered cloth is a white gauze with blood stains that will turn your home into a house of horrors! Line the mantel with your Bloody Tattered Cloth, hang it around the front door frame, or drape it around the buffet table at your Halloween party. Wherever you use this bloody cloth, you're sure to turn a few heads and a few stomachs!
8.) When you want your Halloween decor to be more family friendly, stick with something a little less spooky and little more traditional. The Fall Pumpkin Lanterns are a classic choice that will beautifully compliment any decor! Each lantern pack features five pumpkin lanterns of assorted sizes. These Pumpkin Lanterns will look great from early fall straight through Thanksgiving!
9.) Jack-O-Lantern window clings are always popular with the kids! Not only can the kids put them up in the bedroom windows, in the front room, or on whatever other windows they want, but they can also be put up, taken down, and rearranged as often as they like! Each sheet comes with eleven Jack-O-Lantern window clings ranging in size from 2 ½ inches to 5 inches.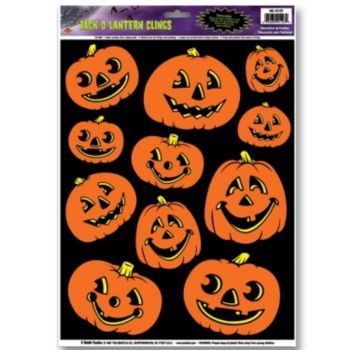 10.) Brighten up any space with Pumpkin Cutout Hanging Swirls. With twelve swirls ranging in size from 18 to 24 inches, these pumpkins, with their grinning Jack-o-lantern faces, will add a fun element to your Halloween decor when they're hanging from your ceiling!
For tips, questions, help planning an event or for recipe and craft ideas, email our party experts at askanexpert@windycitynovelties.com for your personal party planner!