Pick a Decade, any Decade: Decade Halloween Costumes for 2014
09/27/17
It's true that time does fly, but you don't have to let the past get away completely when you can wear great decade costumes from Windy City Novelties! Perhaps you're fascinated the 1920s, when the champagne ran freely and the air was nipped with danger. The 1950s will always be associated with rock and roll. After the long years of World War II people were ready for something new, and rock music perked up the mood of an entire nation. The times they were a-changin' in the 1970s, when people tried to find a balance between peace, love, and disco. And then there were the 'anything goes' 80s. It's difficult to say which decade brought the most change, but you have to agree change is always just around the corner. Capture a bit of your favorite decade with a flapper dress, gangster suit, poodle skirt, mini-dress, leggings, and so much more from Windy City Novelties.
Roaring 20s Halloween Costumes
Prohibition, which was in effect in the United States from 1920 until 1933, made it illegal to manufacture, transport or sell alcohol, preventing many from drinking the stuff. The ban was a boon to the Mafia which raked in a fortune in the illegal alcohol trade. Everyone knows Al Capone was a bad guy, but then on the other hand, without him, parties would have been a little boring! Capture your inner criminal with the Gangster '20s Adult Costume. The gangster costume has gray pinstripe pants and a fingertip-length shirt that is styled to look like a double-breasted suit jacket. Wear the shirt with an included black dickie that has a white tie attached. Add your own black shoes, choose a fedora from Windy City Novelties' great selection, and you're ready to hit the streets. The gangster '20s adult costume comes in medium and large, and is also available in child and plus sizes.
Get ready for a night at the speakeasy in the 20's Pink Flapper Adult Costume. The sleeveless hot pink dress has a rounded neckline and is completely covered with row upon row of black fringe that will emphasize every swing of your hips. The pink flapper dress is above the knee length and comes in medium/large and x-large. The flapper costume also includes a feathered headpiece. Accessorize your flapper dress with black tights or hose, some long knotted strands of beads, a cigarette holder, and maybe a fashionable bob-style wig.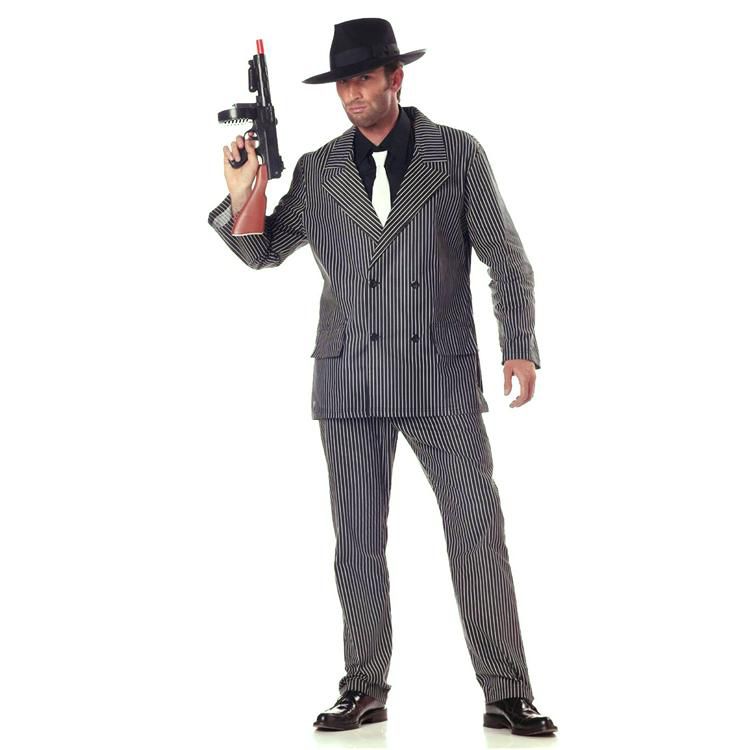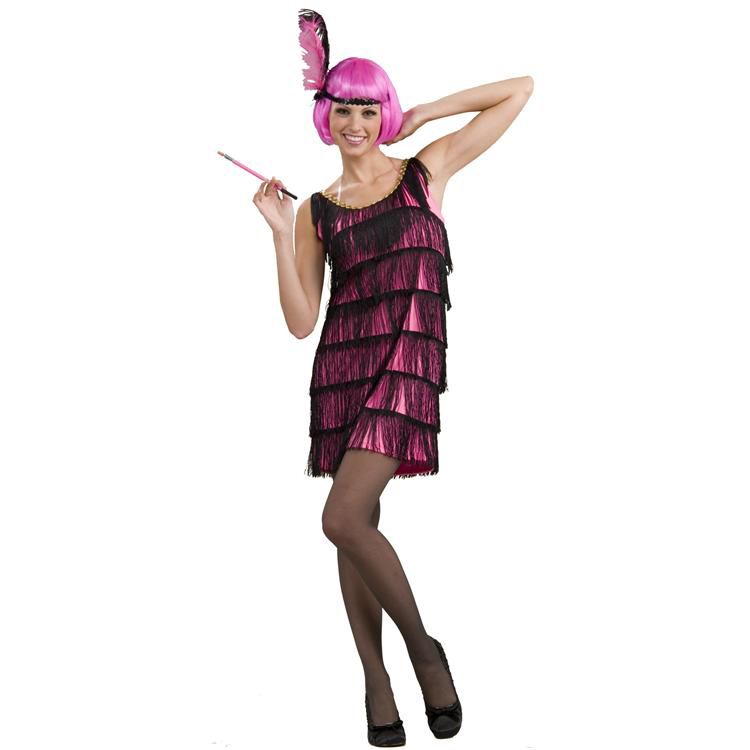 The Charleston Cutie Adult Costume is for those daring girls, who smoked cigarettes, drank alcohol in public, dated around, and rouged their knees. In the 20s it was considered sexy to roll down your stockings, and it became a makeup fad among young women to apply rouge to their exposed knee caps! The Charleston cutie costume is a black poly/spandex satin-like dress with two rows of fringe in a chevron design around the bottom, and another row of fringe at the neckline. The dropped waist sleeveless dress has a lace overlay, a belt, and rhinestone details. The costume comes with a long pearl necklace, fishnet stockings, and a coordinating feathered headpiece. The dress is available in small.
Meanwhile over in Hollywood, it was all about the glamour. It would not have been unusual for film star, Clara Bow, to sweep into the room wearing something very much on the order of the Vintage Hollywood Marabou Satin Robe Adult Costume. The white polyester satin robe is full length with a thigh-high slit. White marabou feathers line all the edges of the wrap-style robe, including the bottoms of the bell sleeves. Although the term "wardrobe malfunction" had not been invented yet in the 1920s, it would be easy to have one in this robe, so be sure if you are going out on the town on Halloween to add some undergarments! The marabou satin robe is sized to fit most adults.
Play dreamy and handsome Gary Cooper to your own satin-robed beauty in the Vintage Hollywood Man's Tuxedo Adult Costume. The Hollywood tuxedo includes a shirt front with attached black bow tie, a black jacket with tails, a cummerbund, and pants. Pick up your cane and top hat and you're really puttin' on the Ritz.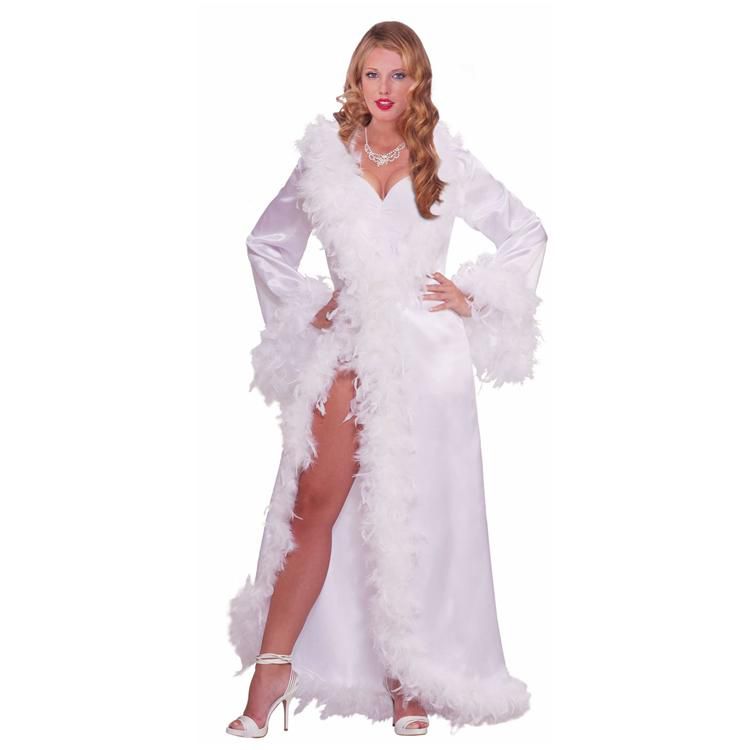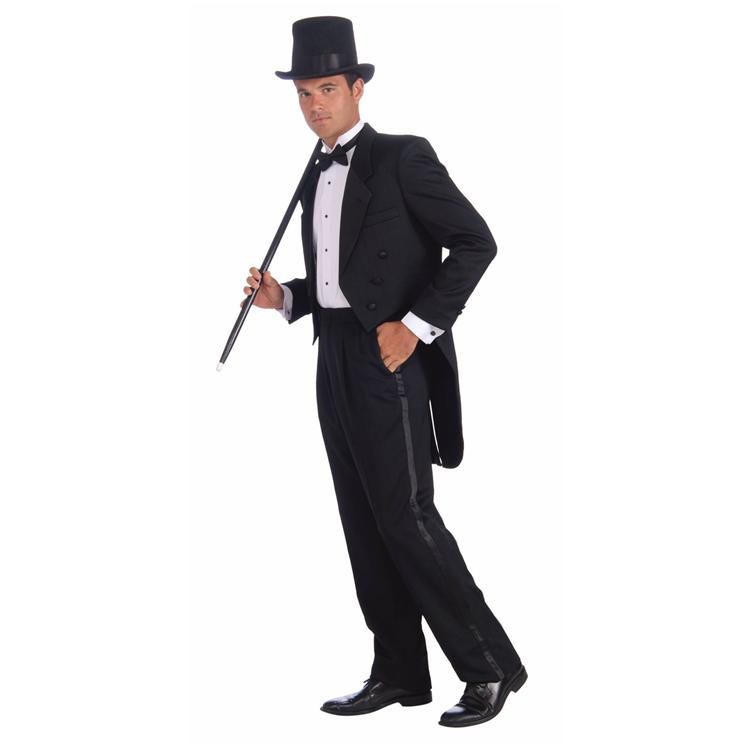 1950s Halloween Costumes
It seems like the 1950s truly were Happy Days—the war was over, our heroes in uniform came home, and people were ready to settle down and pursue the American dream. Some folks may have been a bit scandalized when Elvis Presley arrived on the scene, but not many were able to resist his good looks and charm and soon everyone from toddlers to grannies was catching rock-and-roll fever. It's never too early to introduce your babies to the Elvis phenomena. Your little ones will be the rock stars of Halloween in the Elvis Bunting Costume. The hand-washable polyester bunting is designed to look like the King's now famous white jumpsuit with a stand-up collar and faux, printed-on beading. It would be too funny to draw some curly chest hair on an undershirt and have that peeking out of the v-neck of the bunting bag. The Elvis bunting costume is one size fits most.
The Elvis Grand Heritage Adult Costume is for Halloween impersonators who might be thinking of a career move. The white polyester jumpsuit has a zip front with deep v-neckline, a stand-up collar, and red, white, and gold detailing. The legs of the bell-bottom pants have red inserts that match the red neck scarf. The costume includes a wide embellished belt and pocket chain. Better spend some time practicing your swivel before taking this costume out on the road.  The Elvis grand heritage costume comes in large and x-large. Windy City also carries similar Elvis costumes for toddlers and children.
Be someone's teenage dream in the 50s Hop With Poodle Skirt Adult Costume. The 50s hop costume includes a polyester pink sweater shirt with a sweet black rounded collar and black banding around the short sleeves. The black circle skirt has a cute white poodle accent with a leash that curls up the front. Also included is a scarf. Now all you need is some little white anklets and saddle shoes and you're ready to hit the Saturday night sock hop—hope that dreamy Johnny will be there! The 50s hop costume is available in adult sizes small, medium, and large.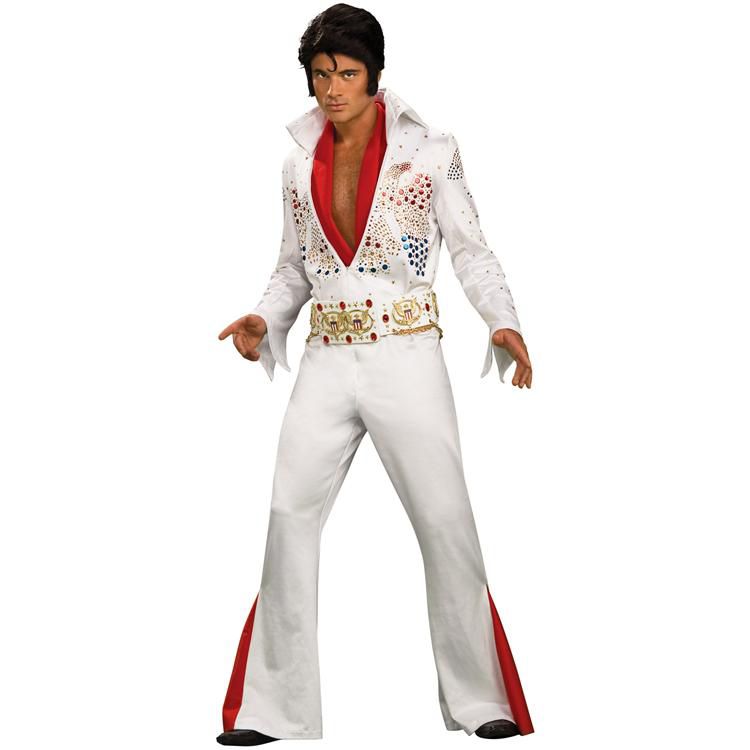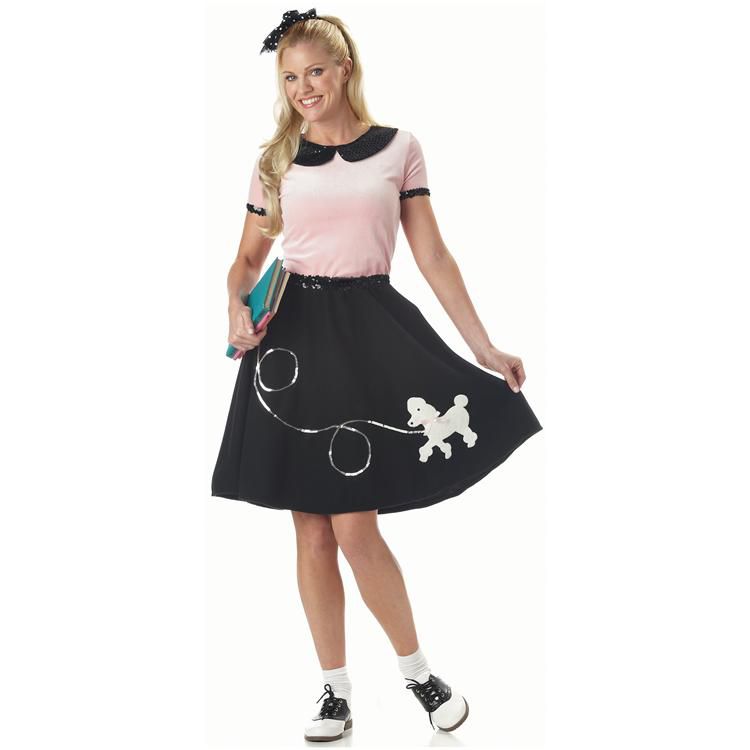 A girl's gotta do what a girl's gotta do if she wants to get her man. If your heart is set on a certain someone the Grease Bad Sandy Outfit Adult Costume might be what you need to reel him in. The officially licensed "Grease" costume includes an off-the-shoulder black polyester top, skin tight black pants, and a wide elastic belt. Rock some red high heels with this outfit and don't forget the T-Birds jacket, also available from Windy City Novelties. The bad Sandy outfit is available in small, medium, and large.
Those 70s Halloween Costumes
Hippies and disco divas don't seem like a harmonious blend, but it somehow worked itself out in the 1970s. There's no need to choose sides when you can have a little of both with costumes from Windy City Novelties. The Hippie Love Child Adult Costume pretty much covers everything there is to say about the 70s hippie movement. A carry-over from the Woodstock music festival, the hippie love child costume includes a long, polyester psychedelic paisley dress in swirling shades of pink, purple, and orange. The dress has a rounded neckline and long sleeves that bell out from the elbow. The paisley dress is topped by a long faux leather vest in brown, with fringe around the bottom. Included is a coordinating headband. Wear the hippie love child costume with your own sandals or boots, and be sure to wear a flower in your hair.
You might want to check out YouTube for a few disco dance lessons before venturing out on Halloween in the Disco Dolly Adult Costume. The disco dolly dress is a short sequined number that is sure to catch the lights of the revolving mirror ball! The dress has a yellow background with multicolor design. The mini dress has a rounded neckline and long sleeves that flare out on the ends. Wear your disco dolly dress with knee high white patent boots—and if you can find platforms, that's even better! The disco dolly dress comes with a matching head wrap. It is available in small and large.
The 70s were really not kind to men when it comes to fashion, but the decade has proven to be good for guys Halloween costumes. The 70s Plaid Leisure Suit Adult Costume is perfectly hideous—and that's what makes it so fun! Older men will find it hard to believe they actually wore these things and thought they looked good. The 70s leisure suit costume includes lime green plaid pants and a matching lime green plaid shirt jacket that opens to reveal an attached shirt front in a gloriously clashing black-and-white design. The shirt has the required wide collar and cuffs. Good luck picking up women in this get-up, but if you can make them laugh you're halfway home. Splurge on a splash of men's room aftershave to really complete this costume.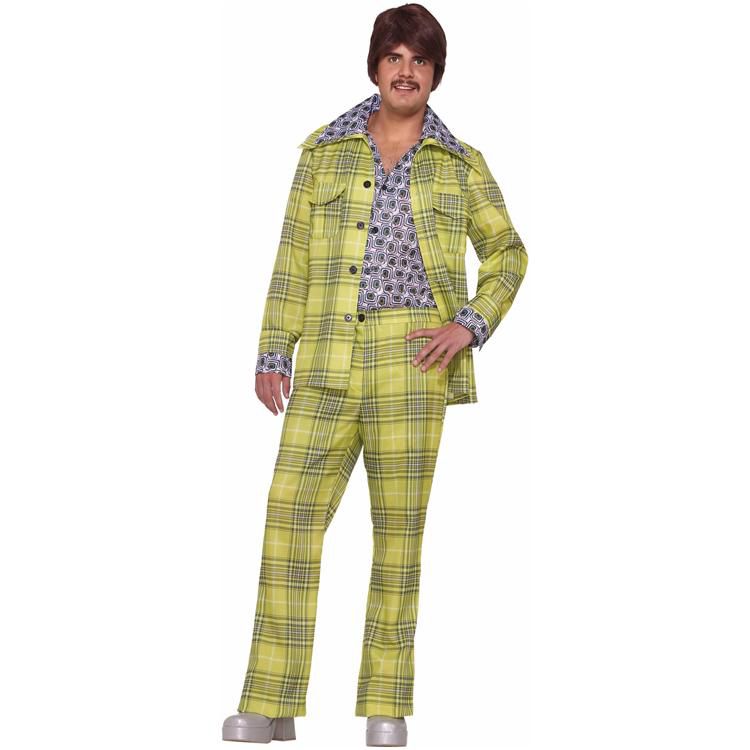 Men might fare better in the Saturday Night Fever Adult Costume. Even if you've never seen the movie, you're sure to have seen the iconic white suit, or at least the pointed finger dance pose. The "Saturday Night Fever" costume includes the white jacket, pants, and vest. Add your own black shirt and get ready to burn baby, burn.
Totally 80s Halloween Costumes
MTV was launched in 1981 and suddenly everyone wanted to be a rock star—or at least dress like one. The 80s Glam Rocker Child Costume will have dads wanting to lock their daughters up in their rooms. The rocker girl costume includes hot pink and black animal print leggings that have one blue leg, an 80s-style top with a skull and roses tattoo design, a short vest with four pins for flair, a wide belt, a head tie, and a cool tattoo arm sleeve. Set your hair in bobby pins the night before Halloween to get that wild curly look, and make sure to have plenty of hair spray on hand to make those mall bangs stand straight up. The glam rocker costume is available in small (6-8), medium (8-10), and large (10-12).
The Biebs may have tried, but there's just no touching the look of the 80's Video Super Star. The adult video super star costume includes a pair of harem pants in a gold metallic fabric with an attached multi-color belt band, a fish net t-shirt, and a matching waist-length gold jacket, also with the multi-color trim around the hem and sleeves. M.C. Hammer would be proud. There are a number of iconic images connected with the Grateful Dead rock band, but none so well known as the dancing bears. It's interesting to note the artist who drew the bears says they are not dancing but obviously marching.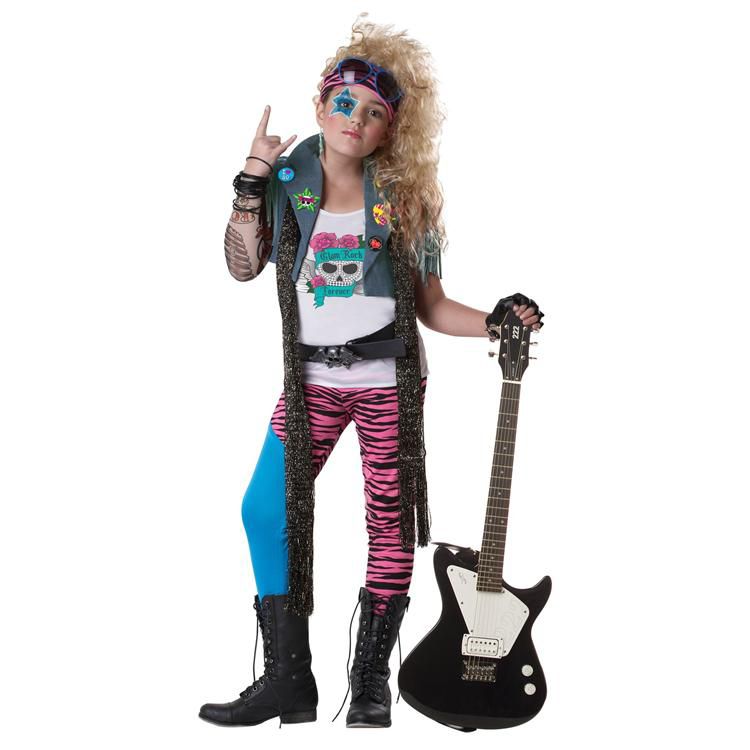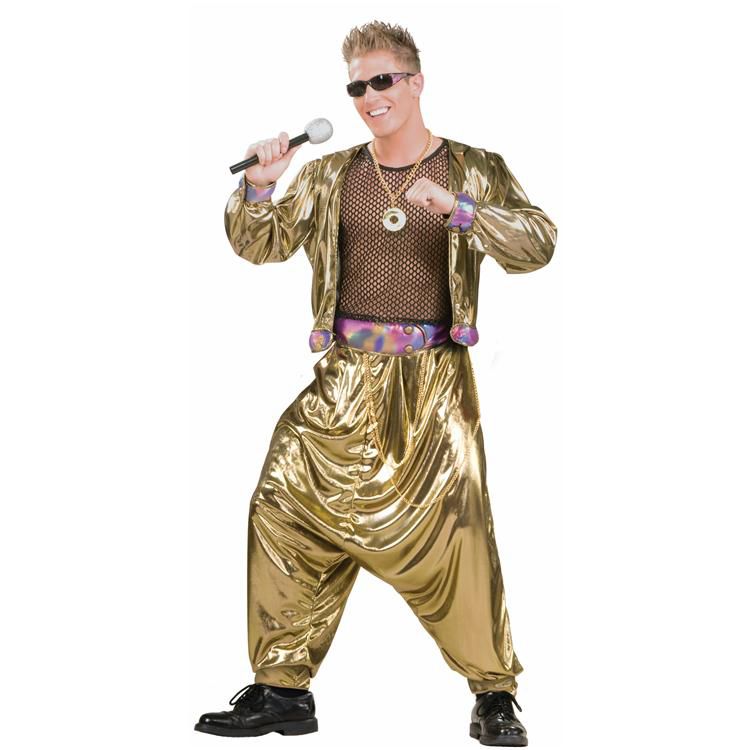 Go marching off into the Halloween night in the Grateful Dead Blue Dancing Bear Adult Costume. The officially-licensed costume includes a fuzzy blue polyester jumpsuit that has long sleeves with attached mitts. The neck of the jumpsuit is decorated with a yellow zig-zag flat collar. The costume features a matching blue bear head with a smiling face.
Another recognizable icon of the 80s is Pac-Man. The arcade video game, released in the United States in 1980, soon became a social phenomenon. Kids will love dressing up like the ghost-gobbling hero with the Pac-Man Deluxe Child Costume. The Pac-Man deluxe costume consists of a yellow polyester bodysuit, shaped to look like the rotund star of the game, mouth wide open to catch some dots. Also included are red boot covers and coordinating gloves. The officially-licensed costume fits most children.
Pick a decade—any decade! Whether flapper, bopper, hippie, or glam rocker, Windy City Novelties gives you all the options you need to find your perfect Halloween costume.
At Windy City Novelties, it's our hope that this article inspires you to create a fun and unique party for your loved ones. For more helpful tips on organizing your event, email our dedicated party planning experts at [email protected]. You may also subscribe to our emails for weekly party planning ideas, featured products and more at https://www.windycitynovelties.com/customer/account/create/