A Guide to Our Easter Decorations, Accessories and Party Supplies
09/27/17
Easter is a time for celebrating with friends, family, church members, and neighbors.  Whether you're planning a family brunch, a church potluck, a small gathering with friends who don't have family to get together with, or a neighborhood Easter egg hunt, you'll need to find the right decorations to make your event shine.  Perfect for churches, homes, and indoor or outdoor events, these top Easter decorations will ensure any event is a hit with guests of all ages! 
- Welcome your guests with cheery Easter Bunny lawn decorations.  These funny little bunnies will look great adorning the lawn at your home, the neighborhood church before Sunday morning services, or at the park, pointing everyone towards the big egg hunt on Easter morning!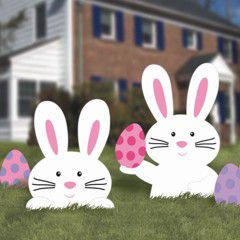 - Brighten up any decor with Easter egg hanging decorations in pretty pastels.  These bright hanging decorations will add a festive touch to outdoor celebrations when you hang them from tree branches, porch roofs, or street lamps, or use them to decorate for an Easter brunch, hanging them from the dining room chandelier or kitchen ceiling.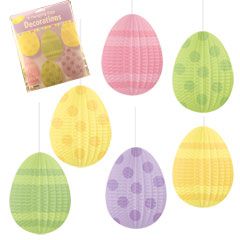 - And while you're preparing for Easter brunch, set the stage for your Easter table with a pretty pastel Easter egg table runner.  The ideal way to set the stage for your fine china or Grandma's favorite dishes, this gorgeous velvet and satin table runner will give your brunch an elegant touch and last for years to come.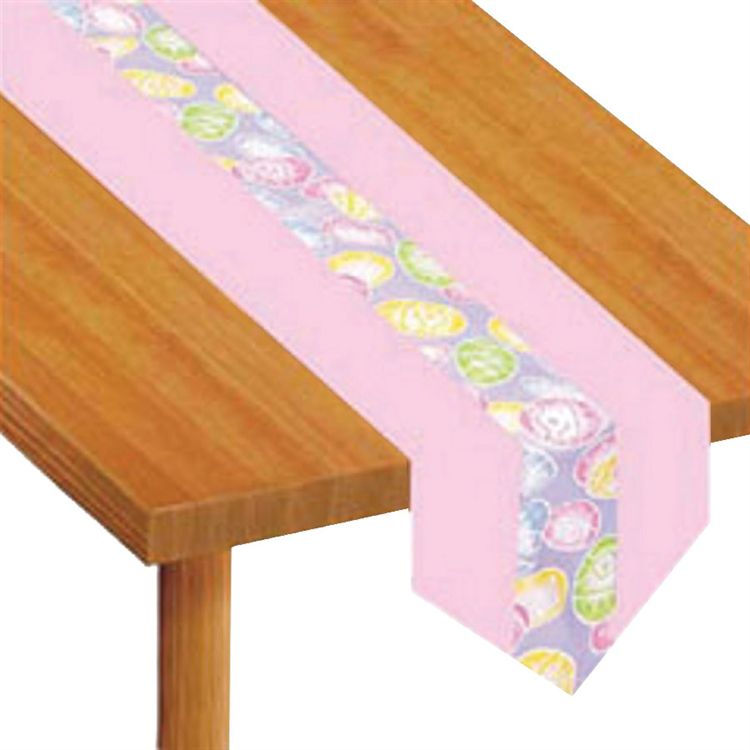 - If you're expecting a huge crowd on Easter morning, whether it's for the church potluck or you're serving up muffins and coffee to parents and grandparents while the neighborhood kids are scrambling through the park searching for those elusive Easter eggs, you'll need to stock up on plenty of Easter paper plates to serve up those tasty treats.  Choose paper plates and coordinating cups and napkins in sunny pastels in a pretty Easter theme, as well as festive table covers to tie your theme together.  These Easter paper goods even look good enough to spruce up your table, so if you don't have enough china to handle the crowd—or just don't feel like doing dishes all morning when the meal is over—no one will object to eating Easter dinner off these pretty paper plates! 
- And with an Easter egg centerpiece topping off your table decor, your table will be set in style and ready for the big meal!  Whether it's your own dining room table you're trying to spruce up or you've got to make dozens of tables look great for the church potluck Easter weekend, these metallic centerpieces are sure to fit the bill.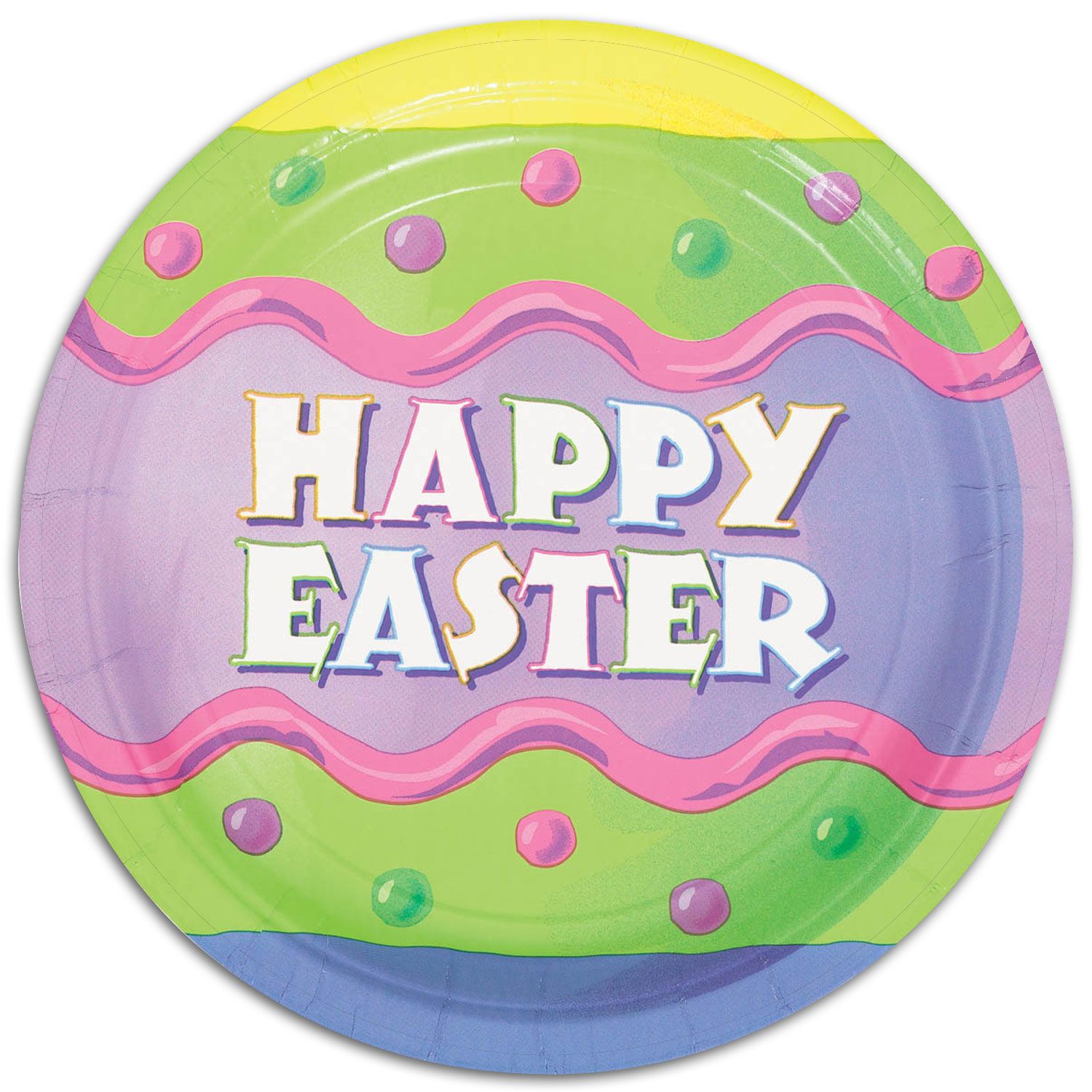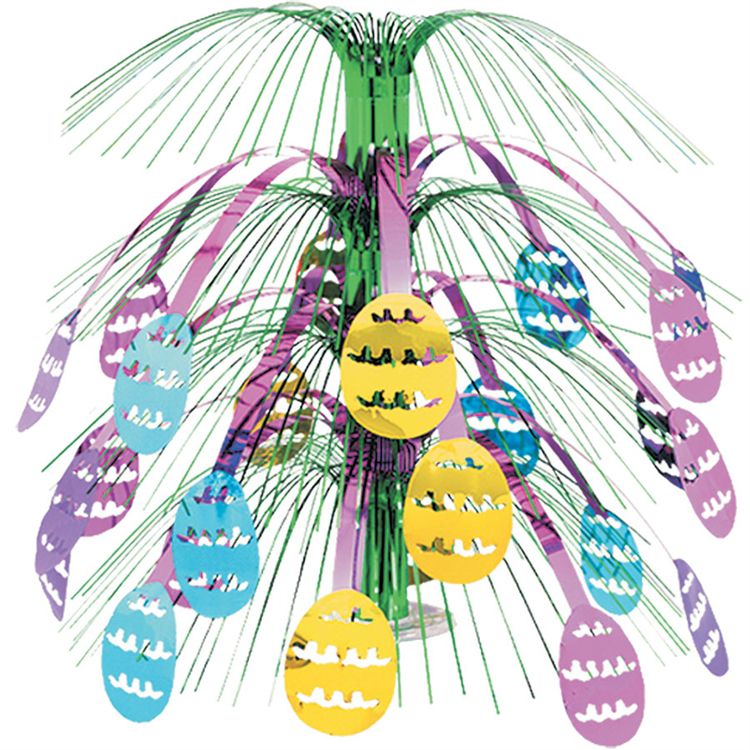 - No Easter celebration is complete without plenty of Easter eggs decorated in bright colors!  Stock up on plenty of Easter egg decorating kits.    Whether you need one kit to decorate a dozen eggs for the family or several kits to decorate a hundred eggs for the neighborhood hunt, you'll need to be sure you've got enough to keep the kids happy!  And with fun options available these days, including tie-dye Easter egg decorating kits, you'll be able to create beautiful and unique eggs the kids will love!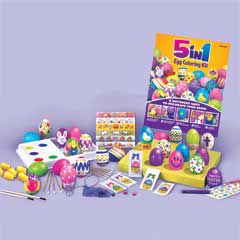 - Another option for your Easter egg hunt is to fill colorful plastic Easter eggs with treats and trinkets like chocolate candies, small toys, and coins, and hide those for the children to find, instead of hiding hard boiled eggs.  Not only does this allow you to hide more eggs without having to purchase, hard boil, and decorate dozens and dozens of eggs, but you can also hide the eggs a day in advance if you're planning a large-scale egg hunt, which can help ease a time crunch.  And, as an added bonus, if any of these plastic eggs are missed in the hunting frenzy, there's no chance of a rotting egg smell ruining your home or yard in a few days! 
- The final touch you need for any Easter egg hunt or Easter event that will have lots of children present is a deluxe Easter Bunny costume.    With its oversized mascot head, fuzzy white fur, attached tail, mitts, spats, and feet, this good looking white Easter Bunny suit will delight the kids at any event! 
Whatever type of Easter event you're planning, with the right decorations and supplies, you'll set the perfect tone and create a celebratory mood your guests will appreciate this Easter.  With decorations that will work indoors and out, for celebrations both large and small, your Easter event will be a hit with guests of all ages! 
At Windy City Novelties, it's our hope that this article inspires you to create a fun and unique party for your loved ones. For more helpful tips on organizing your event, email our dedicated party planning experts at [email protected]. You may also subscribe to our emails for weekly party planning ideas, featured products and more at https://www.windycitynovelties.com/customer/account/create/