Spend a Day in Paris with a Paris Party!
09/27/17
Take your friends and relatives on a Paris getaway when you throw a Paris-themed get-together! A Paris theme is great for bridal showers, baby showers, birthday parties, or a going away or welcome home party. Make sure your friend knows how much she was missed during her long stay in Paris, or send off a friend in style with a Paris party. Host the party at your home, or reserve a few tables at a local French bistro. Wherever the location, you're going to want to garnish your party space with lovely Paris-themed decorations and provide delicious French snacks for your guests. Follow these party planning tips and ideas in order to plan the most exquisite Paris party!
Use Paris-themed decorations or items to add to your party area.
When planning your Paris party, first decide on the venue. Are you going to host it at your home or at a restaurant? If you plan to host it at a restaurant, it's more fitting to have it at a French restaurant. If you plan to host your Paris party in your home, you will want more of the party space decorated with your Paris decorations. Follow a particular color scheme when choosing or making your decorations. Try using a black, white, gold and pink color scheme. All of your party decorations, tableware, party favors, and even snacks should follow this color scheme. Once you have finalized the color scheme, start picking out your decorations. Start with the entranceway, because that will be the first impression your guests will have on your party. Use crepe paper streamers to create an "awning"—just as the bistros in France have over their entranceways. Cut small pieces of white and light pink crepe paper and hang them at the top of the doorway, alternating the white and pink colors and making sure they are short enough for quests to walk under without touching. Add two bundles of pink, white, gold and black balloons on both sides of the doorway to make it look like a party is being held here. This will let your guests know where to go.
If possible, hang a few decorations from the ceiling. Try a mixture of different types of decorations, such as a few black, light pink and white paper lanterns, mixed in with a few white, black and pink fluffy decorations. Alternate these decorations and place them over the table your guests will be dining at, or over the snack/cake table. To make it Paris-themed, add in a few black and gold Eiffel Tower danglers. The Eiffel Tower figures will hang lower than the other decorations, making them stand out.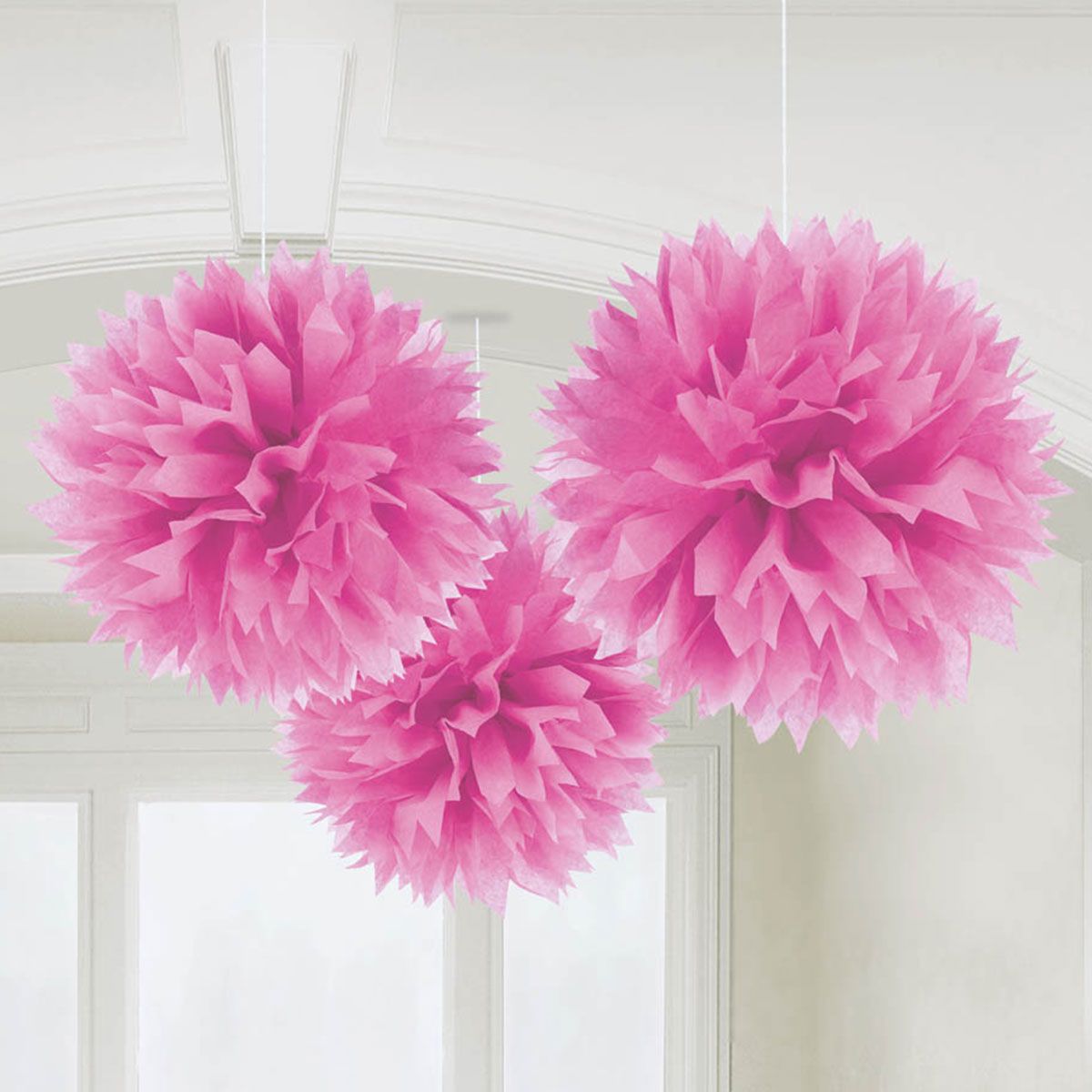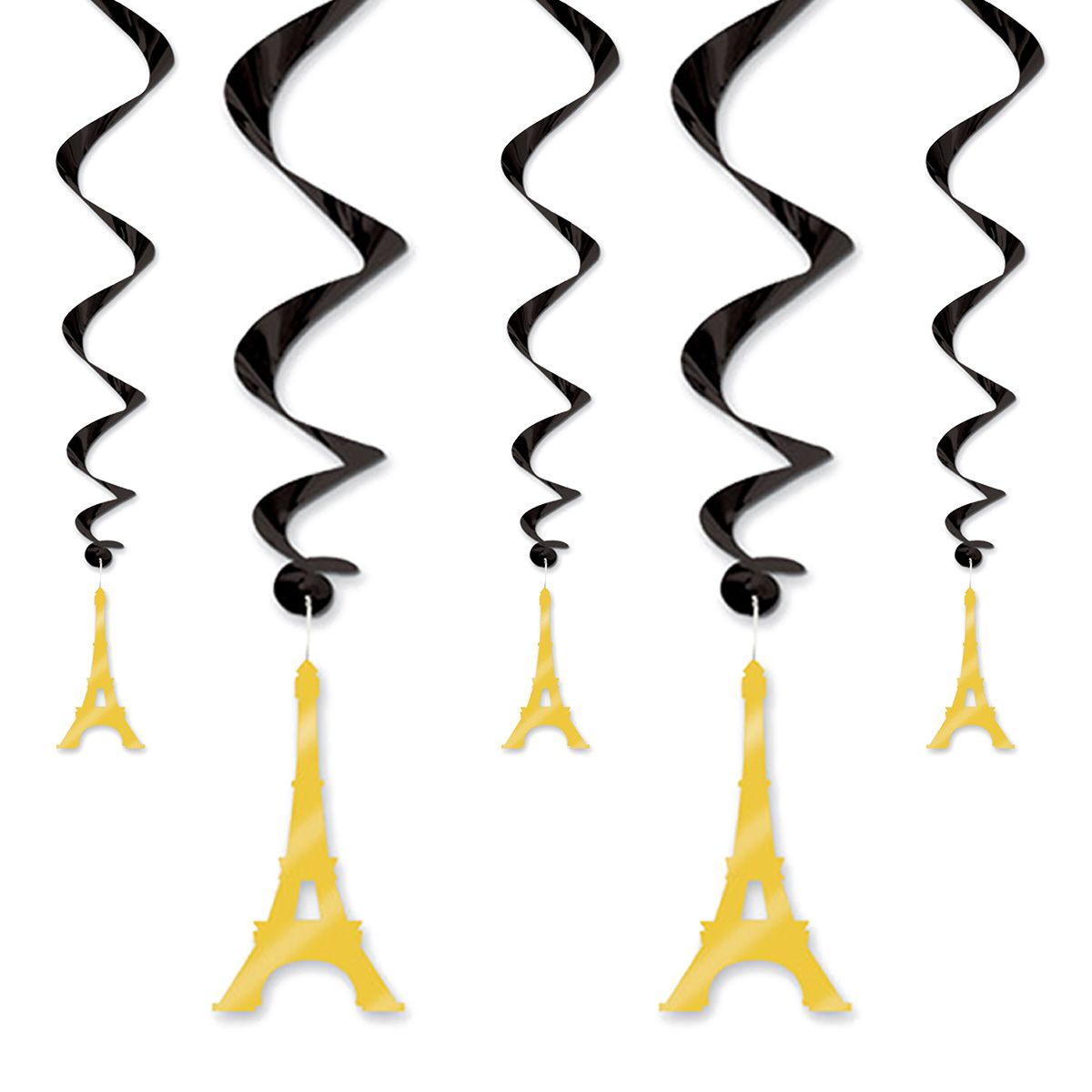 If you have a large space and need more decorations for the party area, take your awning decoration and make it into a "garland" that wraps around the entire room or party area. Do this in the same manner you made the "awning" over the doorway, but attach the streamers to the top of the ceiling, instead. You can also add French cutout decorations to the walls around the party space, such as a French flag or French landmark posters or pictures, including the Eiffel Tower, Arc de Triomphe, and Notre Dame Cathedral. These decorations are especially great for going away or welcome back parties.
Use French-themed tableware to set up your dining and/or snack tables.
After you've set up the party area, you can start preparing the dining table or snack table. You'll want to decorate the table with decorations of the same color scheme: light pink, black, white and gold. Black and white stripes are very French, so use a black and white striped table cover to place over your dining and/or snack table. Additionally, add a light pink table runner over the black and white striped table cover. This will add depth to your tablescape without having to do much! If you have difficulties locating a light pink table runner, use an inexpensive light pink plastic table cover and fold it in half—or as many times as you need—and layer it over your table cover.
image via stylemepretty.com
If your guests will be eating at a dining table, decorate your dining table with adorable centerpieces. Collect a variety of pale pink and white flowers (your choice) and put them in small vases, lining them down the center of the table. Decorate the vases with black lace—either wrapping and gluing the lace around the entire vase, or using the black lace as a bow. Furthermore, add a few gold Eiffel Tower centerpieces as centerpieces in between the flower vases.
image via stylemepretty.com
If your party is going to be more buffet-like and you only need a snack table, place the flower vases and Eiffel Towers throughout the table around the snacks. You can also create a "PARIS" backdrop for the snack table by finding—or making your own—cardboard letters to spell out "P-A-R-I-S." Try using an Eiffel Tower cutout as the "A". Paint these letters with gold paint or gold glitter and hang them with string from the ceiling or wall so that they'll stand out against the rest of the party décor. You can also hang them from the edge of the snack table.
Set out black and gold Paris plates for guests to grab and eat off of. If you are having guests sit at a dining table, place a larger pink plate under the Paris plate to add more color. Give the guests light pink napkins secured in pearl bead necklaces. Serve your guests champagne in flute glasses, as well as a few French delights, including macaroons, quiche, French onion soup, French pastries, and more!
image via notonthehighstreet.com
Send your guests home with a Paris party favor.
Thank you guests for attending your party by sending them home with a little something. A box of macaroons will do, or a mini bottle of champagne. Or for something a bit more sentimental—take Polaroid pictures at the event and send each guest home with an Eiffel Tower photo holder and a photo that they are in. They will be able to keep the photo for a lifetime! 
At Windy City Novelties, it's our hope that this article inspires you to create a fun and unique party for your loved ones. For more helpful tips on organizing your event, email our dedicated party planning experts at [email protected]. You may also subscribe to our emails for weekly party planning ideas, featured products and more at https://www.windycitynovelties.com/customer/account/create/