Throw a Galentine's Day Party this Valentine's Day Weekend!
09/27/17
If you're a fan of the TV hit series Parks and Recreation, then you've already heard of "Galentine's Day," and perhaps have celebrated it. If not, you're in for a real treat! This Valentine's Day weekend, grab your gal pals for a girls-only celebration on February 13th.
"Galentine's Day" was invented in 2010 on an episode of Parks and Recreation by Amy Poehler's character, Leslie Knope. The objective of Galentine's Day is to celebrate the friendships between women. So this February 13th, do just that by inviting all of your girlfriends over for a Galentine's Day Party! It doesn't matter if you're married, have a boyfriend or are single, any woman wanting to celebrate women may attend. Decorate your party space with Valentine's Day decorations and enjoy sweet treats and cocktails with your besties. Follow these party ideas to put together the best Valentine's Day celebration.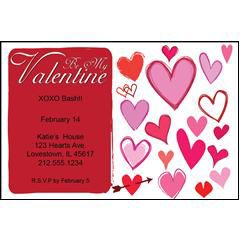 Send your girls invites in the mail.
Everyone loves receiving mail. Make your girls feel special by sending them a Valentine invite in the mail-no e-vites! They'll appreciate the time you took to pick out Valentine's and send them. Include the details of your party, such as date, time, location, and if you would like each lady to bring a bottle of wine or a dessert.
Add a few red and heart-themed decorations to your party space.
If you're hosting this party at restaurant for a Galentine's Day brunch or dinner, skip the decorations. If you're hosting this soiree in your home, put up a few Valentine's Day decorations to make your place fun and festive. For easy and quick decorating, use a Valentine's Day room decorating kit, complete with hanging decorations, wall cutouts and garland. If you have more time and effort for decorating, hang a hearts and swirl garland in your entryway. You can also set bundles of red, white and pink balloons on each side of your doorway-indoors or out. This will help to let your ladies know where the party's at!
Decorate a plain wall in your home as a photo booth area for you and your girls to take pictures. Hang "X" and "O" danglers from the ceiling and stick glitter heart cutouts on the walls. Set out a bucket of cute accessories and props that your guests can use in their Galentine's Day photos.
Set up a snack table in an area of your home, because no girls-only party is complete without cupcakes and champagne! Cover the table with a plain white or pink table cover so that you don't overdo it with the red party decorations. If you're able to, hang a few heart paper lanterns above the snack table, mixed in with a red fringe chandelier. Set one or two heart-shaped centerpieces on your table for decoration.
Serve a variety of cocktails and sweet treats.
Celebrate your girlfriends by supplying them with cupcakes and champagne. Wrap your cupcakes in festive heart printed cupcake cups. Be sure to make both chocolate and vanilla cupcakes, topping them with pink or red frosting. Among your sweet treats, provide a few salty or breaded snack options to offset all of that sugar. Set out piles of heart printed paper plates and napkins for the ladies to eat off of.
Be sure to have plenty of champagne and other beverages on hand for the girls to drink. Serve champagne with candy rock sticks as a garnish, cosmopolitans in martini glasses, along with other types of cocktails.
To pass the time, get all of the girls involved in a series of games. Prior to throwing the party, go to your nearest Target or beauty store and write down a few of the nail polish names that could pass for something else. At your party, have your girls decide if it's a nail polish color or something else. Reward the girl with the most correct guesses with a nail polish! 
At Windy City Novelties, it's our hope that this article inspires you to create a fun and unique party for your loved ones. For more helpful tips on organizing your event, email our dedicated party planning experts at [email protected]. You may also subscribe to our emails for weekly party planning ideas, featured products and more at https://www.windycitynovelties.com/customer/account/create/