Throw a Loved One a Special 90th Birthday Party with These Party Ideas!
09/27/17
Turning 90 years old is a great milestone in one's life. If your parent, grandparent or great grandparent is about to celebrate a 90th birthday, show them a little love and support by throwing them a 90th birthday party! Invite the guest of honor's loved ones, and acknowledge the achievements they have made during their lifetime. Depending on the guest of honor and their attitude towards turning 90, host a large and elegant party for them, or a small and casual get-together in the comfort of your home or their home. Create a beautiful party scene with the help of a few decorations and make sure the guest of honor has a wonderful time. Here are some ideas for throwing a 90th birthday party!
Decorate the party space based on the personality of the guest of honor.
Before you begin your party planning, think about the personality of the guest of honor. Are they excited about turning 90 or are they uncomfortable with the thought of it? Will they be happy to be surrounded by a large group of people or would that be too overwhelming for them? Do they enjoy being the center of attention or are they more on the shy side? Once you have these questions figured out, you'll know what type of party to plan for.
Your party decorations will vary based on the type of party you are hosting, but generally, you can choose a color scheme to decorate with that the guest of honor will like. Or, keep it safe and simple by using a multi-color decorating style. Welcome the guest of honor with a "Happy 90th Birthday" banner in the entranceway of the party area. If your party will be held at a restaurant, you can also place bundles of balloons on each side of the entranceway to create a livelier welcoming. This will assist guests in knowing exactly where to go for the party!
Set up a small table for guests to place their birthday gifts on when they arrive. Decorate the gift table using a solid color table cover—purple, blue, red, green, or gold will match the rest of your party décor. Hang star stringers behind the gift table as a backdrop for it. Simply attach each stringer to the ceiling and let it hang vertically. Choose one or several of the colors mentioned above, but make sure they aren't the same color as the table cover so you can get some color variety into your party décor. Place a couple of 90 cascade table decorations on the gift table and sprinkle 90 confetti all over the table.
Incorporate old photos of the guest of honor into your table decorations.
Once you have decorated the party space, you can begin working on the dining table(s). If your party is being held at a restaurant, the table covers and serving ware are already taken care of. Add a sentimental touch to the 90th birthday party by making picture frame centerpieces. Collect photos from different periods of the guest of honor's life and print copies of them to match in size. Purchase a bunch of picture frames from your local dollar store or craft store and connect four of them together using cloth tape. Connect them into a square, picture side face out. Place votive candles in the middle of the picture frame decoration to create a beautiful dining table centerpiece. Make as many as needed. For additional table decorations, place a few multi-color star centerpieces on the dining tables.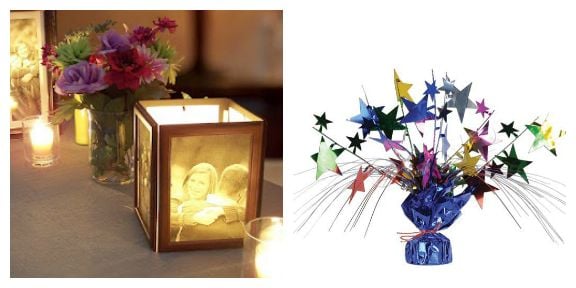 image via blog.myweddingreceptionideas.com
If your party is more of a casual one, serve your cake and other birthday snacks on festive paper plates. Choose from solid color paper goods, or birthday themed paper goods. Otherwise, use your traditional serving ware for your party!