Totally 80's Party Ideas
09/27/17
Ah, the 80's. If you grew up in the 1980's, you know it was a crazy decade. Therefore, it should make for a really great party theme! Turn you next upcoming event—birthday, special occasion, or just because—into a themed event by adding an 80's theme to it! Invite friends and family members over for fun-filled time of music videos, video games and more. Have them dress up in their finest 80's garb. Decorate your party space with bright neon colors and serve a variety of snacks that were popular during the 80's. Here are a few party tips to help you get started on setting up your 80's party!
Use a bright color scheme to decorate for your 80's party.
The 80's, especially in the décor, were all about bright colors. Use a bright or neon color scheme when decorating for your 80's party. You should also incorporate a few 80's fads into your party décor, as well. Above your entrance way, hang a bright and bold "Back to the 80's" sign, and use neon colored streamers to create a door curtain. Hang the streamers directly from the top of your doorway and either swoop all of the streamers to one side or divide them down the middle to create drapes.
On an open wall in your party space, hang "I love the 80's" string decorations, which include colorful shapes and cassette tapes. If you have another open wall in your party space, or would prefer this over the string decorations, attach 80's graffiti add-ons to the walls to make it appear as if you drew the graffiti on your walls yourself. Graffiti was often associated with the hip hop culture, and hip hop started becoming popular in the 80's.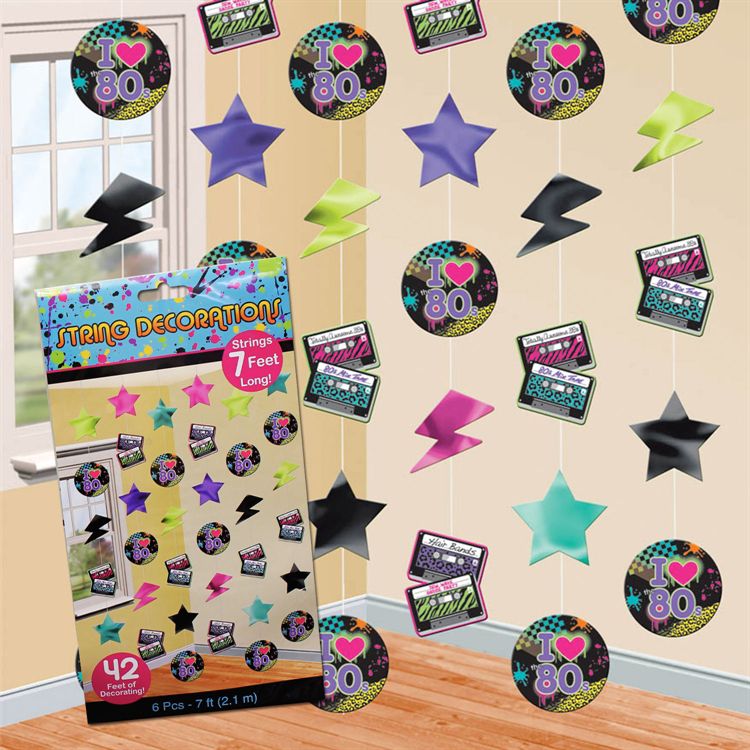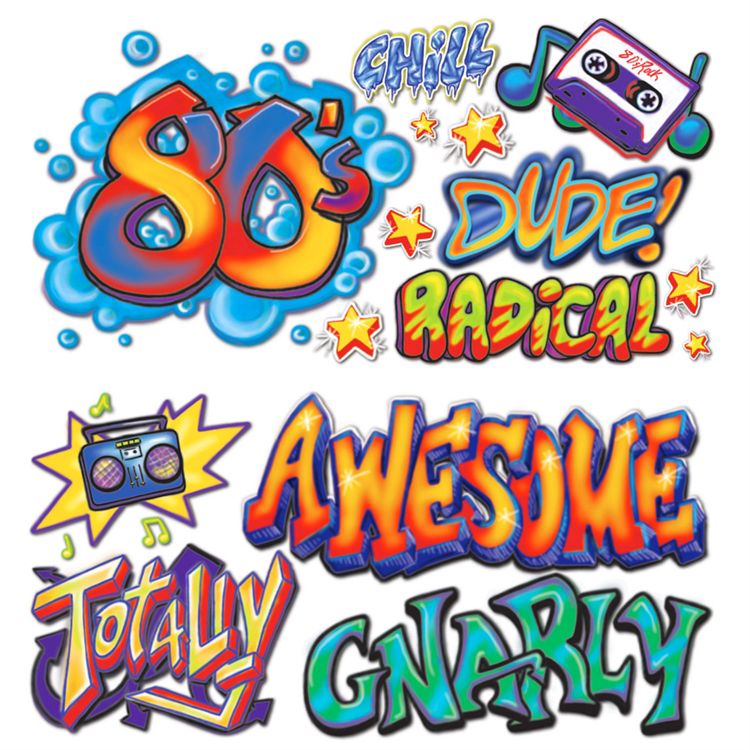 If you have an old boom box from the 80's or early 90's that still functions, place it somewhere in your party space and use it to play 80's hits during the event. If you don't have one, simply use a cardboard boom box standup prop as an additional party decoration.
Continue with the bright color scheme for the table decorations.
You will want to serve food at your event, so decorate your dining area to match the rest of your party décor. Use a bright neon table cover to place over your buffet table and/or dining table. For a little something extra, layer a checkered table runner with bright colored geometric shapes printed on it on top of the neon table cover. The table cover will add to the party décor without requiring you to put in much effort.
Set out an array of popular 80's foods on a buffet-style table and accompany them with colorful paper plates with wild prints for guests to eat off of. Some foods that became popular or gained popularity in the 1980's were spinach dip in a bread bowl, Sloppy Joes (you could make Sloppy Joe sliders), mac n' cheese, sushi, pasta salad, Totino's pizza rolls, Jell-O pudding pops, 7 layer taco dip, and anything blackened (chicken or seafood) or made with pesto (pasta or chicken). Set out a basket of colorful paper napkins, rolled with plasticware, and secured with a strip of candy dots.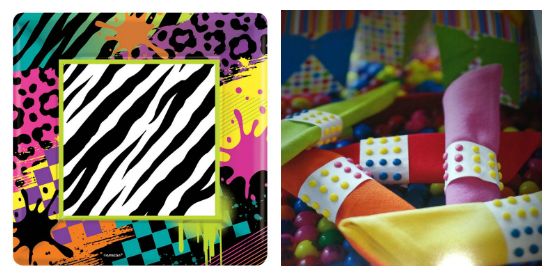 image via beingfrugalsally.blogspot.com
Entertain your guests with 80s party favors, music and more!
To keep your guests entertained at your 80's party, play popular 80's songs your guests can dance to, or set up a karaoke machine and only allow guests to sing 80's music. Set out a few 80's party items that your guests can take home with them as party favors. Let them wear neon wayfarer sunglass, a popular 80's trend, along with mesh gloves, inflatable guitars, and 80's hair band wigs.
You can also set aside an "arcade area" for guests to partake in a few video games, as video games were popular in the 80's. In the very late 80's is when Nintendo came out, so have your guests play games like Super Mario Bros. or Donkey Kong. Pac-Man was also a popular video game to play at this time.  
Another activity to do with your guests could be to watch your favorite movie from the 80's. There were many popular films that came out during the decade, such as Top Gun, Dirty Dancing, Flash Dance, as well as all of the John Hughes films from that era.