Non-Traditional Easter Egg Hunt Ideas
09/27/17
Every year, Easter morning dawns and kids around the world bounce out of bed expecting to find Easter baskets filled with chocolate treats, marshmallow peeps, and other tasty goodies and ready to take part in the timeless tradition of the Easter egg hunt.  But this year, instead of just tucking a few eggs behind the couch or under the flower pots outside, why not try out some non-traditional ideas that are just as much fun and will give the kids an Easter egg hunt they'll remember for years to come?  Perfect for an indoor or outdoor Easter egg hunt, these ideas will delight kids of all ages and keep them on their toes as they search for their Easter treasures!
Start with Traditional Easter Supplies
Your non-traditional Easter egg hunt will still start off with all the supplies you need for a regular Easter egg hunt.  Stock up on plenty of beautifully decorated eggs that you've hard boiled and dyed, either with your own special blend or an Easter egg coloring kit.  You'll also need plenty of colorful plastic eggs that you can fill with various prizes and treats for the kids to find.  For those of you expecting a lot of kids, whether you're planning an Easter egg hunt for the local church or maybe a family reunion, you might want to buy or rent an Easter bunny costume as well.  Most of these ideas will work for both indoor and outdoor hunt, so if Mother Nature isn't cooperating when Easter morning rolls around, you can easily move the festivities indoors, but an outdoor Easter egg hunt gives you more egg-hiding options and gives the kids more freedom to run around!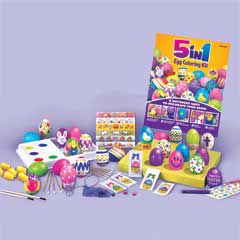 Non-traditional Easter Egg Hunt Ideas
- For families with multiple kids of different ages, it's always a good idea to keep the proceedings fair, so before the hunt begins, hand each child an egg of a different color and let them know they are only allowed to collect the eggs of that color.  Just remember when you're hiding them who will be collecting which color and hide them accordingly!  It's perfectly fair to make the older kids search a little harder than the younger kids! 
- Fill plastic eggs with age-appropriate treats that the kids will enjoy.  If you've already filled their Easter baskets with plenty of chocolate, go with sugar-free options like Easter stickers, growing chicks in eggs, or Easter bunny LED rings.  Older kids might think they've outgrown Easter egg hunts, but you can bet they'll be hopping into the fray if you fill some of those plastic eggs with cold, hard cash!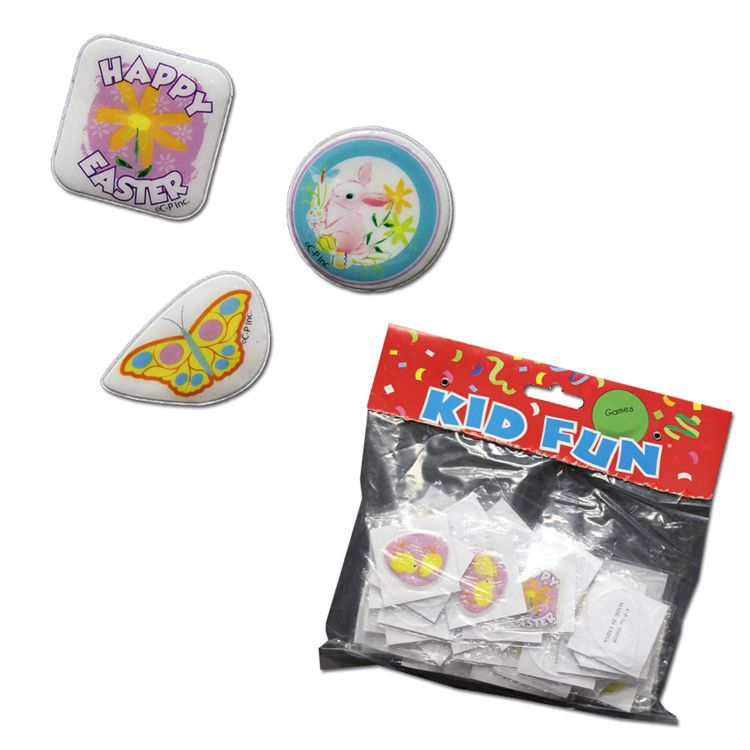 - Instead of having your Easter egg hunt first thing in the morning, color your eggs with glow in the dark paint, hide them in the yard or throughout the neighborhood (invite the neighbor kids in on the fun as well!), arm the kids with their own flashlights, and send them out to search for their eggs once the sun goes down. 
- Use your plastic eggs to create a scavenger hunt leading up to an Easter related prize.   Number each egg and place a clue inside, with each clue leading to the next egg the children will need to find.  The numbers will help keep the clues in order in case anyone stumbles onto an egg before the clues lead them to it! At the end of the hunt, have a stuffed animal, new book, or other treasure for each child. 
- After the kids have finished their Easter egg hunt, whether you've hidden them indoors or out, let them turn the tables on the adults for a change and hide some eggs for you to find!  Set a timer for five to ten minutes, give them free range to hide the eggs anywhere inside or out, weather permitting, and see if they can stump you with their hiding skills.  Just be sure you count the eggs before you have them hide the eggs so you know how many you need to locate.  This is also a good tip for when you're hiding the eggs.  The last thing you want is to leave one last egg hidden behind the television that you forgot about until it starts to smell a few days later! 
Whether you're looking to start new traditions with young children or trying to get your older kids to show some interest in your traditional Easter egg hunt, by mixing up your Easter egg hunt with some non-traditional ideas you'll be able to spice up the event and give your kids memories to last a lifetime! 
At Windy City Novelties, it's our hope that this article inspires you to create a fun and unique party for your loved ones. For more helpful tips on organizing your event, email our dedicated party planning experts at [email protected]. You may also subscribe to our emails for weekly party planning ideas, featured products and more at https://www.windycitynovelties.com/customer/account/create/