Under the Sea Party Ideas
09/27/17
An Under the Sea theme is suitable for any type of occasion, including birthday parties, school dances, baby showers, bridal showers, summer pool parties, and much more! And, an Under the Sea theme works with any age group! Whether you are turning five years of age or 50, an Under the Sea theme is fun for everyone. Create a more kid-friendly party by decorating with cartoon-like sea creatures, or put together an elegant tablescape for an adult-only dinner party using a variety of blue, purple and green decorations. Use these Under the Sea party tips to put together a reel-y great event!
Send out Under the Sea theme invitations.
Invite guests to your event by sending out invitations that coordinate with the theme. Choose Under the Sea theme invitations that match the tone of your event. If you are planning a birthday party for a child, choose invitations with images of sea creature on it, and if you are planning a more sophisticated event, choose simpler invitations. Be sure to include every little detail of your event. The invitation will give guests a little insight into the type of event they will be attending.
Choose a blue, purple and green color scheme for your party décor.
When you think of the bottom of the ocean, the colors that come to mind are shades of green, blue and purple. Stick to this color scheme for your party décor. Start you decorating process with a backdrop. The backdrop will serve as a major part of the party setting, and can be used as a photo booth background for great photo opportunities at your event! Take green crepe paper streamers to make seaweed along the bottom of your walls inside the party area. Cut varying sizes of the streamer paper and alternate them when securing them to your walls. Tape the bottom to the wall and twist the paper several times to create a more seaweed-like look, securing the top of the paper to the wall with tape. Once you have completed this step, you can choose to add in sea creatures by attaching under the sea cutouts to the walls.
image via overworkedsupermom.com
For quick decorating—or as an additional decoration in your party area—hang an under the sea scene setter on an open wall in your party space. The scene setter will cover a majority of your wall, and makes for a shore-ly great photo booth!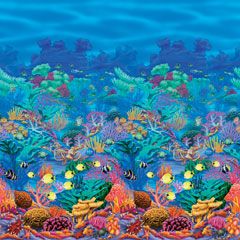 Enhance your party area with hanging decorations. You can really create the under the sea feeling by draping blue crepe paper streamers from the ceiling to look like waves. For a child's birthday party, you add hanging fish danglers in between the waves to make it appear as if fish are swimming through the water. Furthermore—for any type of occasion—attach different sized clear balloons to one string and hang them from the ceiling. These balloons will create the appearance of bubbles underwater, and will add an elegant touch to your party décor.
images via karaspartyideas.com and ehojevaiserumafesta.com
Provide your guests with Under the Sea themed snacks.
Your guests are going to need food and drinks to consume at your party, so come up with creative appetizers and desserts that fit the theme. But first, you'll need to decorate your dining area. Place a purple or blue table cover over your dining table(s). Prop a fish net over your table cover for an adorable under the sea look. Place shells, starfish, and any other ocean-themed items around the table. Fill clear glass bowls with sand and stick votive candles inside to use as centerpieces down the table.
image via qitanaif.tumblr.com
Once you have your tablescape set up, you can serve cute sea-themed snacks that will add zest to your party. Whip up spinach dip, or buy a tub of it at the grocery store, and label it "Seaweed Dip"; craft an octopus out of a bell pepper and use it as a topper in hummus, or other type of dip; make a blue or green punch—alcoholic or non-alcoholic; make oyster cookies using vanilla wafers, frosting and any kind of white or pearlescent round candy.  
images via redtri.com, livingwellspendingless.com, and catchmyparty.com
At Windy City Novelties, it's our hope that this article inspires you to create a fun and unique party for your loved ones. For more helpful tips on organizing your event, email our dedicated party planning experts at [email protected]. You may also subscribe to our emails for weekly party planning ideas, featured products and more at https://www.windycitynovelties.com/customer/account/create/