Use Scene Setters to Create the Perfect Backdrop at Your Party!
09/27/17
Really set the mood at your upcoming special events, and take your decorations to a whole new level of awesome, with Props and Scene Setters from Windy City Novelties.  Decorate to impress, and transform any ordinary space with wall coverings and fantastic cutout props that you can place throughout the room to match your chosen party theme for a holiday or any special occasion.  Great for any themed party event, including birthdays, weddings, school functions—like the prom, charity events, and more; Windy City Novelties has more than 100 great products for you to choose from to get ready to celebrate any special occasion in a big way!  Decorate your classrooms for a special lesson, dress up your office space to delight colleagues for a holiday event, or get ready to host the ultimate party to delight friends, family, and loved ones.  Create a party-scape your guests won't soon forget and raise the bar on entertaining by covering your walls with cool scene setter rolls and setting out high quality cardboard props to match.  There are dozens of decorative plastic rolls that you can hang safely over the walls of your home to transform your space in a big and easy way.  Deck out a corner of your space for guests to pose for photographs, or place an order for enough products to transform entire rooms with themed décor your guests are sure to love.  We even sell packages of sticky tack that you can use to safely set up any of these decorations without worrying about damaging your walls.  There are fantastic options for Halloween, medieval themes, sports parties, tropical themed events, pirate parties, star-studded Hollywood nights, Mardi Gras, Roaring '20s era themes, fun down at the farm, and much, much more.  Find all the coolest decorations right here and get ready to have a fantastic time at all of your upcoming special events!

Transform your living room, or any space where you want to host a gaggle of ghouls and costume-clad friend this Halloween with a whole range of awesomely creepy props and scene setters to really set the mood this year!  We have some super creepy Ethereal Ghost Props that you can add to your home décor and use on Halloween.  Included in this kit are six spooky poltergeist figures that range in size from 35 inches to 37 inches.  They'll look great in your windows, or display them anywhere you like for a spooky event!  Pair them with our Haunted House Night Props to really deliver a spooky setting on Halloween this year.  The Haunted House Night Props comes with 18 decorations that depict a haunted house scene, complete with lots of bats, a grey moon and cool lightning decorations that you can use to set the scene on Halloween.  These haunted house props range in size from 7 inches to 40 inches to help you create a spooktacular setting at your house for the holiday, or any creepy affair.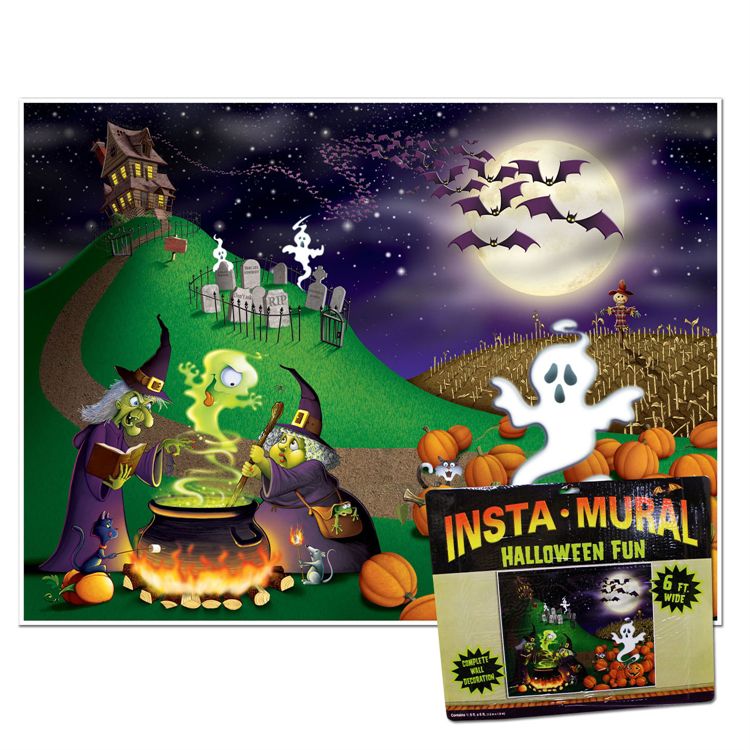 Add some Bride & Groom Doomed Props to your party.   You can stick them up on your walls to decorate indoors or attach spikes to the backs and have them stick out of the ground in your front yard to delight trick-or-treaters and partygoers as they arrive to your door on Halloween.  Each Bride & Groom prop measures 63 inches in length by 33 1/2 inches in width, giving you a whole lot of creepiness to have fun with on Halloween this year.  We also have some more child-friend Halloween props and scene setter options for you to choose from, including our Creepy Fence Border Roll, which provides you with a mountable roll of plastic that is decorated with an ornate fence line of dark metal rod iron; and the Halloween Fun Scene Setter, which comes with a 5 foot by 6 foot wall mural that depicts a colorfully illustrated scene for Halloween with a bat filled, moonlit sky, a haunted pumpkin patch, graveyard, and a pair of witches working on an unsavory brew with a haunted house at the top of a hill in the background.
Bring the beach right to your own backyard or any indoor space and it can be fun in the sun with a whole range of fantastic tropical and beach themed props and scene setters from Windy City Novelties.  Our Sandy Beach Scene Setter Roll can help you surround your guests in a cool sand-filled environment that will add depth to any room.  Add some ocean waves to your sandy beaches with our Ocean & Blue Sky Scene Setter Roll, which is a fantastic decoration for any beach, nautical, luau or tropical theme.  You can add some color to your space and still capture that beachy feel with our Luau Sunset Scene Setter Roll, which depicts the orange glow of a sun setting on the ocean.  Each of these scene setter rolls measure 30 feet by 4 feet and are sold individually.  You can take your beach, luau, or tiki theme up a notch further with our Luau Sunset Add-On Props, which comes with a set of matching tiki themed delights, including a fire pit, orange soaked sunset clouds, a torch-lit tiki bar scene, fire-pit image, seashells, and more to place atop your preferred scene setter rolls or anywhere in your event space.  We have a quick and easy Luau Sunset Window Prop that you can display at your indoor events which features images from the Luau Sunset Add-On Props and has them neatly printed on decorations designed for windows.  Each plastic Sunset Window prop measures 3 feet and 2 inches by 5 feet and 2 inches and is priced and sold by the prop.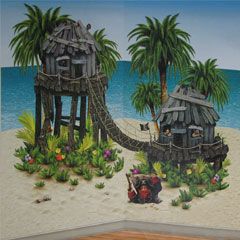 Those beach themed decorations are also great for pirate themed parties!  Pick out your favorite beach and ocean scene setter rolls and throw in some Pirate Hideaway Island Scene Setter Add Ons, which comes with a 66-inch by 61 1/2-inch pirate hideaway scene setter that depicts a pair of shack-like structures connected with a roped gangway bridge over the sand with palm trees and a pirate treasure chest and blue waters in the background.  Bring even more pirate swagger to your events with Dueling Pirates Scene Setter Add Ons and you'll be ready to shout "Arrgh!" with the best of them at any pirate party event with a pair of pirate figures, including a peg-legged man and a female swashbuckler.  Dueling Pirates are sold 2 per pack.  We also carry Fighting Pirates On Beach Scene Setter Add Ons,  which can provide you with a whole mess of pirate figures, including sword-clad swabbies and mutinous dogs who can be featured on your walls dueling to the death.  Add some extra palm trees to your pirate themed space with our Tropical Palm Trees Scene Setter Add Ons and you will be getting a pair of 65-inch palm tree images you can display on your walls that feature lots of tropical foliage along with some wild and colorful parrots.   We have plenty of pirate themed fun to go around! 
Windy City Novelties can help you create a merry and festive wonderland to get ready for the Christmas holiday with scene setter rolls and fun scene setter additions that you can display at your home, office, school classroom, place of business, or anywhere you are looking to spread the cheer of the season with great style you can personalize!  Pick from our Christmas Tree Scene Setter Room Roll, which can have entire rooms filled with images of decorated Christmas trees, complete with gold stars on top; the Winter Wonderland 40 Foot Scene Setter, which depicts a forest landscape with lots of birch and fir trees covered in a soft blanket of white snow; or the 40 Foot Snow Flurries Scene Setter Roll, which is decorated with curling and whirling snowflakes that look as though they are dancing across your walls on a sweet Christmas breeze.  Each of these fantastic scene setter rolls measure 40 feet in length by 4 feet in width, giving you plenty or decoration to cover large wall spaces and surfaces to get ready for the holidays.  Measure the area you want to have covered and place an order accordingly.  You can dress up your Christmas decorations even more with some festive add-ons like our Christmas Fireplace Scene Setter Add On.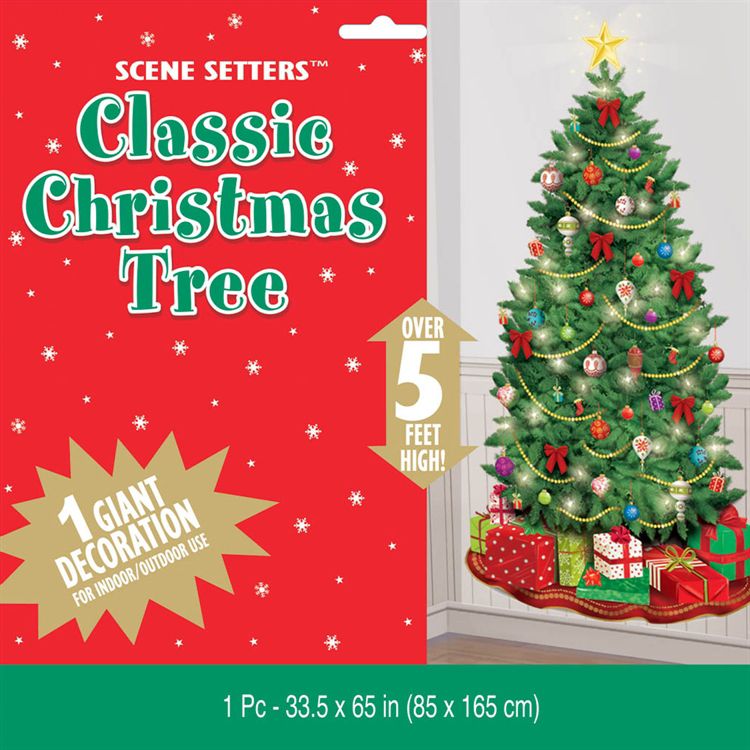 You can use this fantastic decoration by itself or to enhance any of our scene setter rolls and Christmas themed decorations.  It measures 65 inches tall by 33 1/2 inches wide and depicts a charming fireplace scene with a Christmas wreath above and carefully wrapped Christmas packages set out below a roaring fire with stockings and garland hung from the mantle.  We also have O Christmas Tree Scene Setter Add Ons, which you can use to add a lovely decorated Christmas tree to any space with ease; or a sugary sweet and whimsically illustrated Ginger Bread Land Scene Setter Add On, that pictures a candy-coated gingerbread house with all the trimmings.  The O Christmas Tree Scene Setter Add Ons measure 65 inches in height by 33 1/2 inches in width and is sold individually.  You can pick up the Ginger Bread Land Scene Setter Add On, which provides you with two pieces that each measure 65 inches by 33 1/2 to allow you to wrap the gingerbread scene around a corner or however you want to display it. 
There is so much fun to be had on the holidays, or at any special celebration, and Windy City Novelties can help you create a fantastic party environment to celebrate with everyone you love this year!  Go big with your decorations and impress all your guests with fantastic Props and Scene Setters from Windy City Novelties.  With these fantastic party supplies, you'll be getting set up to deliver the party event of the season.