Windy City Novelties Top 10: Top 10 Hanukkah Decorations
09/27/17
Hanukkah is right around the corner which means it's time to start thinking about how you're going to decorate your home for this year's celebration.  Whether you're planning to spend the holiday in quiet reflection with your family or always host a large celebration with friends, neighbors, and family members, the right Hanukkah decorations will set the tone.  Let us help you find the perfect decorations to light up your home for the holiday and delight anyone who stops by during the Festival of Lights!
1.) Our Hanukkah Cutout Value Pack has enough wall decorations for 8 days and 8 nights of festive fun!   With 30 double-sided cardboard cutouts in a variety of sizes and Hanukkah-related designs, this value pack makes it easy to decorate classrooms, synagogues, stores, restaurants, and other areas where you need plenty of decorations.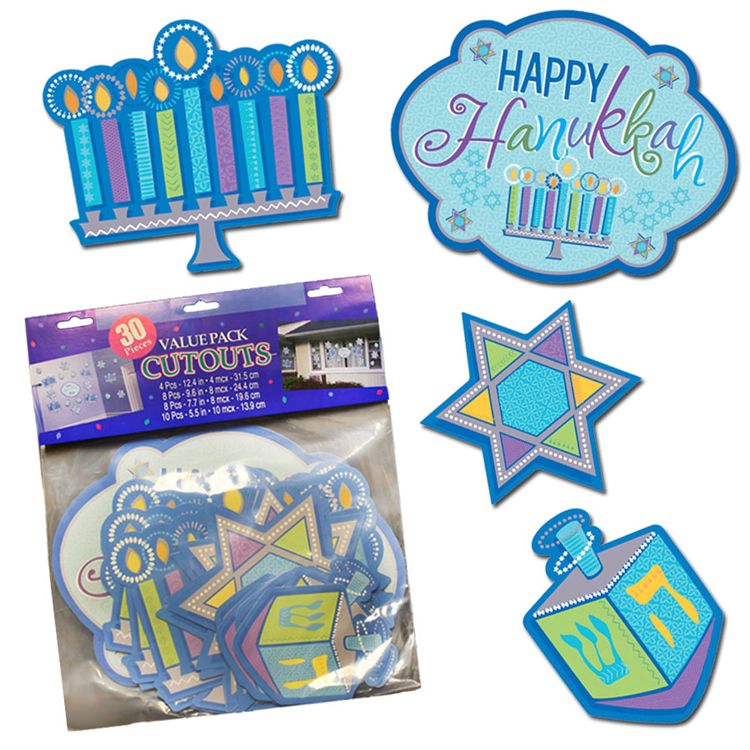 2.) Dress up your decor with the Hanukkah Tinsel Garland.  This 15-foot-long blue tinsel garland features silver Stars of David and Dreidels and is perfect for wrapping around stair railings, banisters, and entryways.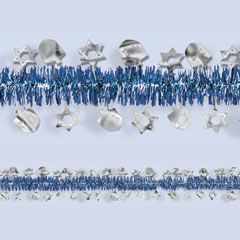 3.) Send out Hanukkah wishes to everyone who stops by with our Happy Hanukkah Banner.  This silver fringed "Happy Hanukkah" banner is decorated with colorful letters, accented with dreidels and measures 7 inches wide and 7.5 feet long.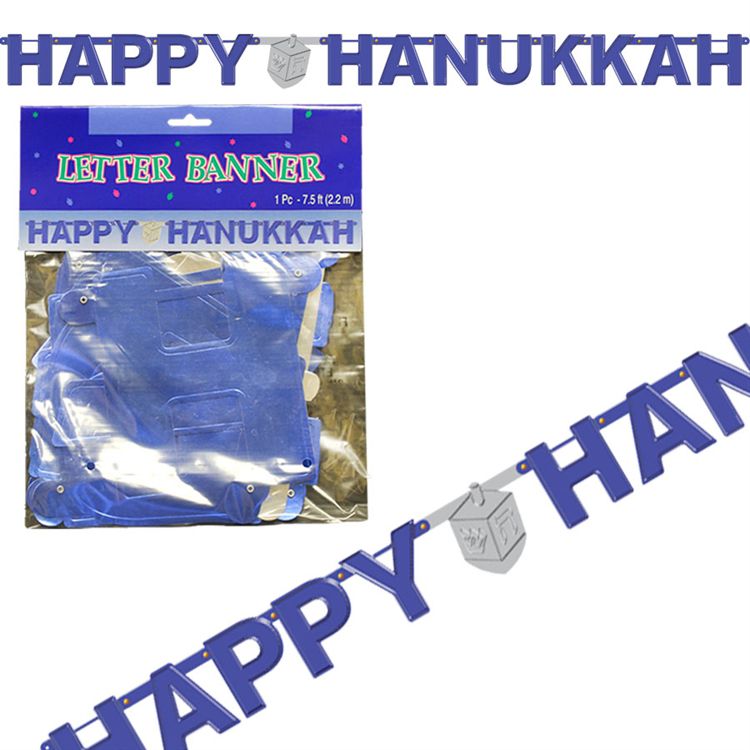 4.) Bring some flair to your celebration with our Hanukkah Swirls.  These 24-inch metallic swirls feature a variety of Hanukkah designs, including dreidels, Stars of David, and menorahs.   Put them up before your party and watch them sway in the breeze and catch the light as you entertain your guests for a fabulous addition to your party decor!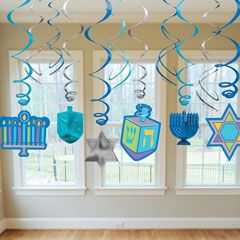 5.) Decorate your Hanukkah table with our Dreidel Centerpieces.  These 6-inch honeycomb dreidels are sold two to a pack and are the perfect way to top your table, whether you're serving everything up buffet style or sitting down for a traditional meal with all your family's favorites!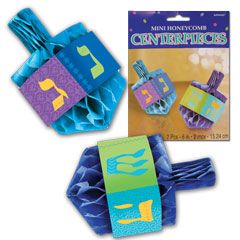 6.) Kick your holiday decor up a notch with Hanukkah Danglers.  These 30-inch Happy Hanukkah danglers are sold 2 to a pack and feature a Star of David and a dreidel in a striking dark blue and white design.  Hang them on either side of your entryway or fireplace for a fabulous holiday look!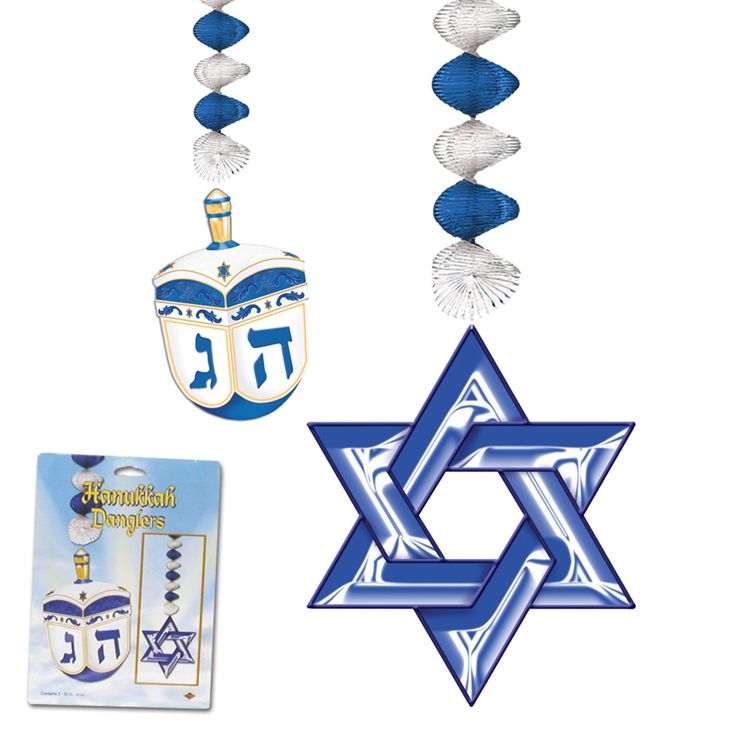 7.) Add a touch of elegance to your decor with our Hanukkah Lantern Set.    Each set comes with six lanterns in varying shades of blue, decorated with dreidels, Stars of David, and menorahs.  Hand them in the dining room or along the roofline for a festive look that will make your Hanukkah decorations shine!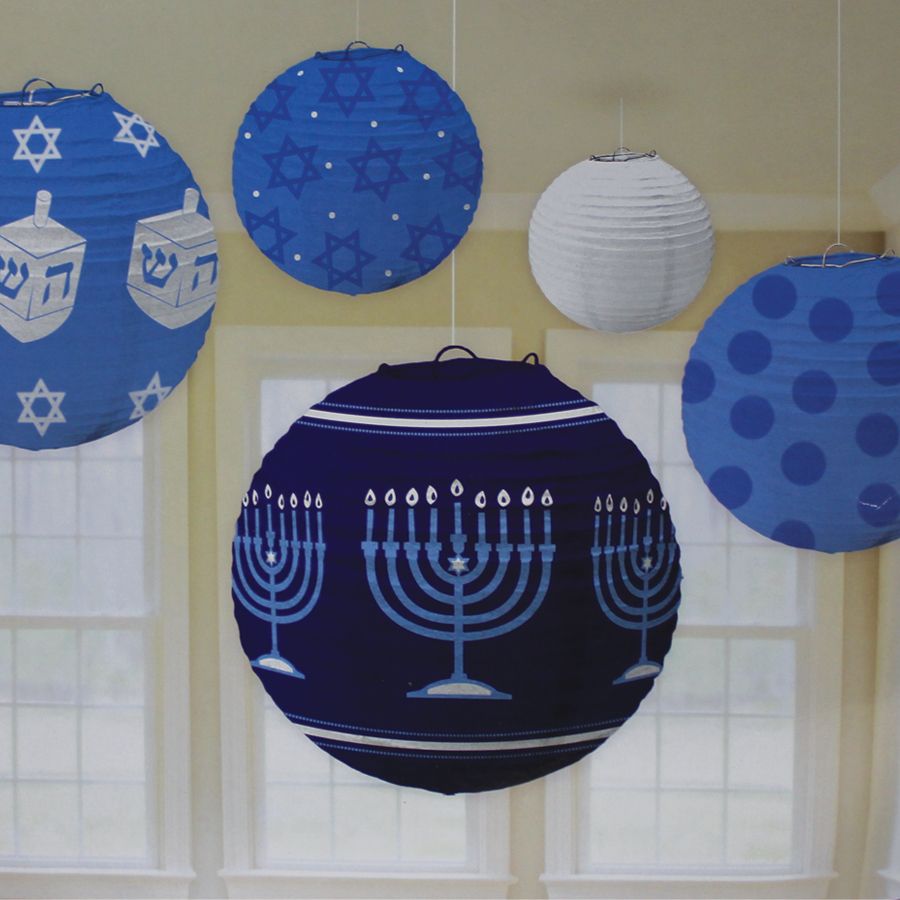 8.) Give your tables an extra splash of color and excitement with Star of David Confetti!  An easy way to add some color to your table decor and make sure your table settings look festive on the big day, this confetti features a mixture of blue, gold, and silver Stars of David that will shine bright every night of your Hanukkah celebration.
9.) Light the way to your door with Happy Hanukkah Luminary Bags.  These festive white luminary bags feature the words "Happy Hanukkah" and a Star of David that, when lit from within, will shimmer and shine in the night.
10.) Light up your luminary bags, accent your menorah, or just fill your house with light using LED Tea Light Battery Candles.  Sold in packs of 12, these battery operated tea lights are ideal for use in our luminary bags as they eliminate the risk of fire and ensure your bags will burn all night long and are perfect to use in your holiday decorations for the same reason.  Whether you want to light up your windows through the 8 nights of Hanukkah or have a treasured decoration that you don't want to ruin with smoke and soot, these battery operated LED tea lights are the perfect solution.
At Windy City Novelties, it's our hope that this article inspires you to create a fun and unique party for your loved ones. For more helpful tips on organizing your event, email our dedicated party planning experts at [email protected]. You may also subscribe to our emails for weekly party planning ideas, featured products and more at https://www.windycitynovelties.com/customer/account/create/