Windy City Novelties Top 10: Top 10 Oktoberfest Party Supplies and Decorations
09/27/17
Not many people need an excuse to get together with their friends for good food, good beer, and good times, but with the autumn chill cooling the air, the leaves starting to turn as fall gets underway, and Halloween just around the corner, it's the perfect time for a party!  And Oktoberfest is a great reason to celebrate!  Whether you're as German as bratwurst or as American as apple pie, this is a holiday worth celebrating!  But before you can invite your friends over to share in the Oktoberfest festivities you need to stock up on plenty of Oktoberfest party supplies to ensure your event is a hit!  So here's a quick Top 10 list to help you get started on your party planning so you can get to the fun part of celebrating Oktoberfest with your fellow beer-loving friends! 
1.) Invite your friends to join you for the festivities with personalized Oktoberfest invitations! Fully customizable with your choice of twenty-four ink colors and twelve font styles, you can create an invitation that's as unique as you!  Preprinted with all your party details on high-quality cardstock, these invitations will arrive with the rest of your party supplies and be ready for you to send out to everyone who loves sausage, beer, and everything else that's German!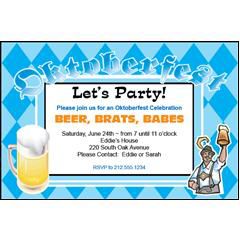 2.) Get your home ready with Oktoberfest decorations that will transform your backyard into a beer garden and your kitchen into a German restaurant.  Our Oktoberfest Decorating Kit makes decorating easy with tissue fans, tissue balls in varying sizes, a jointed Mr. Oktoberfritz, musical instrument cutouts, German flag cutouts, an Oktoberfest banner, and several garlands.  You'll have your home transformed in no time with this all-in-one decorating kit!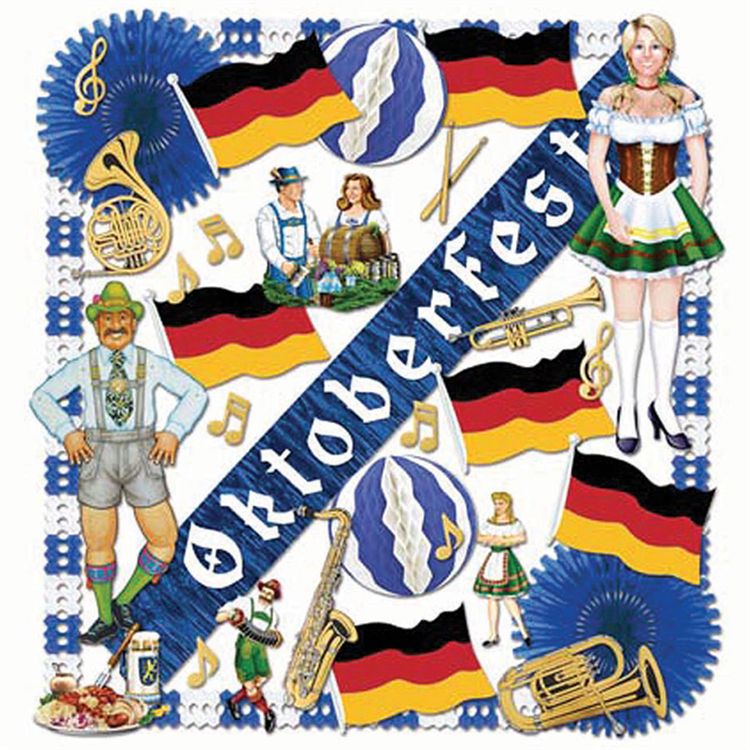 3.) Oktoberfest Beer Swirls will add a festive touch to your party decor!  Whether you're hanging them from the ceiling indoors or from the tree branches in an outdoor party space, these metallic swirls with beer mug cutouts at the ends will liven up your party theme and add a little German flair to the decorations!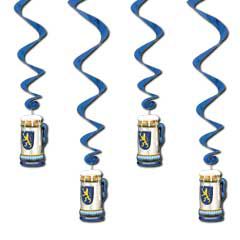 4.) If you can't afford to line your Oktoberfest beer garden with dozens of different types of beer kegs, have no fear, these beer stube cutouts can give your party decor the look of an authentic beer garden without the cost!  Line them up on the wall behind the bar or just use them to decorate the front window so your friends know exactly what's on tap for the day!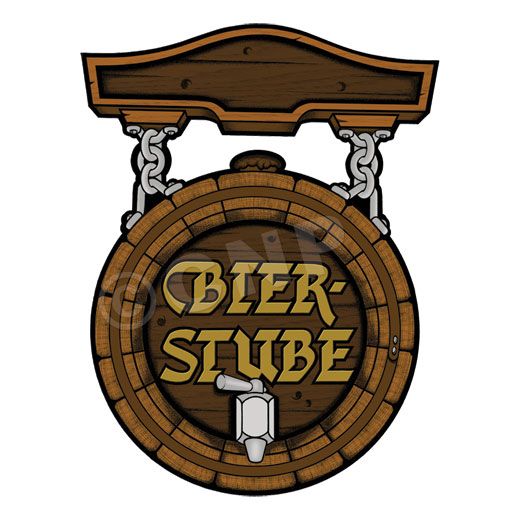 5.) Traditionally, Oktoberfest events take place outdoors, with guests lining picnic tables as they feast on various types of German delicacies, including sausages, sauerkraut, potato salads, pretzels, and other tasty treats.  Get your tables ready by decorating them in the traditional Oktoberfest colors of white and light blue, starting with an Oktoberfest plastic table cover to match your decor.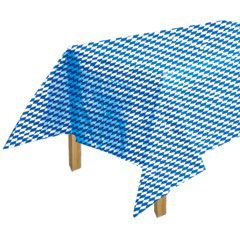 6.) Top those tables with festive centerpieces, like the Oktoberfest centerpieces, which feature a traditional Bavarian beer mug and colorful metallic streamers coming out of the top.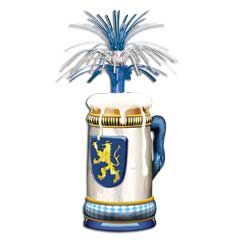 7.) Serve up those sausages and other grilled goodies on sturdy Oktoberfest Pretzel paper plates that will coordinate with the rest of your party decorations!  Stock up on more than enough to handle the hungry crowds, with extras to serve up extra portions of that delicious Black Forest Chocolate Cake! 
8.) Blue Beer Mug Beads can be incorporated into your Oktoberfest decorations by draping them over chair backs, tossing them into glass vases, or hanging them on fence posts, or they can be handed out as party favors as guests arrive at your Oktoberfest celebration!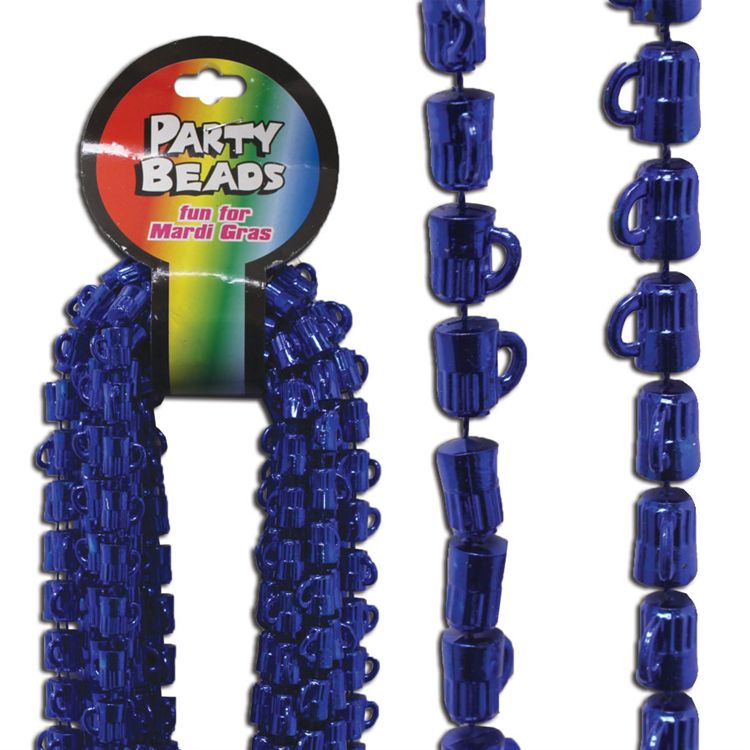 9.) Be sure you've dressed the part for your Oktoberfest celebration!  This Bavarian Guy costume is the perfect outfit for your bartender to wear as he pulls the perfect mug for guest after guest.  With short pants, complete with suspenders, shirt, hat, and knee socks, this costume is the perfect way to look the part of the authentic German gentleman!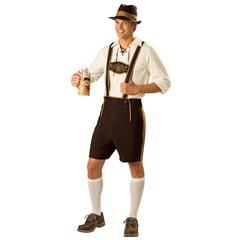 10.) And you can't leave the ladies out of the costume fun!  This Bavarian Bar Maid costume is sure to turn a few heads!  Featuring a short dress with green skirt, white shirt and faux bustier, and hair bows, all your bar maid will need is some thigh-high stockings and appropriate footwear and she'll be the star of the show!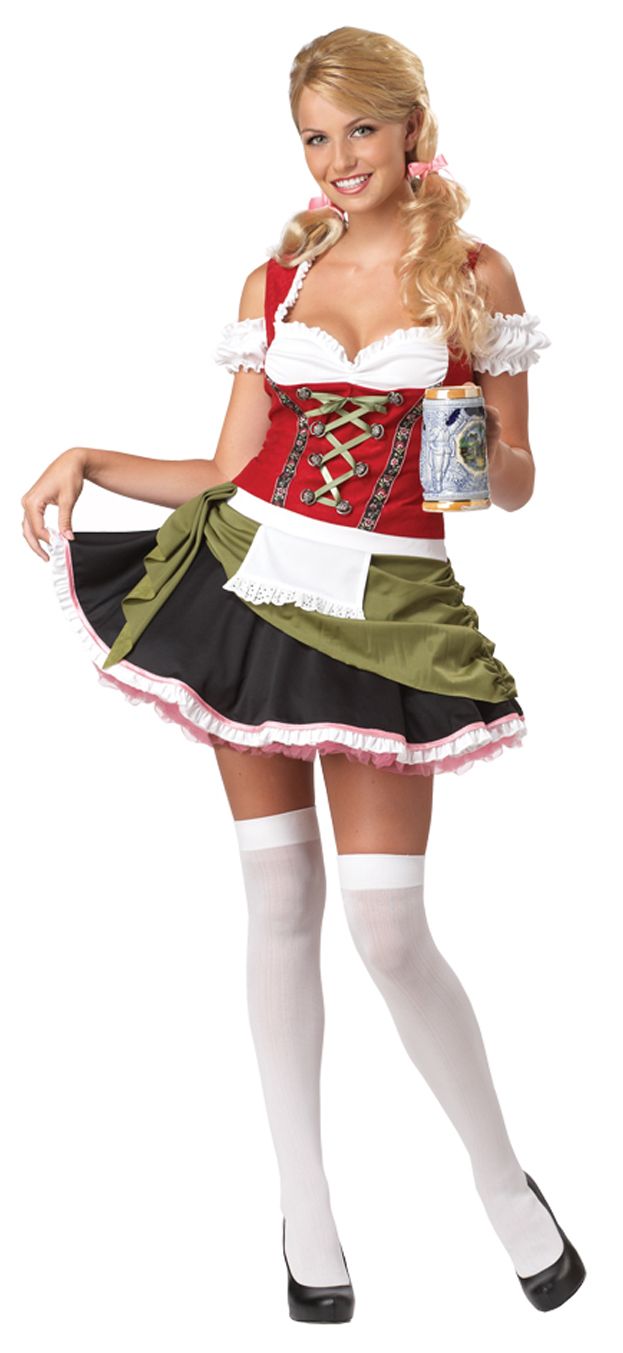 At Windy City Novelties, it's our hope that this article inspires you to create a fun and unique party for your loved ones. For more helpful tips on organizing your event, email our dedicated party planning experts at [email protected]. You may also subscribe to our emails for weekly party planning ideas, featured products and more at https://www.windycitynovelties.com/customer/account/create/