A Guide to our Mardi Gras Party Supplies
09/27/17
The season of Mardi Gras is quickly approaching and it is time to start preparing for your Mardi Gras festivities! Mardi Gras is a widely celebrated event in many countries that began as a last hoorah for Catholics before beginning the religious fasting period of Lent. However, anyone can celebrate Mardi Gras and its traditions! Mardi Gras celebrations begin a few weeks before the actual day of Mardi Gras on Fat Tuesday and consist of parades, music, dancing and feasting. Whether you plan to attend one of the biggest Mardi Gras celebrations in the world, or are hosting a mini Mardi Gras celebration of your own, you are going to need a few Mardi Gras party supplies. Here is a complete guide to our Mardi Gras party supplies, decorations, accessories and more!
Mardi Gras Decorations
Adorn your float, bar or party with purple, gold and green Mardi Gras decorations. Choose from a variety of hanging decorations and wall cutouts that will transform your party space into Bourbon Street. For simple decorating, use a Mardi Gras party kit that contains everything needed in order to host a Mardi Gras party, whether it is held at a bar or in the comfort of your own home. 
Place light up Mardi Gras themed balloons on a buffet table, down a dining table as centerpieces, or in the entranceway of your party space.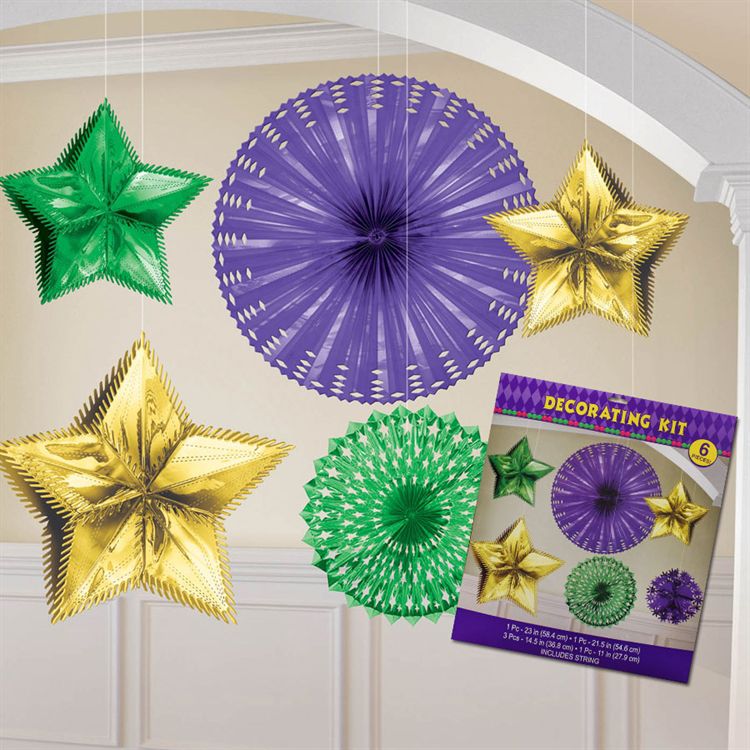 Mardi Gras Paper Goods
When hosting a Mardi Gras party at your home, serve up drinks and snacks with Mardi Gras themed paper goods. Set out a buffet table with traditional Mardi Gras appetizers and snacks, such as mini King Cakes, and serve up some delicious refreshments. 
Mardi Gras Party Items
If you're lucky enough to attend any of the large Mardi Gras celebrations, or even if you are attending a party at a bar or a friend's home, you are going to want a few Mardi Gras party items to wear! Wear a traditional jester hat, or stand out from the crowd with a Mardi Gras drinking helmet. You can also add a pair of Mardi Gras sunglasses to your attire! 
Mardi Gras Beads
Beads are a necessity at any Mardi Gras celebration. Gather up as many purple, green and gold beads as you can find and wear them proud, or hand them out to friends and people you see on the streets. 
Personalized Invitations Mardi Gras
When hosting your own Mardi Gras party, invite friends and family over with personalized Mardi Gras invitations. 
Mardi Gras Costumes
If you are attending a Mardi Gras celebration and want to go all out, choose one of our Mardi Gras costumes to wear! Select from a variety of different costumes for both men and women. 
Masks
Masks are a common item worn at Mardi Gras events, so be sure to add one to your Mardi Gras apparel! Choose from a variety of masquerade masks, including feather, glitter or light up masks. 
Boas
You can also choose from our selection of boas to add to your Mardi Gras attire. Go with a purple, green and gold feather boa, or choose a solid color boa. 
Mardi Gras Custom Banners
Hang up a Mardi Gras custom banner outside of your bar or restaurant to attract Mardi Gras revelers. Use them to display drink or food specials, or to let everyone know where the best Mardi Gras after party is. 
At Windy City Novelties, it's our hope that this article inspires you to create a fun and unique party for your loved ones. For more helpful tips on organizing your event, email our dedicated party planning experts at [email protected]. You may also subscribe to our emails for weekly party planning ideas, featured products and more at https://www.windycitynovelties.com/customer/account/create/