Throw a Beach Party with these Helpful Beach Party Ideas
09/27/17
Splish-splash, it's a beach bash! Gather your group of beach bums for a get-together on the beach this summer, or host your own beach themed party at home! Add a beach theme to any upcoming occasion, such as a birthday party, a graduation party, a bridal or baby shower, and more. Decorate your party space with beachy decorations and tell your guests to grab their swimsuits and their appetites for some fun in the sun. Use these party ideas and tips to help you plan for the perfect summer celebration! 
Create a beach setting in your home with the help of beach themed decorations.
If you can't make it to the beach for a beach party, bring the beach to you by enhancing your party space with beach decorations! Start by adding a beach scene setter to an open wall, or several, in your home. This will automatically create the ocean setting for your beach party, and can serve as the backdrop for a photo booth. Snap a few Polaroid pictures of your guests enjoying themselves in front of the beach scene setter and pass the photos out as party favors.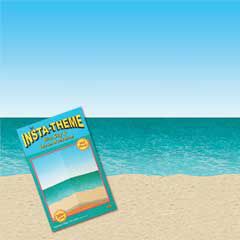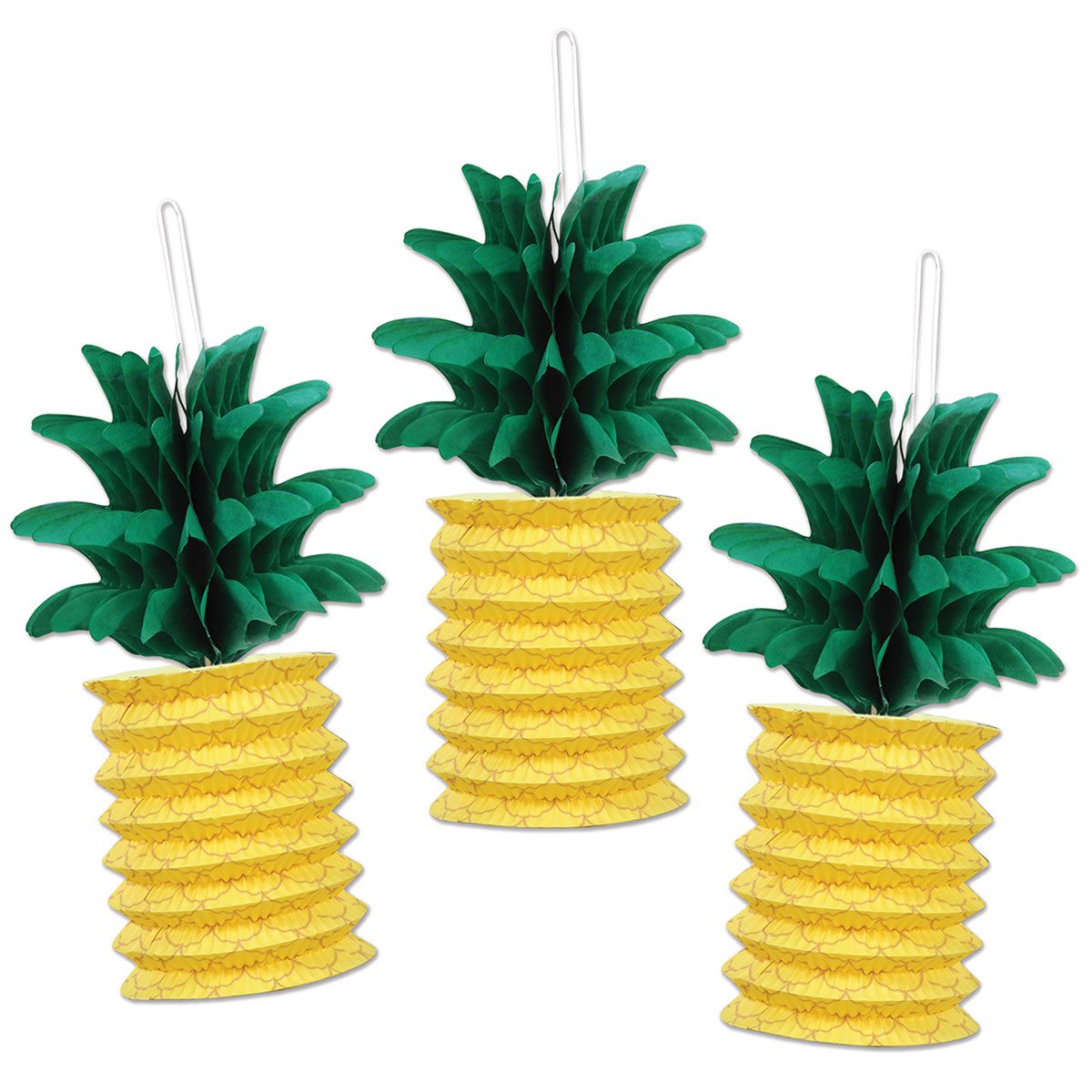 You can also create your own garland using pineapple paper lanterns. Attach each lantern to a string or rope of some sort and hang it around your party space. The bright yellow of the pineapples will add a pop of color to your party setting! You can also get creative and incorporate beach balls into your party décor! Either hang them directly on the walls with an adhesive or string them together to make a beach ball garland.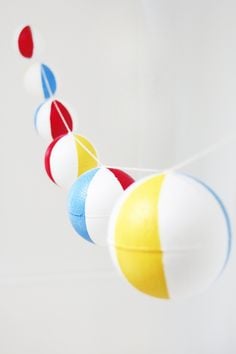 image via studiodiy.com
If you are able to host your party directly on the beach, the sky, water and beach will be more than enough to set the scene for your party. However, if your party will extend into the evening, you may want to string some lights on nearby trees or stick a few tiki torches into the sand. These will serve as a portion of your party décor, as well as function as sources of light for the party.
Decorate your snack table with beach-themed items.
Whether you're having your beach party in the comfort of your own home or actually on the beach, you'll need to decorate your dining or snack table. Typically, when decorating for a party, you start by decorating the snack table with a table cover. However, for a beach party, you might want to use an alternative to a table cover, such as fish net or a beach mat. Drape a colorful fish net over a portion of the snack table and secure it with tape. Or, use a straw beach mat as a table runner and place it down the center of your dining table.
Top your table tops off with a few centerpieces, such as metallic palm tree centerpieces. Place them down the center of your dining table or at the back ends of your snack table. Or, if you are looking for something slightly more romantic, you can fill glass bowls or jars with sand and seashells. Place a small candle in the center of the bowl or jar for an elegant and beach-themed table decoration. Place seashells (real or fake) on top of the fishing net to finish off the look.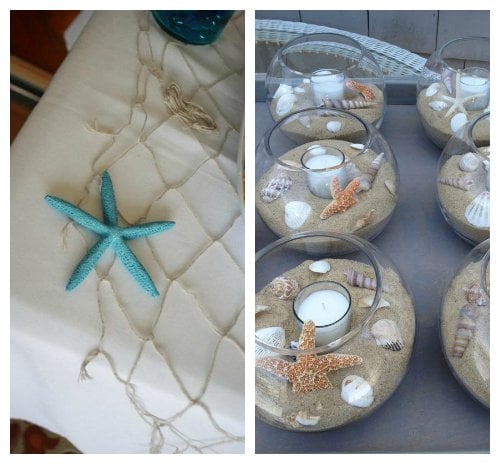 images via catchmyparty.com and happywedd.com
Serve a variety of finger foods on beach party paper goods.  
If your party is on the beach, it's best to serve finger foods that guests can easily eat while participating in beach activities. Foods like sandwiches, chips and dip, cookies and brownies are great to serve at your beach party. You can get creative and set them out in plastic sand pails, instead of general serving trays and bowls. Be sure guests can "dig" out their favorite snacks with a shovel scooper. If you feel like dragging along your mini grill, you can cook up a few burgers and hotdogs.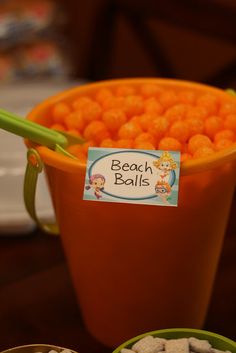 image via kaseymikelaughlin.blogspot.com
You can serve these same items if you're hosting a beach party at your home, or you can serve more elaborate dishes like seafood and fun summer salads. Serve your snacks on beach-themed paper plates, accompanied by a matching solid colored napkin. Serve lemonade, iced tea, beer and fruity cocktails in similar beach-themed paper cups.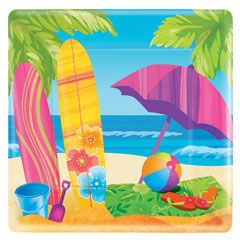 At Windy City Novelties, it's our hope that this article inspires you to create a fun and unique party for your loved ones. For more helpful tips on organizing your event, email our dedicated party planning experts at [email protected]. You may also subscribe to our emails for weekly party planning ideas, featured products and more at https://www.windycitynovelties.com/customer/account/create/